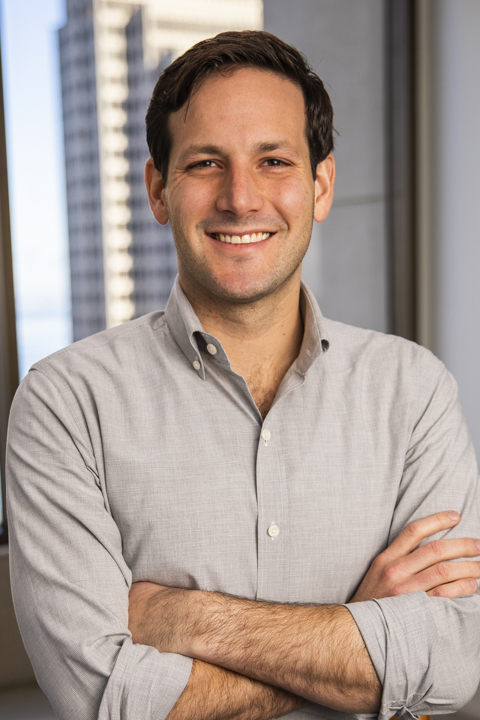 Daniel Cohen loves working on and building teams. So it's no surprise that he's taking his leadership to the next level as one of Alpine Investors' newest partners this year. Below, Daniel shares how he's applied lessons learned from various life experiences; from the lacrosse fields of Maryland and UC Berkeley, to an early stint in investment banking, and from working at Alpine for over seven years. And now as he takes on the partner role, Daniel also reflects on the decisions that brought him here, his love of deals, and the importance of building and maintaining a culture of continuous improvement.
I grew up in Maryland right outside of Washington D.C., surrounded by government and public policy. My dad worked for the federal government for over 30 years, and my mom worked in healthcare policy advocacy. As a kid, I admired their work and imagined I would become a lawyer or work for the government someday.
My most formative leadership experiences started on the athletic field. I was captain of my high school hockey and lacrosse teams. When you're leading groups of 20 or 40 people at a young age, you develop those camaraderie-building and tone-setting skills that any great leader has. The trust we built as a team enabled us to take on big challenges.
In college, I found myself at UC Berkeley on an unexpected path. I took a few business courses, like competitive strategy and financial statement analysis— which was more fun than it sounds— and I became more interested in business than the prospect of studying law. On campus, I also met Jeff Totten (founder and CEO of Evergreen Services Group, an Alpine-backed company investing in B2B services businesses) who led Berkeley's investing club at the time and became a good friend. Jeff joined Alpine right after college, but I took a more circuitous route.
Testing Out Early Career Paths
As I started my career, I knew nothing about investment banking or private equity. After a summer internship at Apple, I realized I was looking for a different type of fast-paced learning environment than a large corporation. So when a friend from college took a job at DBO Partners, a boutique bank that had just been started by former Morgan Stanley bankers, I was intrigued. DBO was like a startup version of an investment bank; it was an opportunity to build something new, learn as you go, and have day-to-day exposure to senior dealmakers.
The DBO team had ambitions to do things differently and grow, and it sounded like fun. I've always had a bias to surround myself with people I can learn from, and I've looked for mentors and peers smarter than me wherever I go. I loved the team I worked with and I still credit that time in my career with teaching me how important it is to work hard alongside people you like and respect.
I've always had a bias to surround myself with people I can learn from, and I've looked for mentors and peers smarter than me wherever I go.
Looking Beyond the Label
A few years into my banking career I realized I wanted to get closer to the investing and operating side of things, versus serving as an advisor for a given transaction and then moving on. I looked at all sorts of private equity and venture capital firms to understand what opportunities were out there. But Alpine was still pretty small in those days— only 15 people in a small office— so they weren't even on my radar at first.
Then Jeff reached out and encouraged me to meet the team. I could tell right away that Alpine had a different kind of culture. When you're working hard— as all financial services and private equity firms do— it's essential to work with people you get along with. I liked that it was a hungry, low-ego team that wanted to build a great firm the right way. I knew that I would get real responsibility and the chance to develop and push myself professionally. So I joined as an associate and focused on a variety of deals across software and services, as well as scaling out the investing function.
Building Alpine
Back in my early days at the firm, the office had a Friday afternoon Settlers of Catan game to help us wind down and decompress. I'm a huge Settlers fan— I played all the time in college, and I got very competitive about it. One night I was doing a little pregame stretch to get myself in the right mindset, pushed it a bit too far, and somehow dislocated my shoulder. After a moment of disbelief, everyone jumped in to help. We Googled a YouTube video for putting a shoulder back in place, and when that promptly didn't work, we headed to urgent care. Embarrassingly enough, I ended up getting surgery. Needless to say, the doctors were surprised by the cause of the injury!
I tell this story to show that we were this tight, scrappy firm in those days, and we were doing everything together. We made mistakes, pushed ourselves, and kept getting better. Alpine truly felt like a place where I could grow and be supported along the way. It's fun thinking that everyone that was involved in that fateful board game incident years ago are still in the Alpine family today.
Alpine truly felt like a place where I could grow and be supported along the way. It's fun thinking that everyone that was involved in that fateful board game incident years ago are still in the Alpine family today.
While building Alpine, I also worked with and invested in Grand Bakery independently of Alpine, which is the leading purveyor of kosher baked goods— known for its challah and its can't-miss chocolate-dipped macaroons— in Oakland. The owner at the time was ready to retire and connected with a college friend of mine who was interested in getting into the space. My friend reached out to me, and I helped him negotiate the price and legal points. I then invested and lent a hand with the overall strategy and getting the financials in order. It was another chance to be scrappy and help grow something I cared about.
Driven by a Love of Deals
I often think about my career in deals. Deals are like chapters in my life, and I love them all for different reasons. Part of the deal process is that we work in smaller teams where we're all in the trenches working as a unit. It's a level of camaraderie and teamwork that I thrive off of, and in some ways takes me back to my days on the ice or lacrosse field.
I also love the relationship part of deals. The founders and executives I've gotten to meet are some of the most talented and inspiring folks I've encountered in my life. I've learned so much and have become a better leader because of them. And there is a thrill in figuring out how we can be the best possible home for the next chapter of their organizations. We work hard to build trust during the deal process, and nothing feels better than signing a letter of intent or shaking hands on a deal.
Building Businesses
My work at Alpine feels more entrepreneurial than you might expect. Our main goal is to help build these businesses into the best possible versions of themselves, and to ultimately be a partner they are proud to have. We supplement them with incredible talent, playbooks and best practices to help them take on the world. I love the energy and collaboration that our work entails.
Early on in my time at Alpine— maybe 18 months in— we acquired Escape Technology, an enterprise resourcing planning (ERP) software for K-12 schools. We wanted to do a consolidation or rollup of their school administration software. Once we did the deal, Alpine Partner Danny Sanner turned to me and said, "You're going to be the board lead alongside Alpine Partner Will Adams. You'll be in charge of driving success." I was in my mid-twenties at the time, and to get that kind of confidence from the partners gave me the confidence I needed to step up, try, stumble and learn, and spread my wings.
Together with Alpine Principal John Wanglin, we did five deals in 15 months and built out an incredible management team that included CITs and CIRs like Ali Jenab, Charlie Pratt and Amanda Sayigh. Escape Technology became Perennial EdTech and was quickly a leader in its space. We exited in 2019, after more than quadrupling revenues over two years.
Another deal that stands out to me was launching Apex Service Partners, an HVAC, plumbing and electrical services group, alongside executives AJ Brown and Will Matson, as well as Alpine VP Blake Lafayette. It was 2019, and we basically spent the year flying around the country looking at HVAC and plumbing businesses that would become the cornerstones of the Apex platform. We operated at such a high speed, learned a lot and pushed each other to grow. Today, Apex is one of the biggest HVAC and plumbing businesses in the country. It's a far cry from the early days of whiteboarding sessions when we were contemplating, "What the heck are we going to name this thing?"
Expanding to Another Coast
As the firm has grown, I've spent more of my time on leadership initiatives, which recently included helping open our New York City office. We started the office as a way to retain talent who wanted to live on the east coast. As a firm, we want to be the best place to work for the best talent, and we felt that a level of geographic flexibility was an important way to do that. I'm from the east coast and my family is here, so I raised my hand to help open the office back in 2020. It was a hands-on leadership experience and different from anything I'd done before.
The key thing was making sure we retained the Alpine culture, which meant staying true to our DNA while avoiding some of the typical East Coast financial firm stereotypes. Graham founded Alpine to be different, so we were very intentional about our approach.
We started with the location. Rather than Wall Street or Midtown Manhattan, we leased an office in the Flatiron District so we could be around more of a startup ecosystem. Then we brought a lot of long-term Alpine employees, like Head of Marketing Audrey Harris and VPs Patrick Eble and Ajeet Gautum out from San Francisco to infuse that culture in our new space. Everything starts with the people, and we have such a strong sense of self and identity that our culture was easy to maintain. We know who we are and we have perfected our hiring approach to make sure we attract the right type of people. We now have over 25 people in New York and we're continuing to grow.
Becoming Partner
In 2023, I was named one of three new partners alongside Alpine CFO Dorothy Walter and Head of Sourcing & ASG Co-founder Jake Brodsky, and it means the world to me. It's a huge vote of confidence and I'm very grateful for that trust, especially from people that I respect and admire as leaders and mentors in my own development.
As a partner, I strive to do everything in my power to build the best private equity firm of our generation, to be the best place to work and to be a force for good in the world. Those are our ambitions as a firm and they carry a different weight as a partner. I'm also deeply motivated to support others as they spread their wings and thrive in the same way the partners did for me as I was coming up through the ranks. No one gets anywhere great by themselves.
I'm excited to keep bringing a creative deal lens to the partnership. I've spent a lot of my time at Alpine getting to work on deals that pushed the envelope for us as a firm; Lightwave Dental was one of our first rollups, Riverside Insights was one of our early carve outs at scale, Innovative Systems was a big subscription conversion, and Apex was a large scale buy and build where we shot for the moon, and we just about got there. I, of course, wasn't the first nor the only one to do these types of deals, but I do enjoy thinking creatively about what our platform is capable of doing.
One of the things I love most about Alpine is our core value of continuous improvement. We're constantly trying to innovate. I view my role, especially now as a partner, to drive that culture, to drive innovation and to never be complacent. What got us from a 15-person firm seven years ago to a 112-person firm today may be different from what gets us to the next stage. I spend a lot of time thinking about how I can keep pushing us to be better and more unique.
I view my role, especially now as a partner, to drive that culture, to drive innovation and to never be complacent.
Above all, I'm proud of the team we've built. It's just an incredible group of high performers and I have so much respect for everyone I get to work with. Whether at Alpine HQ or in the broader Alpine family of companies, it's the treat of my life to build this platform together.
Subscribe to hear more about building businesses through people.