We're in the Talent Business.
Whether you're just starting out, seeking a leadership position post business school, joining our roster of seasoned CEOs, or exploring a range of opportunities at our portfolio companies around the U.S.
Employee Net Promoter Score (eNPS) is a measurement of how employees feel about their jobs and workplaces. Alpine measures this quarterly.
According to Bain Consulting, Scores from 0-40 are good and scores about 40 are considered great.
3 offices in San Francisco, New York City, and Salt Lake City
2 annual retreats to come together as a firm and work on the business and celebrate our successes.
Employee engagement represents the levels of enthusiasm and connection employees have with their organization. Alpine measures this quarterly.
We strive to create high engagement and strong experiences through offerings like PeopleFirst workshops, mentorship programs, executive coaching, Employee Resource Groups, competitive benefits, family planning support, and more.
At Alpine, we seek individuals who have a bias for action, are tenacious in overcoming obstacles, and act with candor and kindness. We believe in empowering these individuals to do their best work. See below for career opportunities within Alpine HQ and within our portfolio companies.
"I love working with people and learning a range of new, different things. I don't want a job that's just rinse and repeat. So after my very first call with one of Alpine's partners, I was sold. Between the amazing people and my exciting role, it was an easy decision."

Tyler Frances
Investor
We hire for attributes over experience. Our internship program is designed to provide college students with as much experience as possible, and as much support as possible. Alpine interns launch into incredible career paths, and many join as full-time team members after graduation.
Read More From Our Interns
Executive Talent Programs
The mission of Alpine's CEO Program is to provide business leaders like you with amazing development opportunities, meaningful operating experience, a vibrant community, and the most compelling professional opportunities of your career.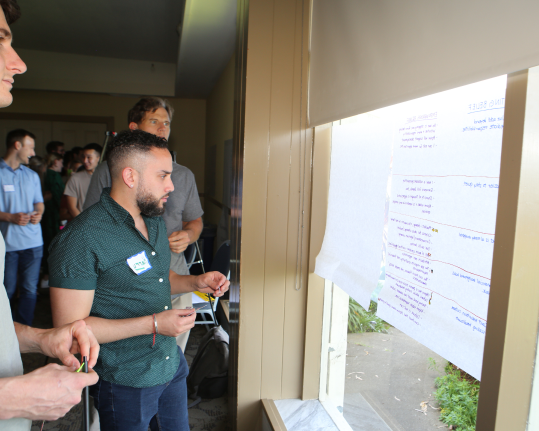 Caption: Growth 2022 Retreat
We're invested in unleashing your potential and your passion, and we give you the autonomy you need to reach higher and farther. Send us your application and we'll have a conversation.