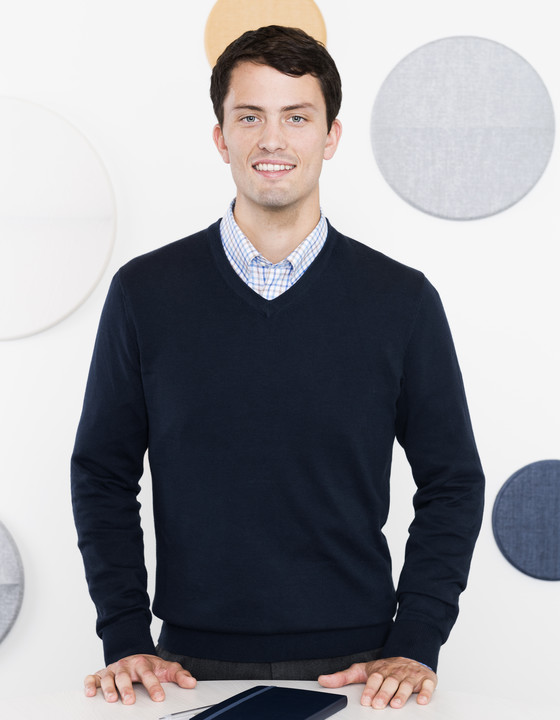 When Patrick Eble was about to graduate from Princeton, he faced a difficult decision between starting a career and being a world-class athlete. Then he found Alpine—and realized he didn't have to choose. Pat reflects on what it was like to balance a new role at the firm with a full-time training schedule in preparation for the Olympics; explains how his focus shifted when COVID-19 changed those plans; and shares the projects he's excited to tackle next, from growing a new internship program to opening an east-coast Alpine office.
Tell me about your life before joining Alpine.
I grew up in a suburb of Philadelphia called Fort Washington, with my parents and younger sister. I played a lot of sports—football, basketball, and baseball—but then in 9th grade, I didn't make the basketball team and started rowing instead. I had no idea what I was doing, and it was winter, so it was only on the indoor machine at first. But I fell in love with it. I rowed all through high school and got to meet a bunch of people through USRowing's Junior National Teams, and then I got recruited to Princeton.
On the academic side, I took kind of a meandering path—I started out in engineering, then switched to biology thinking I'd try med school, then decided to pivot again to focus on math and economics. I did my senior thesis on the economic and ecological dynamics of cod fisheries. The training cycle for the 2016 Rio Olympics was that year, and as much as I liked rowing I wasn't sold on putting the rest of my life on hold for it; you had to train full-time. So I applied to Cambridge instead, and got to row there while getting a master's in environmental policy.
After that, I headed back to the U.S. I'd lined up a job at Ernst & Young in New York starting in October, and in the meantime I'd been invited to train with the Senior National Team. We ended up getting silver at the World Championships, and right after that I started work, advising government clients on infrastructure projects like roads and bridges—while still training with the rowing team. Then we got a new full-time coach who was based in California, and I decided to move.
What brought you to Alpine?
I ended up having the option to stay with Ernst & Young in California, but I wanted to explore other opportunities, too. And I kept hearing about Graham—both from other Bay Area Princeton people, and from my coach, who had been Graham's rowing coach at Princeton. I knew nothing about private equity, but everyone was telling me to talk to him, so I did.
Right away, the PeopleFirst philosophy stood out; I could tell it was the real deal rather than just something they say during the interview. With rowing, for example—when you're training, you usually don't want to draw attention to that at work, because it's such a big time commitment. But when I mentioned to Graham that I wanted to keep going with the National Team, he didn't bat an eye. I thought, "Wow, this place is different." And then the more I unpacked what private equity was about, and the more awesome, genuine people I talked to, the more I realized this would be a really fulfilling job.
What was it like to climb that learning curve, not having worked in private equity?
One of Alpine's core values is empowerment, and that was clear from the start. In sourcing, especially in the investment bank channel, you might be talking to someone who's done deals for 30 years. I remember thinking, "Should they really be letting me do this?" And there were definitely times on those early calls when I didn't have the answers I needed. But I always had guard rails, and part of getting better at something—whether it's articulating the Alpine pitch or building a model—is getting in there and doing it.
Part of getting better at something—whether it's articulating the Alpine pitch or building a model—is getting in there and doing it.
As I got more comfortable, I talked with the team about wanting to take a deal from source to close to serving on the board, and the response was never "maybe" or "we'll see." It was always "Yes. Let's get you involved." Innovative Systems ended up being the first deal, and it was very tricky to model. It probably took me twice as long as it should have. But I had tons of support, and I learned so much. It's one thing to say how much equity you'll invest; how much debt you'll raise; how much you'll grow the company after you buy it. But when you go through that full exercise, you have to get granular. How many customers are you going to add in this quarter? How are you going to enter that market, and when? What level of sales and marketing expense will that require? You have to understand every nook and cranny. It really changed how I think about investing in and operating a business.
You kept rowing for your first couple of years at Alpine. How did you balance the two?
I'd get up at 5 a.m. every day, train from 6 to 8:30, hop on the BART and try to get in by 9:30 or 10, then leave at 4 or 4:30 for afternoon practice. Looking back, I don't really know how I did it. At the time, though, it felt like the best of both worlds. Alpine was going great; training was going great. The Olympics were right around the corner. I was in the rhythm. I remember the week of the Alpine retreat one year, I was training full-time, but I drove from Oakland all the way to Santa Cruz and got stuck in traffic on 880 every day, because I wanted to be there for as much as I possibly could. And everyone here was so supportive. They'd ask me how rowing was going and tease me when I ate ridiculous amounts of food at lunch.
I never wanted to keep rowing past summer of 2020, and I decided to stick with that even after the Olympics got postponed. It was tough. I'd definitely pictured myself there—ideally on the medal stand, ending my rowing career having accomplished everything I wanted to do. I'm very much at peace with the decision, though. Life went a different direction, and it just wasn't in the cards.
How are you filling your time now, without all that training?
That can actually be a really tough transition for a lot of athletes; you miss the structure, and you get kind of depressed. For me, it felt natural to turn the dial up on Alpine. It has a lot in common with rowing—the deal process, the feeling of being part of a team, driving toward a goal. And much as I had wanted to fit everything in, when you're training for four hours and doing calls and building models, something had to give.
I was able to get more involved on the execution side on a couple of deals that came up pretty quickly after I retired—Innovative Systems and Homebot—and I'm on the board at Innovative, which has been a great way to keep learning. Once you're actually responsible for the operations of something, you can compare it to what you modeled and see what you missed. I've also started to focus most of my time on software investments, though I still do some general sourcing coverage of investment banks we work with.
Outside of work, I don't think I've found my next thing yet. I definitely don't work out for hours a day anymore! I'm running; that's about it. So far, I've been fine relaxing.
You're part of a team launching Alpine's New York office. Tell me about that.
Ajeet, Daniel, and I were all interested in being on the east coast—and again, the answer from the partners was, "Yes. Let's figure out how to do that, and do it right." The three of us have been on the ground here for a while, but because of COVID-19, we just had our first post-vaccine, in-person get-together. It was great; we started watching March Madness, then ended up at Daniel's apartment until late in the night, talking about everything we're excited about and the culture we want to build. Alpine is sort of the anti-private-equity firm, and now that we're away from the San Francisco headquarters, maintaining that feel is very top-of-mind. I think even the office space can play a role—we've been looking at places that are professional, but feel more like Silicon Valley than Wall Street. And every team member will spend at least a couple of years at headquarters before they come out here.
You were also involved in starting the intern program on the sourcing side. What prompted that?
Historically, every time we needed to make a sourcing hire we'd fire up the recruiting operation and reach out to a bunch of candidates. And we still do that, but it can be a headache to try to scale a function with only that approach. Matt Picciano—who is now at Bonney Plumbing, but was my boss at the time—and I kept thinking about creating an intern program, like we have on the investing side, to help get more high-attribute students in the pipeline. We were thinking it would take a long time to get off the ground. But then last winter, we decided to go for it.
Leslie and her team found some awesome candidates, and we ended up making two hires. That was another thing that kept me busy after I retired from rowing—we had to create a virtual internship program from scratch in the space of a few weeks! Our interns, Lydia and Conor, were great. I think there was a question going in about whether undergraduates were ready for sourcing work, and now we have data points that tell us they are. In true Alpine fashion, it's attributes over everything. This summer, we're growing the program to three interns. And Conor, who spent his senior year helping us out part-time, will be joining as a full-time analyst in September.
What are you looking forward to learning next?
Some of it is technical stuff, whether it's building a model or the finer points of a deal. You don't know what you don't know, so it just takes reps. But for me, I think the bigger piece is the operational side—understanding how businesses work at a deeper level. When you see everything our CIRs and CITs are able to do, you realize how much change you can drive. It's amazing. And with someone like, you see how being a great operator translates to being a great investor, as well.
One of the things I like most about the sourcing side, and Alpine more broadly, is that you're constantly learning. I can look at a telecom business, a dental deal, property technology, you name it.
One of the things I like most about the sourcing side, and Alpine more broadly, is that you're constantly learning. I can look at a telecom business, a dental deal, property technology, you name it. I think it's important to build some expertise and not only go an inch deep on everything. That's why I'm putting so much of my focus on software. But I'm a curious person, and I like getting to see so many different things.
Subscribe to hear more about building businesses through people.