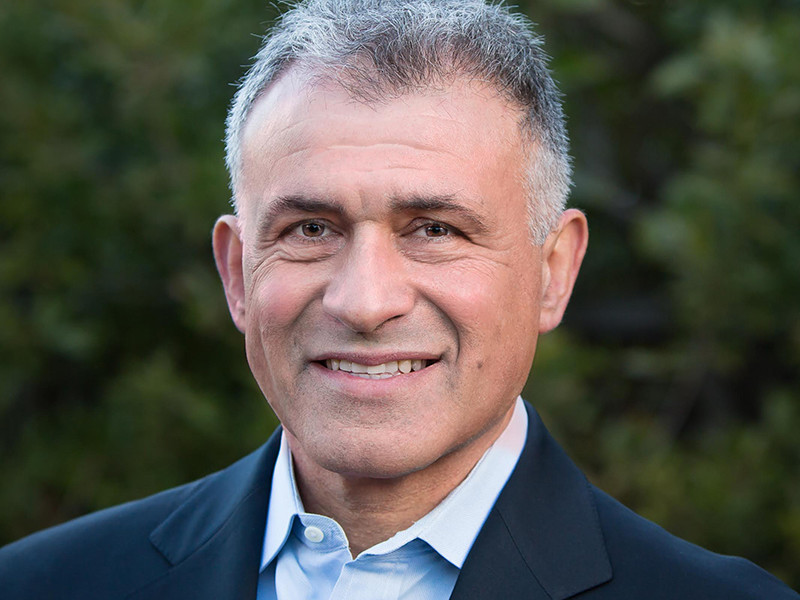 Ali Jenab ran large, public companies before joining Alpine in 2016 to run Perennial EdTech, a group of market-leading education software companies, which sold to Thoma Bravo in 2019. Now he's back at Alpine as a CEO-in-Residence in search of his next big opportunity.
Alpine is a middle-market private equity firm focused on software and services businesses up to $500m of EV. We closed our seventh fund at $1 billion in November 2019. Our CEO-in-Residence (CIR) model allows proven operators to step into leadership roles within our portfolio while our CEO-in-Training (CIT) program has helped more than 25 recently graduated MBAs from the world's top business schools accelerate into the CEO chair.
Did you always know you would become a CEO?
When I was 15 I left my home country of Iran to attend high school in Boston. I was supposed to go home for Christmas but the Iranian revolution had erupted so my brother and I stayed in the U.S. I didn't see my parents for 12 years and I've still never returned to Iran. When it came time for college, I only had enough money for a couple of years, so I petitioned the school and ended up graduating in two-and-a-half years with a degree in electrical engineering.
If there's one thing I've realized from the events of my teenage years, it's that you can have a decent plan but you never know what will happen. When I graduated I didn't have the luxury of wondering what I wanted to do with my career, I was in survival mode. I was down to 500 bucks and I had to get a job. When you need a paycheck you get pretty focused.
At Amdahl, I realized early on that I loved people and didn't enjoy sitting in a lab as an engineer. So I moved to a management role and eventually became director of engineering, managing a couple hundred engineers. I was fascinated with how Jack Lewis, Amdahl's CEO, knew everything about the business; he knew the P&L, he knew all of the customers, and he ran quarterly meetings. I decided I wanted to become a CEO. When you set an ambitious goal like that and you keep thinking about it, you can make it happen.
I needed sales and marketing experience, so I got my real estate license and started selling while at Amdahl, then I moved into field marketing, worked with sales, and eventually became CMO, then president of the server and storage division. I stayed at Amdahl for 17 years and got a great education on the business.
You're known as a CEO well-versed in handling adversity. Can you share an experience that taught you to adapt?
In September 2000, I was recruited to run VA Linux, a hardware company that focused on Linux servers right before the dot com crash. Within four weeks the wheels were coming off and their business that had been on its way from $300 million to a billion was going to zero.
Since VA Linux wasn't my baby, I could stay pretty objective. I encouraged the founders to transition their hardware business to an enterprise software and online media business.
As CEO I was responsible for turning around the company. We were public the whole time and trading below cash value. I had to build a brand new team around our new software focus, but there were a lot of uncertainties. I was very clear with the team from the start. I told them, "We're going to turn this thing around, we have hardly any revenue, and I don't know if it's going to work. If we can make it work we're all going to do pretty well." We thought we were going to fold probably 100 times, but it worked out. Five years later we had turned VA Linux into a profitable software business.
Becoming CEO at a low point like that can't be easy. How do you build trust with your teams?
At VA Linux, the first thing I did was tell everyone, "There won't be any secrets here. If I know what we're going to do, I'll announce it to everyone. And if I don't know, I'll tell you that, too. The moment I make a decision, I'll share it with you." I've been in environments where executives only share limited things with the team and it's hard, you never know where you stand. It's important to share good and bad news so they can see the whole picture.
How did you decide to join Alpine?
I had worked with [Alpine Partner] Matt Moore while at venture-backed Zetta and was impressed by his ability to recruit teams and I just loved working with him. Then Matt joined Alpine and I had a chance to really get to know the partners. Their values aligned with mine; they're really family oriented, honest, and straightforward. I also liked the private equity model of improving profitable businesses and I loved the idea of the CIR program. We had conversations for several months and I could tell it was a good fit. I joined in December 2016.
How do you approach the first 90 days at a new company and how did that lay the groundwork for such a successful exit at Perennial EdTech?
I always start a new role by having one-on-ones with every single employee. At Escape—one of Perennial's companies— my job was to talk to the team, to talk to customers, and to try to find out what made the company tick so I didn't break it. Then I looked for holes that I could augment. When a company has been around for 30 years, they have a tremendous amount of wonderful, positive things they're doing. You've got to make sure you understand and preserve those things.
Escape sold ERP software to schools, and schools loved them. They had an 85 NPS rating. The team was determined to make the customer happy at any price. Ramona Marshall, Escape's president, had incredible relationships with the employees and with the customers. If you go and wholesale change people, you'll break what made that business work.
When we bought Escape I saw an opportunity to accelerate their growth through pricing and inorganic growth; we eventually increased revenue by 300% over Alpine's hold period. We originally expected to hold onto the company for an extended period of time, however we were approached early on by Thoma Bravo and ended up having a tremendous outcome. We sold in 2019.
How is being CEO-in-Residence at Alpine different from your past CEO roles?
It comes down to three things: the search process alongside Alpine, the CEO network, and the CEO-in-Training (CIT) program.
I was in residence with Alpine for seven months before I joined Perennial and I spent a lot of time in the office. I built strong relationships and felt like I became part of the family. During the search process you get the luxury of looking at deals that Alpine's team has already filtered—and they're talented at what they do so your odds of success go through the roof. Not every deal will be successful, but they tee up strong opportunities for you.
I've also valued the network of other CEOs. We have a chance to connect at annual CEO summits and can always call on our peer network to work through problems. I'm constantly gaining tremendous value from that group. Recently we've discussed what's happening with COVID-19 and how it impacts different businesses and teams.
I wasn't a huge fan of the CIT program at first. I thought bringing somebody out of business school and making them a CEO in a couple of years would never work. After working directly with two CITs—Charlie Pratt and Amanda Sayigh—at Perennial, I'm a big fan. I don't think we would have been nearly as successful without them and I know they're going to be great CEOs down the road.
What advice would you give a CIT just starting out at their first Alpine company?
Be yourself. Don't try to go beyond who you are or what you're comfortable doing because every CEO has a different trait. Learn from your mentors and from your own experiences and then do what works for you and add your own personality and style.
What's next?
After a big success with Perennial, I'm back in residence with Alpine and am searching for the next great opportunity. The chance to get more CITs into CEO-level roles is exciting to me. And one of my goals is to outdo what I did at Perennial. Which means it's getting harder and harder to find a deal. So I'm trying to ease up some of my requirements, but I'm excited about reaching that goal, too.
Subscribe to hear more about building businesses through people.