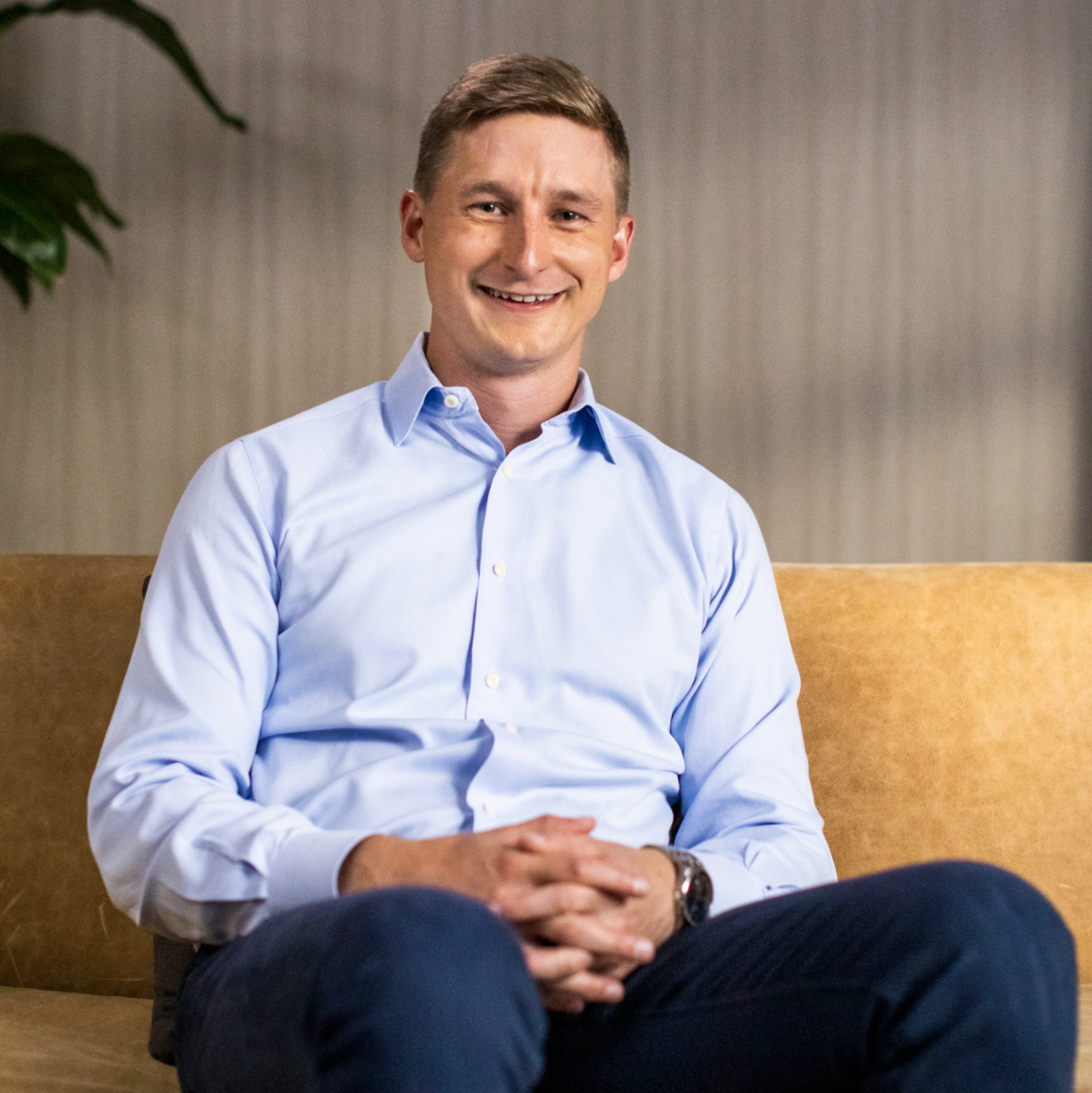 Jeff Totten is a builder by nature. In high school, it was a home-grown photography business; at UC Berkeley, a 400-strong investing club; and now, it's his own group of companies built on Alpine's model—with a twist. Jeff shares how an early "obsession" with Berkshire Hathaway and Warren Buffett helped seed his idea to launch Evergreen Services Group, reflects on some of the early challenges of building the business (including mistakes he's purposefully made public), and explains how the cultures of both Alpine and Evergreen laid the foundation for an exciting first few years.

Tell us about your life before Alpine and what brought you here.
I was interested in business early on. My dad ran a gunite company, which is essentially spray-on concrete, and he was always my role model. Then in high school, I was really into photography and sports, and I started taking photos during high school sports games and selling them to the athletes' parents. That led to Eagle Scout portraits, weddings—basically, I became the go-to photographer for families in our area who had kids my age.
I decided I wanted to learn more about running a business, so I went to the bookstore—and because I didn't really know what I was looking for, I ended up with a bunch of books on investing and the stock market. I got obsessed with Berkshire Hathaway, Warren Buffett and fundamental investing and read more than a dozen books about investing over my summer break. Then I led the investing club at UC Berkeley. We got to travel around the country pitching stocks at competitions, and eventually scaled up from about 15 members to more than 400, with 25 officers managing a stock portfolio. I really enjoyed that process of building and scaling something.
Alpine had done a presentation to the club early on, when we were still small, but I was so focused on the public market at the time that it didn't really register. Then I did a bunch of internships at hedge funds, and while I liked the investing aspect, I wanted more exposure to the actual businesses we were investing in. So I did an off-cycle internship at Alpine the next school year, and I loved it. Instead of just reading about a company and talking to their investor relations department for 30 minutes, you could get on a plane and go meet the owner and actually tour their facilities. So after I finished school, I came back full-time.
What was your path like—from that first analyst role to CEO of Evergreen Services Group? 
I'd already seen during my internship how much trust and empowerment you get here early on—I remember I'd be in class one day learning about accounting, and then using that knowledge the next day to build a model that would actually be presented in a deal meeting. It was the same thing when I joined full-time; I got to be involved in every aspect of the business right away, from sourcing deal opportunities to closing them and sitting on boards. One of the first deals I did from start to finish was YouCaring, a crowdfunding website that was later acquired by GoFundMe, and I served as the VP of Product there for a while, during their CEO search.
As I went from analyst to associate to VP, I was running with more deals on my own, focusing on B2B services, and I felt like the next step would be to start something where I would be fully responsible for the results. Then I went to the 2017 Berkshire Hathaway shareholder meeting with some teammates from Alpine, and started thinking about how we might combine what Berkshire does, holding companies over multiple decades, with Alpine's PeopleFirst approach.
On the way back home, I typed out an email to Graham during a layover in Denver and proposed creating a permanent entity within Alpine that could follow our playbook for acquiring and growing small businesses—but then not sell them. He said "Let's meet tomorrow." The next day I met with Graham for lunch and then I met with Dan Sanner, who has been my mentor at Alpine and is now our board lead at Evergreen. We decided to put a proposal in front of the partnership. A couple of weeks later, Evergreen was off to the races.
What happened next? Tell us about Evergreen's early days.
At first I felt a little bit like the dog that caught the car. "Oh wow, now we've actually got to do this." Building the team was the first challenge, because the day this got approved, it was nothing more than me, an idea, and some capital. I didn't know who would source our first deal or run that company or even what industry it would be in. When Ramsey Sahyoun, our head of M&A, joined, that was a linchpin. We spent a lot of time in those early days just trying to figure out what Evergreen would be, and went through all sorts of ideas for the first acquisition, from property management to outsourced IT to laundry services. At first, we thought we would be buying across a lot of different industries, like Berkshire. The Alpine partners recommended we start by focusing on one industry, which was great advice—a few years later, we're just now about to open up our second industry group.
Of course, there were plenty of other challenges once we actually owned companies, in part because Ramsey was doing such a great job; he built out an outreach engine that allowed us to get in touch with hundreds of business owners and generated a ton of acquisition opportunities. He would source deals, I would diligence and oversee them, and we'd hire a CEO to run the company day-to-day. Eventually, it got to a point where there was just too much work to be done, and we decided we needed a partner who could concentrate 100% on working with our CEOs and companies. As soon as I met Brad Wittwer, who is now our president and COO, I thought he'd be a great fit, though he took some convincing! There were a lot of conversations with me, Ramsey, and the Alpine folks to get him on board. But as soon as Brad joined, the difference in the level of support and engagement our companies got was night and day.
Evergreen's had a lot of success. What about your culture has enabled that?
Part of it is leveraging the Alpine tools, which were in our DNA by the time we started Evergreen. Ramsey and I helped write some of Alpine's playbook, so any lever that's addressed there, from talent to add-ons to sales marketing, came naturally. It was obvious for us to hire CITs —I remember being in the room when Graham put the idea for that program up on the whiteboard. It was natural for every key leader to have a coach. It was natural for us to have a one-page plan.
I think our team also has a sense of comfort with setting big goals—looking out 10 years, and then breaking things down into what we need to accomplish each year to get where we want to go. When we set a target of cash flow that seemed overly ambitious, we asked ourselves, "Okay, what would the team need to look like in order for us to do that?" Then we hired that team and started driving toward the goal. We're comfortable with discomfort, too; we believe embracing the day-to-day uncertainty of building a company helps make us stronger.  And there's a scrappiness that we have fun with—we like finding creative ways to get the most out of something, rather than throwing money at problems. When we travel, for example, we'll get one Airbnb instead of a bunch of hotel rooms. It costs less, and we get to spend quality time together as a team.
We're comfortable with discomfort, too; we believe embracing the day-to-day uncertainty of building a company helps make us stronger.
I'd also say there's a truth-seeking element that's very core to our culture. We know things don't always go the way you want them to—and we don't try to paint that stuff in the best possible light. In fact, we call it out publicly; our annual letter has a section on what we did wrong and how we can avoid it in the future. We don't point fingers, but we do want people to feel like it's okay to make a mistake. We should always be comfortable saying, "We messed up. Now we're going to get better because of it."
Tell us more about those annual letters. What are some of the lessons you've shared?
The letters are definitely unique, and we're proud of them. So many companies have an annual update that's all about what they're doing well, regardless of what's actually going on in their business. And we do want to talk about the things that are great. But we also want to talk about what we've learned.
Once, for example, we explained that we had invested in a couple of companies whose non-recurring revenue was concentrated with a couple customers. Like Alpine, we are very focused on recurring revenue, and we honestly just didn't pay enough attention to the other side. After close, non-recurring revenue declined and we realized our mistake. Now, we have a simple analysis that we do for every company, and if non-recurring revenue is concentrated, we will do a lot more diligence or just avoid that business altogether.
On the operational side, we've shared some mistakes we made in an effort to realize the benefits of integrating companies. You have to be careful not to lose touch with the local customer and employee, and there have been many situations where putting in a great local manager and giving them autonomy produced much better results than an integration. Those experiences taught us to always start by asking whether we could decentralize instead. We try to integrate only when we really believe it will better serve the customer, employees, and brand.
What are you looking forward to in 2021 and beyond? 
There are a few different things I'm thinking about. Our vision is to build America's best home for businesses and their leaders, and we've spent some time defining what that actually means. In part, it's permanence—we want to make decisions in the long-term interest of our companies and drive growth for many years to come. Then there is empowerment—we partner with talented leaders and empower them to operate with autonomy. Another piece is community—bringing in people we're proud to be associated with, and treating each other with respect. And then the last part is performance. We always want our companies to do better under Evergreen's ownership than they would under someone else's.
I feel like we've spent the last few years creating our recipe, figuring out add-ons, and which CEOs to back, and how to grow our businesses organically. And there's still work to do there. But at this point, it's more about scaling up. Our results in the managed service provider space are a good example; we're now the second-largest MSP serving SMBs and we believe we are the best home for MSPs and their leaders. So now, we're thinking about both how to continue that growth, and how to expand to adjacencies like cybersecurity and managed applications. We're also growing geographically, and recently announced our first acquisition in Canada. Finally, we are launching a new industry vertical that will take us beyond IT.
Of course, doing all of that means growing the team across the board, from M&A to operations—and for me, it means knowing where to lean in and where not to. When there's a large or complex acquisition, or a big operational opportunity, that's something I will want to lean into, but I can't be involved in everything as we scale. It's all about growing and empowering our team of talented leaders.
Subscribe to hear more about building businesses through people.