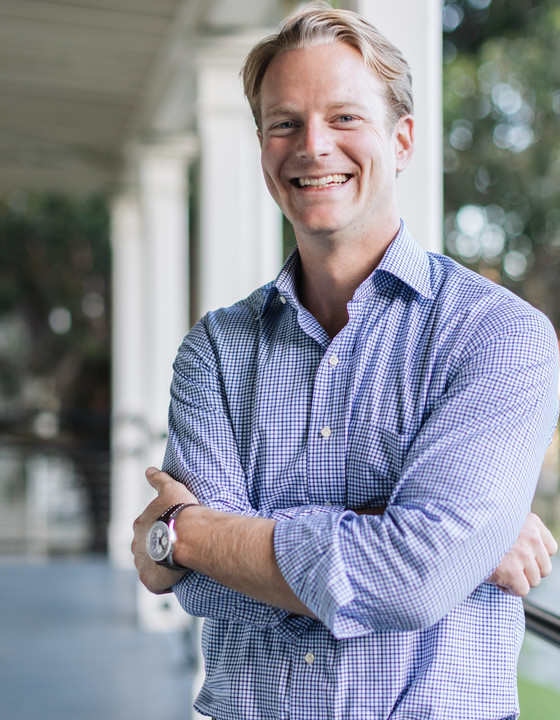 For Charlie Pratt, a penchant for asking questions guided his path from grade school to business school—and into roles in banking, education software, and people management. After a successful exit from Perennial EdTech and a stint in residence at Alpine, Charlie has taken on a new challenge as CRO of Homebot, a client-for-life portal that helps millions of people build wealth through homeownership. He shares what he's learned from working with experts, the importance of leading with trust, and how personal growth is the goal that matters most of all.
Tell us about your background. What goals or mindset guided your career decisions?
I grew up north of Chicago and went to Amherst College where I was focused on two things: football and philosophy, but not necessarily in that order. I was—and still am—driven by competition and personal growth, both in the classroom and on the field. I was that annoying child who was always asking why; I was never comfortable just accepting an answer. Philosophy allowed me to be that annoying child in the classroom because you get to peel back layers until you get to the root cause of something. Whether it's understanding markets or understanding team dynamics, I continue to be super analytical and focused on answering those "why" questions.
After college, I joined Bank of America Merrill Lynch as an equity capital markets analyst, a role that bridged the gap between investment banking and trading. I wanted to do something fast-paced and competitive, and equity capital markets banking gave me exposure to a wide range of companies and industries. I got to answer questions like, "What makes a good business? Which industries are strongest? How do you value a company?" I raised capital for dozens of clients and helped take companies public, but I felt like I had only scratched the surface.
I wanted to figure out the formulas that make companies successful, so I spent the next three years in equity research, analyzing 20 mid- to large-cap public companies, coming up with trading recommendations, and pitching those ideas to large money managers, like hedge funds and mutual funds. I got to know Visa, Mastercard, Capital One, Amex, and a range of mortgage companies. I understood their business models and what makes them trade in certain environments, and I got to know their management teams. But I was sick of giving other people advice. I wanted to influence the trajectory of a company and to leave a lasting impact.
Why did you decide to go to business school and how did Kellogg clarify your career path?
I went to Kellogg because I wanted to take something from inception to scale, but I didn't know where to begin. In my first year, I learned about the search fund model and was amazed that someone would trust me to raise capital and buy a business from a retiring founder after just six years into my career. So I applied for and was accepted to the Zell Fellows, a fellowship that provides capital and resources to entrepreneurs and people who want to buy businesses. My cohort came from really different backgrounds, but we shared a common goal of entrepreneurship or entrepreneurship through acquisition.
How did you discover Alpine, and how did you know it was a good fit?
I found Alpine by accident. During my first fall at Kellogg, Alpine Partner Matt Moore presented Alpine's leadership programs to second year students. I was walking down the hall with AJ Brown—now president and CEO of Apex Service Partners—and he invited me to the Alpine lunch and learn. I watched Matt's presentation and my jaw dropped. Alpine was hiring people like me, right out of business school, and supporting them in leading their companies. I loved Alpine's motto of hiring for attributes and growth and their focus on potential over discrete experiences or skill sets. It sounded like a dream job. I was also looking for something that made me uncomfortable, and Alpine scared me. I was scared by the responsibility they were giving their leaders, and I knew it was exactly the kind of challenge that would help me grow.
I was also looking for something that made me uncomfortable, and Alpine scared me. I was scared by the responsibility they were giving their leaders, and I knew it was exactly the kind of challenge that would help me grow.
How did you know Escape Technology and Ali Jenab were a good match?
After getting hired by Alpine, I joined Escape Technology—a company that provides software for the administrative departments of public schools across the U.S.—and I got to work with one of Alpine's CEOs-in-Residence, Ali Jenab—then CEO of Perennial EdTech, now CEO of Innovative Systems. I knew I wanted to partner with someone I could learn a ton from and enjoyed working with. Ali had the industry experience and the leadership traits, he also trusted me and supported my growth.
What did you learn from Ali?
Ali is one of the best decision makers I've ever known. He has the ability to take information from many different sources and distill it into its simplest form. Once he gets 60% or 70% of the input necessary, he's done. I learned to let go of the notion of having perfect information before making a decision. He also never leaves you guessing. If you ask for feedback, you know you're getting his honest opinion. He empowered me to make decisions on my own and brought me into decisions that helped me learn.
How did your role at Escape, and then Perennial, evolve over time? And what did you learn about sales in the meantime?
In the first six months, I was responsible for our partnerships, sales, and marketing at Escape, our first and largest business. In that role I learned to be patient, but not satisfied. Our software took months to implement and years to sell because it was a big effort for our customers to switch systems and transfer all of their HR, payroll, and budgeting over to us. I also learned the nuances of the enterprise selling cycle—lessons that help me in my role at Homebot today. I believe it's important for the team to celebrate certain milestones pre-sale. If you take two years to sell to somebody, you need to find smaller milestones that get you up every morning and make you feel motivated. Milestones can be as simple as a good conversation where you learn something that helps tailor your sales pitch, or in the case of Escape, a commitment to meet with a county superintendent. Our customers moved slowly, and I tried to get them to move more quickly, while understanding that if we focused on the process, the results would take care of themselves.
After we acquired three new edtech companies, I became VP of business development for Perennial (our holding company). I was focused on coordinating pricing, co-marketing, and cross-selling opportunities between the different portfolio companies. I also worked closely with the general managers of our businesses, mostly founders who had sold to Alpine. As a leader, it's important to know the market cold and to do as much discovery as you can to understand where to focus your and your team's energy. The worst thing that can happen is for your team to focus on the wrong opportunities. Leadership is all about delegating and letting people operate with autonomy while partnering with them to align on goals and strategy.
The worst thing that can happen is for your team to focus on the wrong opportunities. Leadership is all about delegating and letting people operate with autonomy while partnering with them to align on goals and strategy.
What happened next? And how did you decide to return back to Alpine to search for another company?
We sold Perennial to Frontline in summer of 2019 and achieved a positive outcome for Alpine and their LPs. But selling so quickly was bittersweet. We had five great businesses, we were a year and a half into our investment cycle, and I loved working with Ali, Amanda Sayigh (Perennial's Head of M&A), Ramona Marshall (Escape's president), and all of our founders. It felt like we were just getting started. But the decision to return to Alpine was simple. There was so much I still wanted to learn from Alpine and from Ali, and I felt like I had a lot left to accomplish. I loved the idea of going back into residence with Ali and playing a major role in selecting the business that we would acquire and operate next. The biggest draw of Alpine is the people. I'm consistently impressed by the character and growth mindset that team members bring to their work, and it's a group I want to partner with for a long time.
How did you know that Homebot was the right next step for you?
We were close to acquiring three different businesses between October 2019 and January 2020 but none of them came through. And then in February, the COVID-19 pandemic hit. By March, everyone was remote and we predicted that no one would sell their business. The M&A market was on pause, and we imagined that founders of software companies would wait until more stable times. Meanwhile, Patrick Eble and Rojan Singh at ASG were pursuing Homebot, a client-for-life portal that facilitates meaningful engagement between professionals in the homeownership ecosystem. I had to decide whether to explore the Homebot opportunity and part ways with Ali, or to miss out on the chance to join Homebot.  It was one of the hardest decisions I've ever had to make.
Homebot is an early stage company with tons of growth potential, so it feels like a startup. I knew I could play a role in molding the company's future, and I knew I would learn a lot along the way. It's also in the mortgage space and we have a B2B2C model, two characteristics that I find really attractive. We serve millions of homeowners, but we sell to mortgage and real estate companies. To me, that's the best of both worlds for software. You have high-touch and low-touch sales cycles. And Homebot is based in Denver, a place where my wife and I knew we would be happy for a long time.
What was your focus when you joined Homebot, and what initiatives did you work on in the first 90 days?
When you buy a good business that's thriving, you have to be really careful to only make high conviction changes, while taking time to learn and deeply listen. It's important to understand which elements of a business can be further optimized, and which you should just leave alone because they're working. In the Sales and Marketing orgs, I wanted to start by changing things that would cause the least amount of organizational disruption or that were the fastest to bring to market. I loved Homebot because over 50% of our new business was acquired through word of mouth referrals. When I joined, I wanted to figure out how to leverage the power of our existing customer base. As part of our first marketing push, we amplified the voices of our customers in testimonials. Everyone on the team believed in that initiative and we were able to roll it out fairly quickly.
What has been your biggest learning since starting at Alpine? And what personal growth goals have you set for yourself?
Alpine's intentional focus on long-term planning allows the entire team to have a stake in outcomes, and it really clarifies the mission and vision. Everyone is aligned on the why and how, which makes it easier to go after goals. Alpine has taught me that people self select into environments where there's room for personal growth, and people who invest in their own personal growth tend to be invested in other people's growth. When I hire people, I always ask how they're working to improve themselves and to improve others.
I'm definitely still that annoying kid at heart. I'm rarely satisfied with the unknown, so I have a tendency to dive deep into research on market opportunities, competitors, pricing strategies, or whatever else I'm working on. That search for a better answer or approach is part of what fuels me. I know there are thousands of ways to improve myself or improve the business, and my greatest challenge is prioritizing the why's. Last year, I set a goal of trusting my gut and making faster decisions, even when I only have 60% of the information—like Ali. In a business that's moving as quickly as Homebot, it's important to take action without hesitation, and then to be willing to admit when I'm wrong and to reevaluate and change course.
In a business that's moving as quickly as Homebot, it's important to take action without hesitation, and then to be willing to admit when I'm wrong and to reevaluate and change course.
What's next for you and for Homebot?
Homebot has so much growth potential; we more than doubled our customer base last year and we've moved quickly out of the gates this year. When I joined in May 2020, we had 45 employees, and now we have 72 employees and counting. Going in, I knew my focus would be on scaling Homebot. It's just so exciting to me to be able to hire quickly, move fast, and influence strategy. We've found really strong product market fit, we have happy customers, and we're laser focused on scaling and continuous product innovation.
On the Sales and Marketing team, we're inspired by the Chinese new year symbolism of "the year of the ox" which signifies charging forward, working hard, and producing a bountiful harvest of results. We're also adding a new team member every month, so I'm focused on making sure our bar for talent stays high. Change sometimes brings uncertainty, and if people aren't open-minded, it can be really difficult. My team has been very receptive to new ideas, and I'm proud of how they've showed up. Our team is selfless and has a strong ownership mindset. Everyone truly wants what's best for Homebot and knows the large role they play in our success.
Homebot—and Alpine—is laser-focused on creating the best environment for their employees. They understand that if people are satisfied, they're going to produce their best work. I'm excited to help maintain an environment where people are happy and all charging toward the same mission. If people are engaged and motivated, good things will follow.
If people are engaged and motivated, good things will follow.
Subscribe to hear more about building businesses through people.