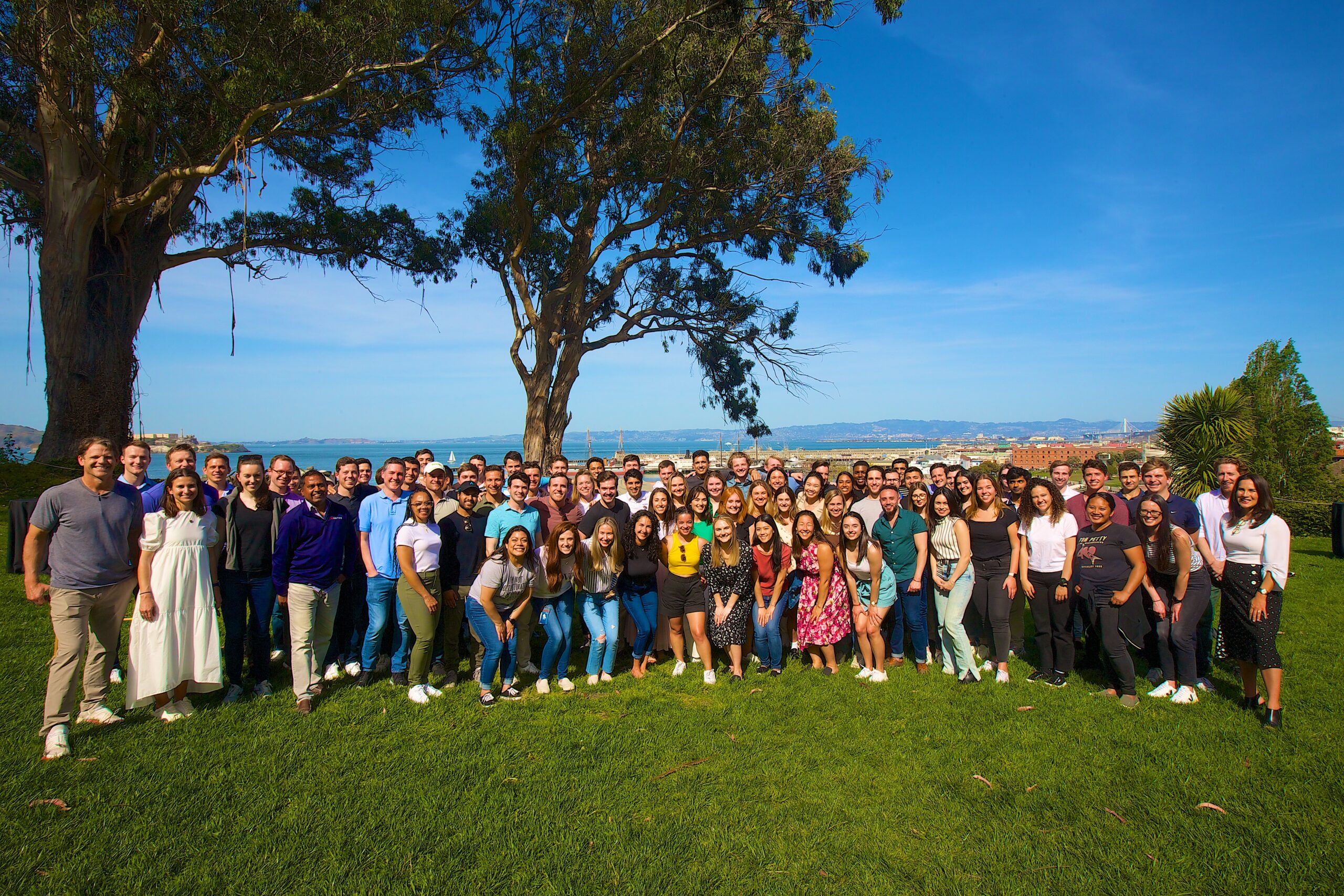 This past year is one for the books at Alpine Investors. As 2023 takes shape, we're taking the time to reflect on our achievements and success from the year behind us. We have three goals at Alpine: to be a top-performing firm, to be the best place to work for exceptional talent, and to be a Force For Good in the world. We've made great progress towards these goals in 2022 and are excited to share some of the highlights from our impressive work this year.
Deals, Deals and More Deals (and, Yes, Some Awards)
From over 11,000 sourced deals, we closed on over 150 deals across software and services industries in 2022—and the work gained press attention from outlets like The Wall Street Journal, Bloomberg, and Fortune. We also launched two new platform businesses, including Trilon, our engineering services platform, in February, followed by predictis, our data software business platform.
Besides launching new platforms, we closed businesses across various industries. Below shows notable activity, organized by sector:
Just as we continued to grow our portfolio, we saw four businesses exit; including Mindful, which was sold in August to Medallia, (read this case study on how the company transformed under Alpine's hold period ), and MidAmerica Administrative & Retirement Solutions to U.S. Retirement & Benefits Partners in January. We also sold America's Thrift Stores to TZP Group and ImageQuix to Charlesbank Capital Partners.
Our 2022 Awards
Our work as a firm was recognized through distinguished awards this year, including our placement on Inc.'s 2022 List of Founder-Friendly Investors for the fourth year in a row and our fourth consecutive year as a Great Place to Work certified workplace. Alpine was also awarded the No. 14 placement on GrowthCap's Top 25 Private Equity Firms of 2022 and No. 8 on Fortune's Top 10 Best Small and Medium Workplaces.
And while we approach our work with a team mentality, a few extraordinary leaders at Alpine were recognized with awards this year. Our Head of DEI Divya Gopal was recognized as a Leader in Diversity, Equity & Inclusion for 2022 by Mergers & Acquisitions. Haley Beck, a Principal at Alpine Investors, was an awardee for GrowthCap's Top 40 Under 40 Growth Investors of 2022. And Tal Lee Anderman, Vice President of Talent at Alpine Investors, was recognized on Insider's 2022 list of 100 People Transforming Business as one of the 10 leaders transforming finance and money.
Growing our Firm and Loving the Work that We Do
At Alpine HQ, we're now a team of over 100 full time employees– with over 25 new hires joining in 2022. Scaling our talent has been a bright spot across all departments as we brought on new hires ranging from analysts to executives. We saw significant growth on our Alpine Operations Group (AOG) team, which supports our portfolio and grows our Alpine community through our leadership programs, including CEO-in-Training (CIT), and the new CFO and CPO accelerator programs. In 2022, we hired over 40 leaders for these programs to start in our portfolio in 2023. Since it started in 2015, the CIT program has placed over 100 leaders across our portfolio to date.
We've also grown incoming talent through our internships, with the Growth Internship program chief among them. Through this annual internship which provides opportunities and exposure for community college students, we placed 12 community college and first-generation students into the Alpine portfolio this year; offering training, career paths, and the tools to build their own careers.
Besides growing the firm, we've continued to strengthen the community through our major events, including our annual retreat and Growth Summit—both of which were held in-person for the first time since 2019. You can watch and read a summary of the 2022 Growth Summit on our blog.
Being a Force For Good
To us, being a Force For Good means having a positive impact on our employees, communities, and the world. We are dedicated to creating thriving businesses where every employee can live a more purpose-driven life, building workforces that are diverse, equitable, and inclusive, and supporting our communities by giving back and investing responsibly. As we grow, we continue to pursue a deeper understanding of what it means to make an impact. We know there's lots of work ahead, and we're committed to building and maintaining a culture where people can thrive.
We will be publishing our annual Force For Good report in Spring 2023, which will give a deeper look into how Alpine impacted the world in 2022. But as a sneak peak, here are a few ways we showed up as a firm this year that we're excited about.
To get more diverse folks in our pipelines, we partnered with groups like BLK Capital Management and Access Distributed to expand access to finance recruiting to underrepresented groups. We held a BLK summit at Alpine HQ in which over 15 Black finance students at top universities around the country were introduced to private equity – and many of these folks will be interviewing for internship roles this upcoming spring.
We established three employee resource groups (ERGs) at Alpine HQ to create virtual and in-person spaces for underrepresented groups, including 1) Women on Investing Team, 2) Black and Latine (pronounced La-Tin-Ay), and 3) New and Expecting Moms
And finally, we launched Alpine Social Ventures (ASV), designed to foster the development of organizations that are focused on delivering an educational or social benefit. ASV aims to support the next generation of social-impact leaders by providing capital and insights to help them successfully launch their businesses. Built upon practices learned through Alpine Investors' CEO-In-Training program, ASV leverages Alpine's playbooks and practices derived from 20+ years of private equity investing. The inaugural cohort of companies is focused on climate change, gestational diabetes, underrepresented immigrant entrepreneurs, and sustainable manufacturing.
Reflecting on our shared success, we know that all these milestones—and the many others not listed here– couldn't have happened without the support from our community at large. So, to our founders, leaders, bankers, investors, partners and other colleagues and friends alike—thank you for making the Alpine community what it is and for contributing to a fantastic year. We look forward to an even brighter and better 2023 ahead!
This presentation does not constitute an offer of investment advisory services or a solicitation by Alpine for the provision of investment advisory services, nor does it constitute an offer of, or investment advice with respect to, any security. Past performance is not necessarily indicative of future results, and there can be no assurance that historical trends will continue during any period. Data is as of 1/12/23 unless otherwise noted.
Case study information contained herein is for informational purposes only to illustrate the Companies' strategies and the types of investments previously made by Alpine, and do not purport to be a complete list of all investments. It should not be assumed that investments made in the future will be comparable in quality or performance to the investments described herein. References to specific investments included herein should not be construed as a recommendation of any particular investment or security.
Implementation of Alpine's Playbook is intended to illustrate examples of the types of post-investment operational and financial support that Alpine Investors seeks to provide to portfolio companies and there can be no assurance such support will be successful. Any compensation, expense reimbursements, equity interests or other amounts received by Alpine Operations Group (including, but not limited to, CEOs-in-Residence ("ClRs"), CEOs-in-Training ("CITs"), Corporate Development Professionals, Sourcing professionals and Alpine PeopleFirst Leadership professionals) generally is paid for by the applicable Alpine Fund(s) and/or their portfolio companies, and unless otherwise specified in an Alpine Fund's governing documents, such amounts do not offset the Alpine Fund's management fee and are not otherwise covered by the management fee.
Certifications, awards and rankings are based upon third-party reviews and opinions and are not indicative, or a guarantee, of Alpine's or any of its portfolio companies' performance. All certifications are produced by third parties which are not affiliated with Alpine. Alpine pays an annual fee for all select certifications. These certifications may not be representative of any one person's experience. Further, these recognitions are not to be construed as indicative of Alpine's future performance or person's future experience. These certifications should not be construed as a testimonial regarding Alpine's advisory capabilities and do not necessarily relate to the profitability or performance of its clients. There can be no assurance Alpine will maintain any rating or certifications. For more information of the selection criteria, please visit the links to each award.
Please see the Terms of Use and Regulatory Disclosures available [here] for important information regarding the information presented herein.
Subscribe to hear more about building businesses through people.