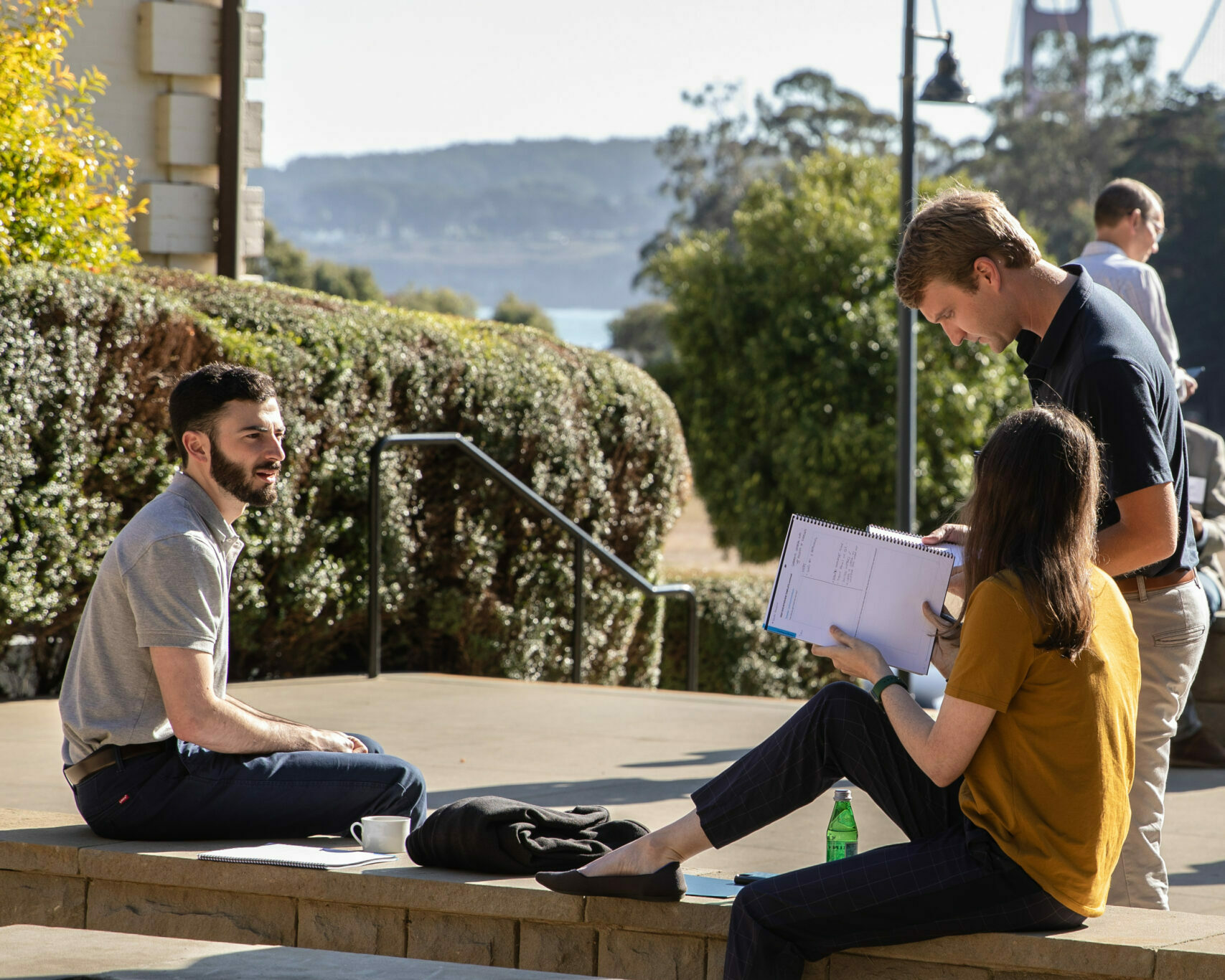 It's a wrap on this year's Growth Summit, which brought Alpine Investors and our portfolio leaders together in the Bay Area in late October. We gathered the Alpine community to connect and learn from one another—and to celebrate all the ways that individuals, teams and companies have succeeded and grown. We're so thankful for the two days of bonding and inspiration that we shared. We met with familiar faces and new ones alike, collaborated and strategized on essential topics, and celebrated big wins by awarding exceptional portfolio companies for the recent work they've done. It was motivating, energizing and informative—and we're already excited for next year.
But don't just take our word for it. In the brief video below, you can hear from Growth Summit attendees about what they gathered from one of Alpine's most-anticipated events of the year:
The theme of this year's Growth Summit was "The Four Most Powerful Levers for Value Creation." While each of Alpine's portfolio companies are unique in their investing thesis, structure, and operations, we know that mastering M&A, talent, strategic vision, and exit planning will drive exceptional value creation across the Alpine portfolio. At the summit, our community of leaders dove deep on each of these topics, helping attendees chart a clear path to success for their businesses. Read on for the main takeaways from each of our sessions, so you too can unleash heroes within your teams and your business.
Hiring A-Players and Topgrading your Team, As Taught by Matt Moore, Bess Yount and Kiki Couchman
Hiring A-players is the key difference between good and great companies. A-players are the folks who drive the business forward, attract other high-achieving team members, and bring the most value to the bottom line. Matt Moore, Managing Partner at Alpine Investors, Bess Yount, Chief Operating Officer at Alpine Software Group (ASG), and Kiki Couchman, Head of Coaching & Alpine Executive Experience (AEx), gave a session at the Growth Summit on how to hire A-players for any role and within any industry; from sourcing high-quality candidates, to developing a scorecard and job description, to running an effective deep dive interview.
In the interactive workshop, a few tried-and-true strategies were shared with the portfolio leaders in the audience. A particularly helpful guide was centered around building a scorecard—the description of an ideal candidate that you'll continue to reference throughout the hiring process. In creating this scorecard, you'll want to focus on three key elements:
Mission: The executive summary of the job's core purpose
Outcomes: A description of what the dream hire will achieve in 1 year on the job
Competencies: A description of the skills and attributes the person must possess to achieve the desired outcomes
By defining these three focuses early on, you'll have a better understanding of what exactly you're looking for during your search. The best scorecards are ones written with measurable outcomes and competencies. For example, saying that you're seeking someone who has demonstrated ownership and ambition by holding some sort of leadership position (professionally, academically, or within their personal lives) is a competency that's easier to recognize rather than simply saying you're seeking someone motivated. By using this thought-out scorecard, you can create a detailed job description that helps the candidate understand if they fit the desired criteria—saving their time and your time with finding solid candidates.
What will make you the best in the world? A Framework Presented by Mark Strauch and Tal Lee Anderman
We start with a powerful and challenging question: what will make you best in the world? According to Alpine Partner Mark Strauch and VP of Talent Tal Lee Anderman, who led the interactive session, it's best to assume you don't have a good answer to this critical question. At Alpine, we often say that it's important to work on the business just as much as you do in the business—and finding the answer to this question is a great example of this important work. To get closer to their answer, Strauch and Anderman gave leaders at the summit a roadmap, which included thought-provoking questions (What are you deeply passionate about, and what drives your economic engine?), exercises, and frameworks to guide attendees' approach.
Key among them was an emphasis on clarity, and why simpler is better when it comes to defining this question's answer. You have to say no to many good things, Strauch and Anderman explained, so you can say yes to one great thing. Plus, clarity is a force multiplier; meaning, a clear answer helps you make better daily decisions. Whether you're asking yourself if you should discount prices for a customer or deciding whether to focus on acquiring customers or strengthening relationships among existing ones, a clear answer on your main differentiator acts as a filter for every decision that follows for you and your team.
You'll want to stress test your answer to what will make you best in the world by comparing your answer to the following questions. Ask yourself, is your idea:
Aligned with your passion, culture and company values?
Aligned with how you make money?
Distinct from competitors in a way that your customers will value?
Measurable in simple, concrete ways?
Developing your Add-on Acquisition Strategy, as Taught By Graham Weaver
It's no secret that acquisitions can grow a company to new heights quickly—but the secret to finding the right companies and bringing them into the fold successfully is a bit more nuanced. Graham Weaver, Alpine's Founder, guided attendees and portfolio leaders through creating a strategy within their respective companies that scales bright spots and proactively solves for challenges in his interactive presentation at the summit. It's an approach he helped develop and refine here at Alpine, and one that finds the right businesses and places world-class talent in said businesses to take it to new heights.
Weaver's advice on finding a solid business to acquire? Hunt where others don't hunt and stamp out the standardized playbook often taught in business school. Consider the metaphor of red waters or clear waters in a shark attack—it's better to hunt in waters clear of competition, rather than focusing on the same target that others have clouded already. Acquisitions should be adding the missing piece in your existing company, whether that's to increase your distribution and regional channels, to add features or functionality to your product, or to acquire customers easily and without further investment.
Charting your Path to a Successful Exit, According to Billy Maguy and Dan Sanner
Exit planning is the final mile in an otherwise long marathon, and the work involved in a successful exit should start not long after the business begins to find its strides. A desirable exit strategy is about creating long-term value for the business, successfully integrating any new partners, and easing the transition for customers that'll ideally be using the product or service for years to come. Alpine Founding Partners Billy Maguy and Dan Sanner shared with Growth Summit attendees their advice for exit planning, provided questions to discuss among executive leadership, and dove into case studies of successful exits.
Guided by Maguy and Sanner, leaders were asked to explore the following discussion questions with their team to get the exit planning strategies flowing:
When will you sell?
Who will you sell to and why will they need to buy the company?
Why would someone pass?
What will the business look like at time of sale (financials and key performance indicators (KPIs))?
What hires will you need to make to make this happen?

To Be Continued at Next Year's Summit
In discussing the questions above and all the others that were poised by our fantastic speakers, leaders and experts, our portfolio leaders left the summit with a renewed sense of motivation and drive to take their businesses to new heights. We can't wait to see how these discussions and connections will manifest in new A-player hires, big picture strategy and acquisitions and deals—and we can't wait to take things even further with more events at next year's Growth Summit, already scheduled for Oct 25 – 27th 2023.
Certain statements about Alpine made by portfolio company executives herein are intended to illustrate Alpine's business relationship with such persons, including with respect to Alpine's facilities as a business partner, rather than Alpine's capabilities or expertise with respect to investment advisory services. Portfolio company executives were not compensated in connection with their participation, although they generally receive compensation and investment opportunities in connection with their portfolio company roles, and in certain cases are also owners of portfolio company securities and/or investors in Alpine-sponsored vehicles. Such compensation and investments subject participants to potential conflicts of interest in making the statements herein.
Subscribe to hear more about building businesses through people.