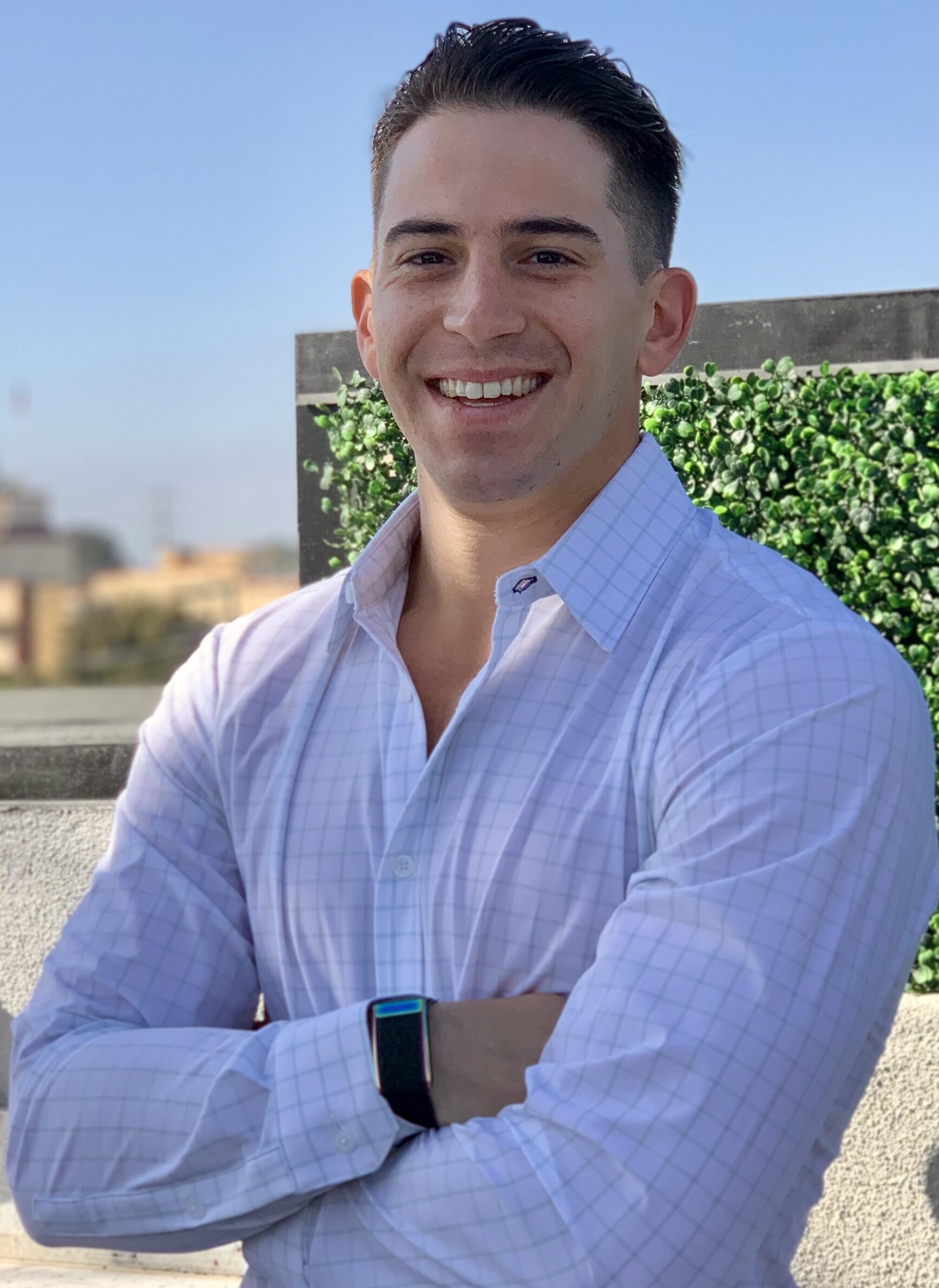 Max Needle knows what it takes to lead a team to victory. This collegiate basketball player took his leadership skills to greater heights in his current role as the Vice President of Operations at TEAM Public Choices, an Alpine Investors-backed home care services provider serving individuals with disabilities and the elderly. To get there, it took perseverance, a growth mindset and taking a significant bet on himself by joining Alpine's CEO-in-Training (CIT) program. In reflecting on his athletic and professional career, Needle shares how being a team player and leaning into discomfort defines his leadership approach.
My parents were my earliest career influences, both of whom were entrepreneurs. They raised me in northern New Jersey, where my mom was a modern dancer and choreographer and my dad worked in commercial real estate. In addition to lots of love and encouragement, they taught me the value of intensity, discipline, and a strong work ethic from a very young age. Shooting hoops in the driveway and annotating the newspaper's box scores from the previous day's slate of games were part of my daily morning routine. Their entrepreneurial spirits inspired me to discover what sets my heart on fire and to adhere to my values in pursuing my goals.
Besides my parents, team sports were a major factor in my development. I played varsity-level baseball and basketball in high school before deciding to pursue the latter collegiately. While getting my bachelor's in finance at Washington University in St. Louis, I walked onto the varsity basketball team as a freshman. Our team won many games during my time there, including three conference championships. I earned the honor of senior captain after three years on the court. I was never a star player, but that didn't deter me from making my mark as a leader on the team.
The student-athlete experience was everything I could've hoped for and the lessons I learned from my coaches and teammates have carried me throughout my career. Balancing the significant academic and athletic responsibilities was a tall task, but it forced me to manage my time and embrace the discomfort. During this time of my life, it became clear to me that, while uncomfortable at first, your best work happens when you're equally prepared for and challenged by your work. It was this realization that inspired me to pursue the cut-throat world of investment banking after graduation.
Turning My Early Career Hurdles into Life-Long Leadership Lessons
During the internship interview process my junior year, I got rejected from 39 positions before finally landing an offer weeks before summer break. Amidst all this rejection, I considered pivoting my career pursuit or quitting basketball to free up time to figure out my next move. However, I persevered and did neither. The rejection experience brought me back to fifth grade basketball tryouts and the feeling I had when I didn't make the team because I "lacked the necessary skills." That was when I discovered failure as a source of motivation and the magnitude of my willpower. My response 10 years later didn't look any different– quitting was never an option. That summer I worked 100-hour weeks while training for basketball at 1 or 2 o'clock in the morning. While grueling, I built mental and emotional fitness under those conditions. When it came time for my full-time job search, I leveraged all the connections I made through my failed interview processes into a full-time role in the Minneapolis office of a more established investment bank.
While the investment banking role was fulfilling given the broad exposure I was given to M&A, I was more intrigued by the stories of our clients– most of whom were founders or private-equity sponsors– and wanted skin in the game. I decided to make a move to private equity investing and specifically sought out firms focused on healthcare to ensure further alignment with my values and aspirations.
Investing in Myself by Interviewing for the CEO-in-Training (CIT) Program
Working in private equity was a great experience, but I became more intrigued by the CEO experience than the partner track. I craved a larger emotional investment in my work and desired to help build something meaningful. I recognized I needed to reinvest in myself to pursue that path and soon enrolled in business school at Chicago Booth.
During my first year at Booth, I explored the early-stage ecosystem by co-founding an interactive sports gaming company. While my co-founder and I were gaining traction in beta-testing, we ultimately decided against raising capital after some difficult, intellectually honest conversations. Just before the start of my second year, I married the woman of my dreams, Nancy. Ten days into our South African honeymoon, I opened my laptop while she was napping and saw a job posting about Alpine's CIT program. It sounded fascinating enough to apply. A few days later, I received a note from Alpine's Jacob Balley asking to chat.
Each time I connected with Jacob and met more of the Alpine family, my enthusiasm increased, realizing that there was values-alignment and an incredible leadership opportunity in front of me. It became clear that Alpine's PeopleFirst approach to private equity was authentic and it shined through in how my interviews were conducted. The concept of valuing someone's attributes over experience resonated with me. After about four weeks of conversations, I received an offer of a lifetime to join the CIT program.
Accepting the position was a no-brainer by the end of the process. Even today, two and a half years after accepting the job, Alpine has been fully accountable to what they shared and promised throughout the process. It's a wildly challenging and rewarding leadership experience within a supportive community of like-minded individuals.
During the portfolio company matching process, an opportunity with TEAM emerged. After speaking with the management team, including company leaders Josh Greenberg, Cullen Knights, Marcus Bradley, and Rachel Green, I could sense this was a humble group of mission-oriented leaders that loved to win and make a difference. Someone once told me to surround yourself with people whose default behavior is your desired behavior. When I thought of this, the choice became simple. What TEAM does–facilitating in-home care for the elderly and those with intellectual and developmental disabilities across our country–was really inspiring to me. I wanted to solve problems and build teams that were in direct service to the mission. Having lost my grandmother to COVID, which she contracted in a nursing home outbreak, I was even more motivated to join forces with TEAM and the fight for better self-directed care.
Someone once told me to surround yourself with people whose default behavior is your desired behavior. When I thought of this, the choice became simple.
In considering the various roles within Alpine's portfolio, the number one thing I was solving for was the kinship I felt with the team. My priority was never chasing a specific title. While Alpine undoubtedly does their absolute best to accommodate those types of preferences, I knew joining a mission-oriented, winning team was paramount for my personal growth.
I accepted the role with TEAM, moved to San Diego mid-pandemic, and soon found out Nancy and I were expecting our first child. It was quite the start to my journey as an operator. I was thrown right into the fire and tasked with helping Alpine close its first continuation vehicle. Diving deep into this process was a great way to learn the ins and outs of our business while building rapport with all the incredible leaders across TEAM. The biggest challenge I faced out of the gate was getting comfortable with prioritizing. I was so used to being in sprint mode during my pre-MBA years, so it took time to accept the importance of pacing. My colleagues helped me see that complexity is the enemy of execution.
Thinking Like a Team and Leaning on CIT Resources
A natural part of the CIT experience is identifying and facing limiting beliefs. I initially thought, "who am I as a fresh MBA graduate to walk in here and dictate strategy at a company that has achieved such remarkable success?" I quickly overcame those feelings thanks to the resources provided through the CIT program and leaders around me, including executive coaching, mentorship and heart-to-hearts with fellow CITs. I realized I am here during these unique chapters of the story, there's a reason why people want me here, and it will require something different to get us from here to where we ultimately want to go. Josh Greenberg, TEAM's CEO, was especially supportive by giving me permission to challenge the status quo and bring healthy debate to the table. That instilled confidence in me and has resulted in a myriad of engaging strategic discussions among our management team.
I've leaned heavily into the resources the CIT program provides and value them tremendously. When your calendar is full and you feel like you barely have your head above water, it's easy to question spending another hour with your executive coach or your CIT pod. However, every single time I choose to invest in these resources, I always get something in return. Whether it's listening to someone's inspiring story or learning a new framework for solving a difficult problem, these conversations keep giving.
It's been an honor and privilege to take on this role at TEAM. I've had the opportunity to touch every functional area of a large, thriving, mission-oriented business and act as the connective tissue across all our operating brands. The best part of my job has been building deep relationships with founders and candidates thinking about joining the TEAM family and then hearing from them post-close or post-hire about how everything we articulated at the outset has come true or even exceeded expectations. It's also been humbling and rewarding to be emotionally invested in building something special alongside a capital partner that is fully invested in you as a leader, all in the spirit of a long-term partnership. The CIT program is not intended to be a short sprint or some rotational program—Alpine is genuinely investing in you as a portfolio leader for decades to come.
The CIT program is not intended to be a short sprint or some rotational program—Alpine is genuinely investing in you as a portfolio leader for decades to come.
At moments, this all may sound like it's too good to be true. It certainly can be rewarding, but discomfort is prevalent early and often. It takes courage to close the distance between today's reality and achieving your goals; to truly commit yourself to unlocking the full extent of your potential. Alpine has created the ultimate training grounds to take that on, transcend all those limiting beliefs and build incredible businesses in the process.
Subscribe to hear more about building businesses through people.