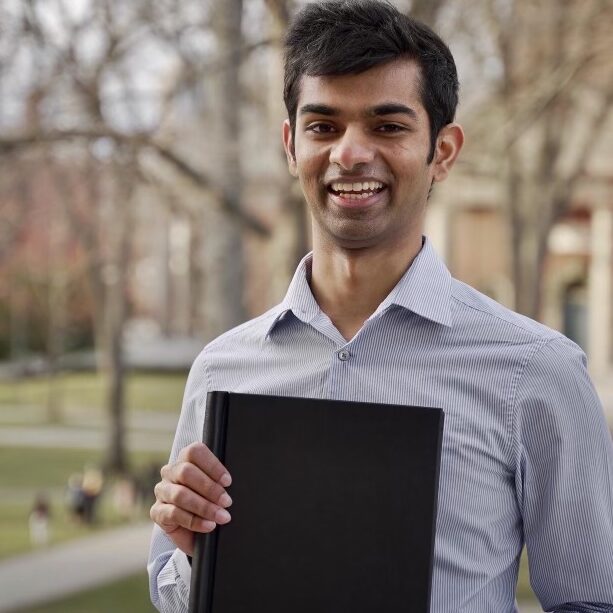 My Summer at Alpine
By Dhruv Mohnot
During his sophomore year at Harvard, Dhruv Mohnot was considering returning to spend another summer as a banking analyst, or pursuing a tech company internship when he discovered Alpine. The applied math and economics major took a leap when he chose to spend his summer as an investing analyst at Alpine. With a summer of learnings behind him and graduation ahead, he'll join Alpine as a full-time analyst this September. He shares how the summer lived up to—and exceeded—his expectations, the power of learning by doing, and the role of mentorship and strong relationships.
You can go to a bigger name firm, but you're going to have a worse time and you're going to learn less. Bigger firms might look shiny on a resume or a LinkedIn post, but Alpine is a great place with great people, and you'll have an amazing time.
Two Weeks of Onboarding

"I felt like I was given so many basic skills and my foundation was right there ready to build upon from those first two weeks. And prior to that, I had no accounting background, no finance background. I didn't know how to build Excel models or anything. During those first few weeks we really dove deep and Alpine gave everyone the basic foundation upon which we could grow and learn."
"I was really nervous on day one. The rest of the interns seemed like superstars, but it turns out everyone was on the same page. We were learning together and it was super collaborative. At the end of onboarding, I felt ready for the next six weeks of this program. I was fired up to start working and contributing to the team."
On the Job
"We were working on this HVAC deal and I was silent on the first two calls with the founder. Then my mentor, Arash, encouraged me to speak up and ask any questions I had. That was such a turning point for me. I felt empowered to find my voice and like a valued member of the team."
"We were looking at this accounting software company. And the deal team lead asked the interns if anyone had NOT built a model yet. It was my turn. They told me, "Okay, you build a model. We're going to see how it works early next week." I had never built a model before, so I wasn't sure I was equipped to do it. But having that ownership meant I learned a lot. And I wasn't thrown into the deep end by myself. My mentor was there the whole time, making sure I was able to get all the basics down."
Support Along the Way
"Alpine showed up for me in a few ways. The best example would be their PeopleFirst passion and purpose workshop for the entire internship class. It upended my expectations of what a PE internship would look like. Having that day set aside to really think deeply about what work means to me, what growth looks like for me, and being able to hear from my fellow interns reflecting on themselves in a similar way made me realize how much Alpine cares about people. They really want to make sure you're well equipped to succeed, not from a technical perspective, but also from a personal perspective. That's the ethos that drives the firm."
3 Summer Highlights:
The portfolio project. I was matched with one of our portfolio companies, an ed tech company, and my project was basically assessing the product market fit for the new test they were rolling out. I sat in on some product meetings, and really got into the weeds of the new spatial reasoning test that they were developing.
Our intern presentations. We all had a chance to give a 10-minute, mini lecture on any topic. I was able to share my love of sports and sports econ with the entire firm. Everyone was so supportive and excited about what we shared.
Case studies. Manager Partner Graham Weaver taught the interns three case studies throughout the summer. I really felt like a B-School student, he was cold calling us and really bringing us in the weeds of the cases. He asked what we would do in different situations, we had a chance to role play scenarios. I especially liked how it was focused on human relations problems and understanding how to interact with people in professional contexts. As a college student, I've never had to think about firing someone or how to relay news about budget cuts.
End of Summer Reflections
"Coming into the summer, I thought I would be on Excel a lot more, but my internship was a lot more about understanding the company, and understanding the people working there. There were plenty of Zoom calls with people at the companies of the deals I worked on, and a lot more expert calls and learning about the field in general."
"You're not just pigeonholed into doing one thing all summer. You have many different tasks that are all contributing to the firm in different ways, and that allows you to flex different skills, different expertise, and engage with different passions. I really like ed tech. So working with one of our portfolio companies  was a great way to engage with my passion and learn more."
"I've appreciated meeting so many great people and interns on the team. I've kept in touch with a lot of them, which has been really fun."
One word to describe the summer: Expectation-defying.
One word to describe Alpine: Community.
One word to describe the investing team: Super-powered.
Top person: My mentor Arash, for sure. He facilitated so many conversations and was open and honest with me about the role and his experience working at Alpine. He also encouraged me to speak up in meetings and to really contribute. That built a lot of confidence.
Most exciting thing about joining Alpine full time: Meeting everyone in person.
Proudest moment: Portco project final presentation. Presenting my model and findings and how I think that the product fits into the broader market was not something I was expecting to be able to do at the beginning of the summer.
Biggest surprise: So much support.
Want to see for yourself what an Alpine Summer can do for you? We typically hire rising college juniors for our investment analyst positions. Learn more here.
Subscribe to hear more about building businesses through people.