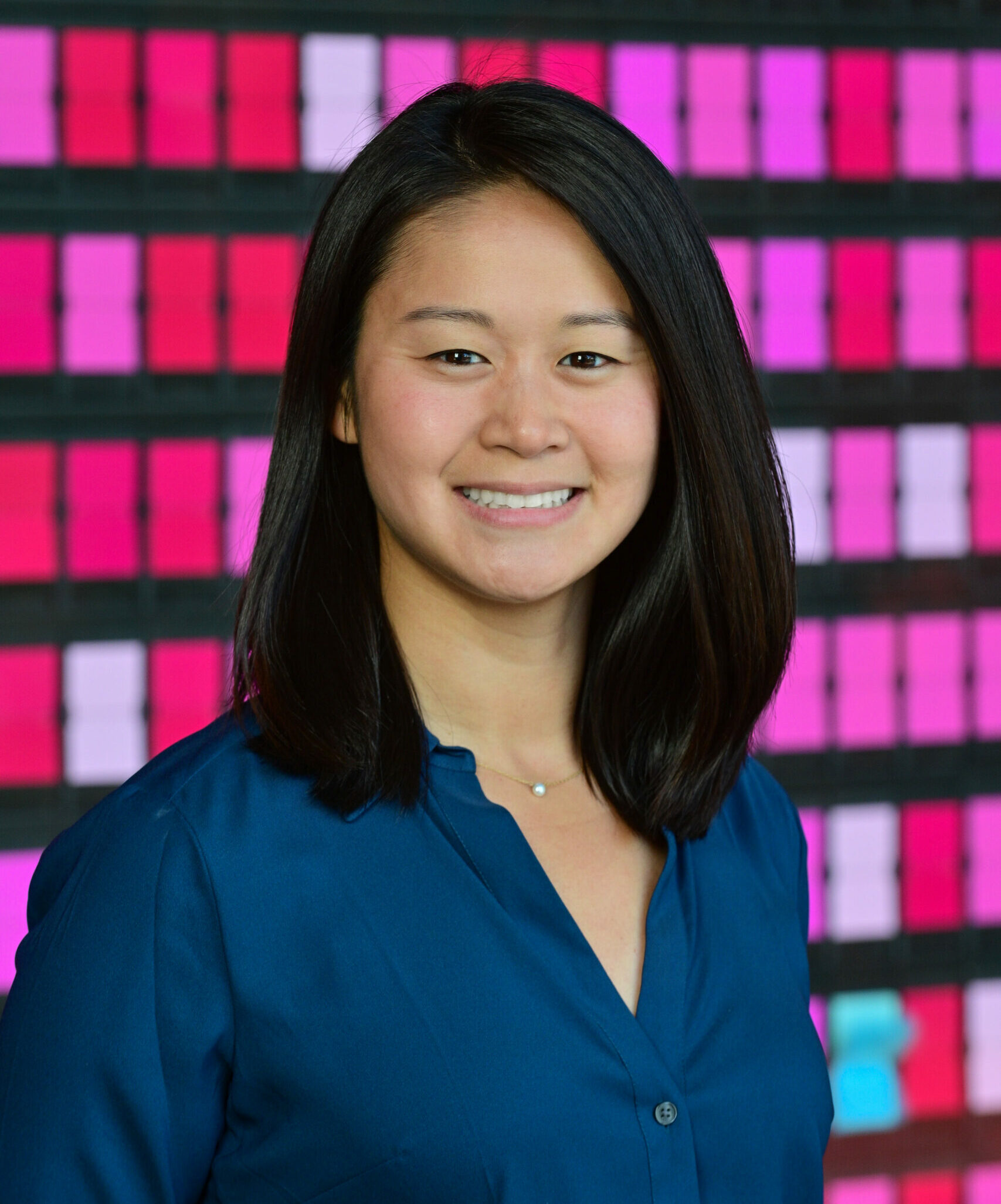 Abby Chao is the CEO of three software businesses, all of which are operating companies of Alpine Software Group (ASG), Alpine Investors' software platform. First, Chao leads Record360, which provides digital documentation software to rental companies to record the condition of physical assets when they're rented, borrowed, or changed hands. Second, she leads e-Courier, a leading enterprise software solution provider for last-mile delivery couriers. And finally, Chao leads PackageRoute, a market-leading app used by independent service providers and their drivers to efficiently run their pickup and delivery operations in the last mile. She took the helm of these companies through Alpine's CEO-in-Training (CIT) program, which gave her an operator role at these companies directly after she got her MBA. Here, Chao reflects on what it's like to juggle three businesses and why doing so remotely has been the best way to do it.
I grew up in a suburb of Chicago and I was always interested in stocks, the market, and technology. I followed my passions and enrolled at a high school that focused on mathematics and science. As a junior, I participated in a business pitch competition where my team won a $5,000 prize for our idea. Coming off the high of that win, there was no going back– I knew I wanted to pursue business and I became a business major when I left for college.
When I graduated, I became a management consultant, where I spent a lot of time focusing on the education sector. After a few years of consulting, I met my future co-founder, Jordan, who had already started working on a startup idea at the intersection of FinTech and EdTech. At the time, he had only built a product concept and figured out some legal work, but there was no marketing plan, business model, or anything like that. So, with my background in business, I joined him and we co-founded Backer, an online platform that helps families save for college. We spent about four years building this startup. We hired an engineering team, we raised venture capital, and ultimately, we helped thousands of families save millions of dollars for college.
In building the business, I learned all the ups and downs of being a founder, what it really took to run a business and everything in between. It was an incredible opportunity to bring all my talents to bear on a meaningful challenge, and I grew tremendously from that experience. After the business found traction and gained some momentum, I had a desire to see what else was out there and to explore new roles. I decided to step away from CollegeBacker and go to business school. I left the startup in the hands of my co-founder and enrolled at Stanford Graduate School of Business (GSB).
A Quicker Path to the Leadership Experience
I came into business school with an open mind. I considered starting another business, going into product management, or taking an operational role at a tech company. I even thought of becoming an investor, whether in venture capital or private equity. In exploring these paths, I realized I enjoyed operating companies but didn't have to necessarily start a business myself. I wasn't ready to dive back into the zero-to-one aspect of building a startup again, but I didn't want to totally get away from the thrill of a smaller company. I wanted to make quick decisions and have a big impact relative to the company size. I also wanted to work with customers firsthand and wear a lot of hats within an organization. It was a lot to consider. I took all of these preferences and I explored some startup ideas and search funds, and then I heard about the CIT program with Alpine Investors through a professor at GSB. Once I learned about the CIT program, I considered it a slam dunk for exactly what I wanted to do. Unlike a search fund where I'd spend two or so years searching for a business, I could immediately be placed in a leadership role at an established software business. How could I not want to go after that?
Another factor that stood out to me was the community. I'd been a founder before and I knew what it's like to build your business without ample access to resources. Sure, back then I had my founder friends and people I knew who worked on startups. But the fact that Alpine, and ASG specifically, already cultivated this community of peers, experts and CEOs going through similar experiences, with similar profiles and challenges as you– it was a huge selling point for me because I know what it's like to operate without it. That kind of support is invaluable.
But the fact that Alpine, and ASG specifically, already cultivated this community of peers, experts and CEOs going through similar experiences, with similar profiles and challenges as you– it was a huge selling point for me because I know what it's like to operate without it.
I was also particularly interested in remote leadership positions if a company was based outside of San Francisco. At the time, I wanted to live in California because of my husband's job as a firefighter and that narrowed down the options for where I could live. When I talked with the Alpine team and expressed my need to prioritize my family while building out my own career, I felt supported in my desire to work remotely and knew the Alpine team and I would figure out any challenges out together.
Leading 3 Companies All from My Spare Bedroom
Alpine has delivered on everything that I thought the experience would be. The community is supportive, and my peers are generous in lending their expertise. Running three companies instead of one was a unique opportunity that I took on because it would give me a masterclass in seeing different business situations and leadership challenges. Sure, there was a steep learning curve to becoming a manager across three different products, but it's been fun. It feels possible due to the support I'm given to grow these companies.
Of course, there have been challenges. Right before my first day at Record360, my sales leader resigned and I had to figure out what to do. I didn't have any background in sales—my former company was consumer-facing, so I leaned more towards marketing back then—so I had to do a lot of work to understand how to get our sales on the right track. With the help of the Playbook team's sales expert and through the support of my board, I learned a ton about building sales momentum, structuring a sales team, and more. As a result of our work, last summer Record360 experienced record-breaking sales. Our team has leveled up our sales game and it's a huge accomplishment that I'm proud of—for myself and for my team.
With leading remotely, another common challenge is that you don't get to spend as much time building relationships with people as you might like. But the way that we've handled it across Record360, e-Courier and PackageRoute is that we get together a couple times a year, either as a leadership team or as a full company. In general, we've done a nice job of organizing events to build community across these teams. Another challenge to being remote is figuring out how to immerse yourself in these industries when you can't be around for the day-to-day work. Because of this, I try to attend industry conferences and see customers whenever possible and do site visits. As it turns out, I probably travel more as a remote leader than I would have if my company were in person.
Being a CEO and going through the CIT experience is an unmatched opportunity that I wouldn't have dreamed of existing before I was told about it. I feel lucky that the program exists and that it's operated by a team that's conscientious and impactful.
Scaling the Companies Alongside Alpine and ASG
There's so much happening across Record360, e-Courier and PackageRoute, it's an exciting time to be in the position we're in. We put out a new product at Record360 this summer, which has already gained momentum with a few marquee customers. Then, at e-Courier and PackageRoute, we've been focused on a technology rebuild and other new features which are being rolled out to customers as we speak. Overall, whether at Alpine or within ASG, the companies have continued to scale and I feel fortunate to be a part of that.
Certain statements about Alpine made by portfolio company executives herein are intended to illustrate Alpine's business relationship with such persons, including with respect to Alpine's facilities as a business partner, rather than Alpine's capabilities or expertise with respect to investment advisory services. Portfolio company executives were not compensated in connection with their participation, although they generally receive compensation and investment opportunities in connection with their portfolio company roles, and in certain cases are also owners of portfolio company securities and/or investors in Alpine-sponsored vehicles. Such compensation and investments subject participants to potential conflicts of interest in making the statements herein.
Subscribe to hear more about building businesses through people.