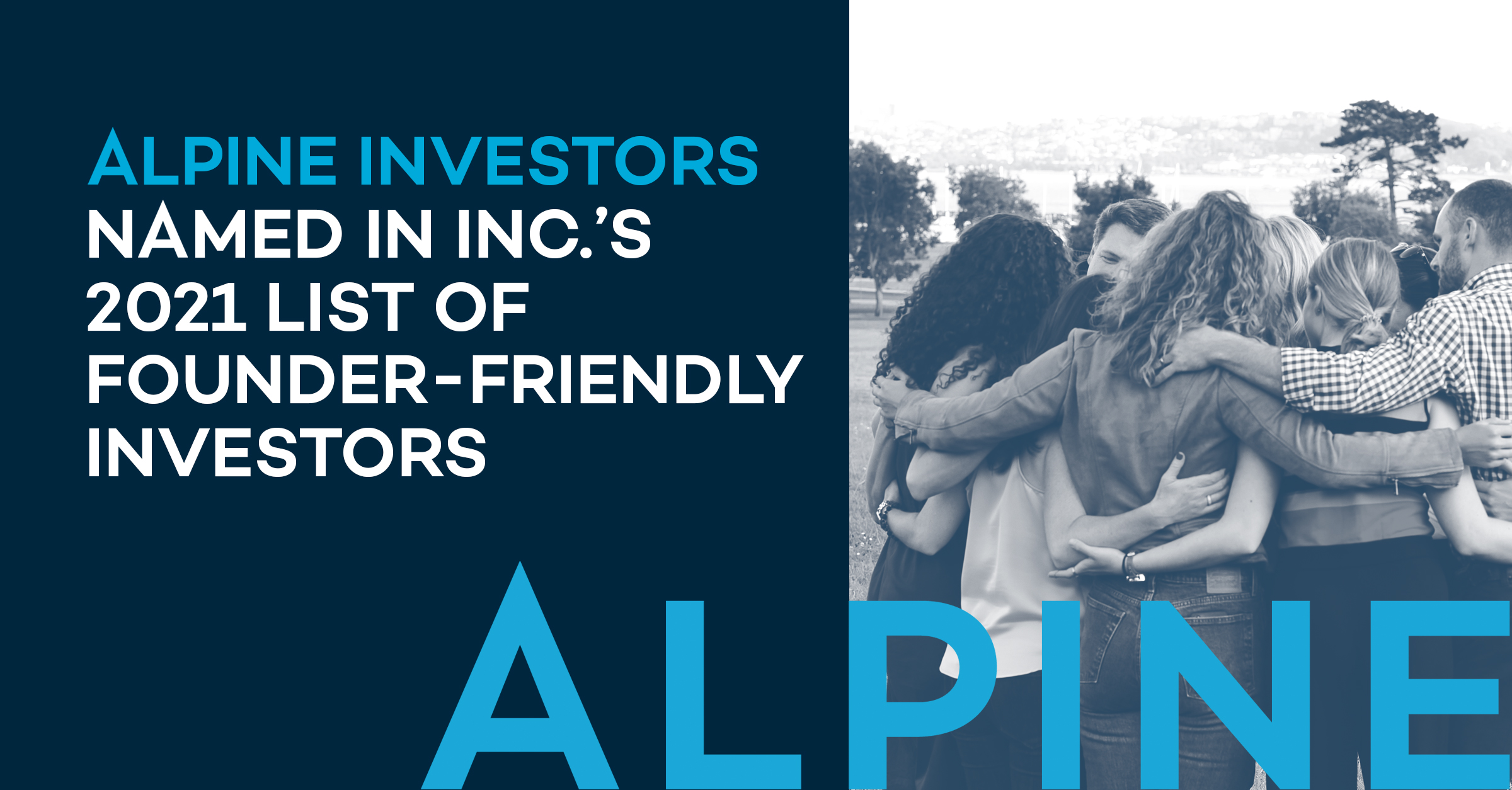 Alpine Investors is pleased to announce that the firm has been named one of Inc.'s 2021 Top Founder-Friendly PE Firms for its third consecutive year. This list selects firms by interviewing portfolio company founders about how their firm has allowed them and their businesses to thrive.
While private equity has historically had the reputation for focusing on profits over people, Inc.—and Alpine—feel differently. The final list recognizes 146 firms, that, according to Inc., have a track record of success backing founders and entrepreneurs. To confirm those firms' commitment to supporting founders, Inc. interviews founders and entrepreneurs on their experiences with the firms and how their portfolio companies have grown, including those who've exited. On that basis, Inc. produces a proprietary score that determines the firms whose missions most significantly support businesses and the men and women who found them.
"We're very proud to receive this award for the third year in a row," said Graham Weaver, Founding Partner at Alpine Investors. "Our PeopleFirst philosophy drives everything we do at Alpine, including supporting our wonderful founders every step of the way. What's most important to us is that our founders have the flexibility to chart their own path and become true partners to Alpine. Whether that's staying on with the business or moving into a different role, we aim to be there every step of the way."
As we look ahead to 2022, Alpine is dedicated to supporting our founders and business owners with a robust playbook dedicated to employee growth and development. From continuing to add exceptional talent through our talent programs, to simply listening, our PeopleFirst operating philosophy is at the core of our business. We look forward to another year of hard work, supporting each other, and building lasting companies in service to the incredible founders and teams who run them.
To see the full list, visit: https://www.inc.com/founder-friendly-investors/2021. For more information about the selection criteria and to read the full Inc. article, please visit: https://incprivateequity50.secure-platform.com/a
About Inc.
The world's most trusted business-media brand, Inc. offers entrepreneurs the knowledge, tools, connections, and community they need to build great companies. Its award-winning multiplatform content reaches more than 50 million people each month across a variety of channels including websites, newsletters, social media, podcasts, and print. Its prestigious Inc. 5000 list, produced every year since 1982, analyzes company data to recognize the fastest-growing privately held businesses in the United States. The global recognition that comes with inclusion in the 5000 gives the founders of the best businesses an opportunity to engage with an exclusive community of their peers, and the credibility that helps them drive sales and recruit talent. The associated Inc. 5000 Conference is part of a highly acclaimed portfolio of bespoke events produced by Inc. For more information, visit www.inc.com.
About Alpine
Alpine Investors is a people-driven private equity firm that is committed to building enduring companies by working with, learning from, and developing exceptional people. Alpine specializes in investments in companies in the software and services industries. Its PeopleFirst strategy includes a CEO program which allows Alpine to bring leadership to situations where additional or new management is needed post-transaction. Alpine is currently investing out of its $2.25 billion eighth fund. For more information, visit https://www.alpineinvestors.com.
Subscribe to hear more about building businesses through people.