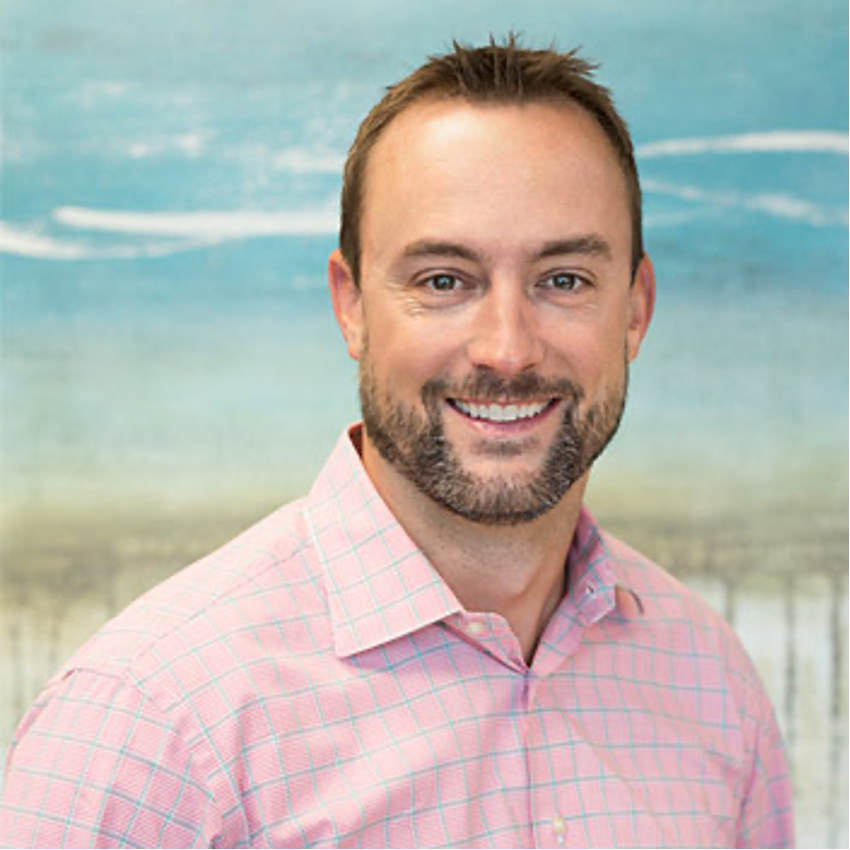 Company
Opsahl Dawson, Ascend
Year of Investment
2023
Industry
Certified public accounting
Opsahl Dawson President Aaron Dawson loves solving problems. The father of three girls, he stocks his tool shed with more tools than he could possibly need, just in case he can help someone fix something. And that penchant for helping others carries over into running his tax advisory firm, supporting clients and contributing to the broader CPA community. But there are some problems that are best solved as a team, which is why Aaron decided to partner with Ascend, Alpine Investors' newly-formed platform that partners with entrepreneurial CPA firms to usher in their next stage of growth.
As the accounting industry faces an inflection point, and more firms grapple with how to move into the future, we asked Aaron about his career journey so far, how he knew Ascend was the right partner, and his visions for the future of Opsahl Dawson.
Growing up I always wanted to do something really important that would help business people somehow. I didn't know if I was going to become an internal CFO or more of an external advisor, but I had a passion for service. When I learned how important a CPA could be, that felt like a fit. I come from a long line of CPAs including my dad, uncle and little brother. CPAs aspire to be extremely honest, confidential people with high ethics and a commitment to doing our jobs very well. It is an honor to hold this high position and I feel like this job has made me a better person.
After college I worked as a tax manager at Clark Nuber, one of the largest CPA firms in Seattle. I enjoyed going to work because I loved the people I worked with. We had such a strong sense of camaraderie and really supported each other — something I appreciate about the CPA community in general. I also sat on the Board of Directors at the Washington State Society of CPAs for three years. During my time, I represented and advocated for all CPAs in the state and focused on how we could better support each other and come together to improve the industry.
After a few years of working, I met my wife Jen — another CPA! — and started to feel a calling to get back to Southwestern Washington to start our family. At the same time, I started talking to George Opsahl, my best friend's dad and founder of Opsahl, Shepp and Company . George had started thinking about succession planning and was ready to retire. I had told George about some of the processes and procedures I was helping implement in Seattle, and ways he could improve the efficiencies of his firm. He was very well-respected in our community and a thorough practitioner. I always viewed him as a role model. So, when he mentioned the idea of selling his firm to Jen and me — I took it seriously.
In 2009, Jen and I moved back to Vancouver, Washington, down the river from Longview, where I grew up and just across the border from Portland, Oregon. Opsahl, Shepp and Company became Opsahl Dawson and Jen and I stepped in as the firm's new leaders. I was excited to work with local clients because I knew we would connect on similar activities outside of work. We could talk about hunting, fishing, building trucks and getting outside with our families.
Building trust and making changes.
The first few years of Opsahl Dawson were intense, but incredibly rewarding. Imagine coming into a 30-year-old firm and trying to make changes when you're only 30-years old yourself. The key is to start by listening and learning. At first we observed and tried to understand the firm's strengths and weaknesses before we did anything drastic. For one thing, the staff weren't trained on how to use computers very well; everything was paper and there was a giant file room to hold all of that paper. While we knew we needed to convert everything to paperless and make other major changes soon, we started by building trust.
Once we did so and found our footing, we started to make big changes. Year two was a risky time where many of the older employees left or retired, and we had to build a strong new firm. We hired employees right out of college and trained them just like we did at the big firms. I had to teach them quickly, evaluate their work, and keep them energized by where we were headed as a firm.
Along the way, I made sure to be patient and listen to any input from the people who had been with the business far longer than I had. I believe that everyone deserves to be heard and understood, even if that means having the same conversation again and again. If someone is part of my team and I believe in their long-term growth at our firm, they deserve a voice. That skill of patience and listening translates from coworkers to clients. Let people talk. You'll learn more about what they know than if you talk over them.
When I interview new people, I look for employees who want to be part of a team. I want to hire someone who, if they see the person next to them working too hard or having too many projects, will stay the extra hour. I want to hire the person who's going to pick up that piece of garbage on the street when they walk by because it's the right thing to do.
Fourteen years later, we've grown from 18 to 74 people and we have world record strength in our leadership. Shareholder Matt Lee has been instrumental to our success, I couldn't imagine the past decade plus without him. Some of my strong right-hand people came to us as interns right out of college, like Sierra Eckman who was recently promoted to shareholder. We have very low turnover and we're proud of our culture. People are excited about what we're building together and they're energized by the awards we win as a firm — in 2022 we were voted one of the top 52 firms to work for by Accounting Today. That's a top award in the industry, and I can't think of anything more important than our people.
A partner to grow with.
As the firm's leader, my number one client is Opsahl Dawson. My main focus is spent on running the firm and assembling a team that is focused on providing world-class client service. A lot of CPA firms don't have a managing shareholder focused on the firm but I believe that our employees deserve someone who is making sure we're heading in the right direction. I'm proud to be focused on creating a strategic plan for our employees that is intentional and exciting.
People love to say things like, "If it's not broke, don't fix it." I think that's the most ridiculous saying. We always need to be evolving. If it's not broke, then break it, and build it back better. We should be constantly asking ourselves, how do we do something better? Accepting the status quo and just becoming stale could be one of the biggest detriments of a business.
As a small business owner, my dream has always been to build the best business possible. But at some point, capacity became a challenge. I wanted to keep us on an excellent trajectory, but I was constantly busy dealing with IT challenges, choosing software, hiring people, and people management. Strategy became less of a focus. I was comfortable making one small acquisition per year on my own, but I couldn't imagine doing any more than that.
So when I met Ascend and learned about their plan to partner with entrepreneurial CPA firms, I was interested. Ascend is bringing together top firms while allowing us to maintain our identities. I would never want to sell my firm to a larger firm, so this is the best of both worlds. We get to keep our marketing, our incredible culture, and the brand that has served us so well, but we get rid of the headache of back-office work. The partnership will also give us the resources to put more firepower behind our marketing, IT support and recruiting, and I'm comfortable making many more strategic acquisitions that will help us grow. I love that we'll be able to connect with the best firms out there to share ideas, solve problems together and learn from each other.
Ascend is bringing together top firms while allowing us to maintain our identities. I would never want to sell my firm to a larger firm, but this is the best of both worlds. We get to keep our marketing, our incredible culture, and the brand that has served us so well, but we get rid of the headache of back-office work.
Our junior partners and upcoming leaders are at the center of our growth at Opsahl Dawson, so being able to provide them a clear and transparent path to partnership has always been extremely important to me. Alpine has experience in modernizing the path to partnership, which was what I was looking for – someone to help me apply a strategic and transparent plan that will help our junior partners and upcoming leaders build long-term and fulfilling careers at Opsahl Dawson.
Choosing any kind of partner is a leap of faith, but I felt good about the integrity and commitment of the Ascend team right away. They treated me with respect from the start, and I could tell they were very consistent in their commitment to PeopleFirst, the idea that taking care of your people is integral to business success. Whenever I spoke with Ascend CEO David Wurtzbacher, I felt the energy and enthusiasm that this would truly be a partnership, where we could support each other and support other firms.
Running a great firm with your partners and staff has always been very fulfilling. But imagine doing that on a larger scale with peers that also have great firms, and learning from each other. That's the dream.
Certain statements about Alpine made by portfolio company executives herein are intended to illustrate Alpine's business relationship with such persons, including with respect to Alpine's facilities as a business partner, rather than Alpine's capabilities or expertise with respect to investment advisory services. Portfolio company executives were not compensated in connection with their participation, although they generally receive compensation and investment opportunities in connection with their portfolio company roles, and in certain cases are also owners of portfolio company securities and/or investors in Alpine-sponsored vehicles. Such compensation and investments subject participants to potential conflicts of interest in making the statements herein. Past performance not indicative of future results. Results may vary materially and adversely. Please see Alpine's Terms of Use for additional disclaimers.
Subscribe to hear more about building businesses through people.