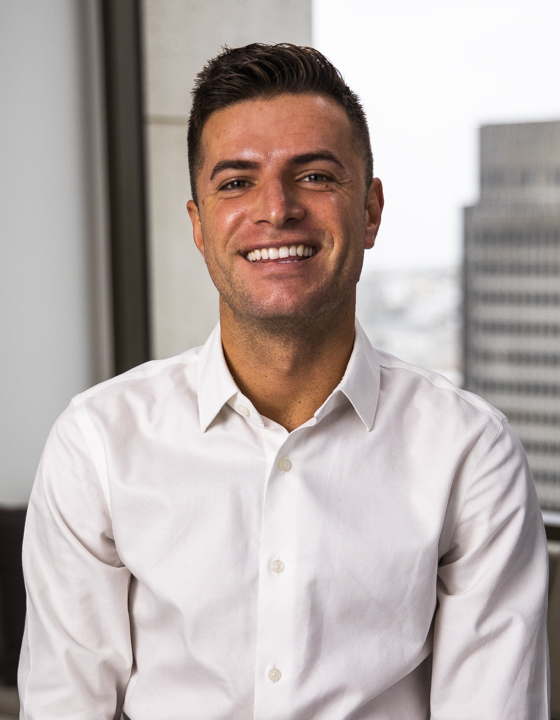 Tyler Frances has found his fit. The 25-year-old sourcer says he's discovered a niche at the intersection of business and people relations in an ever-changing role that's constantly teaching him something new. The Harvard grad—he majored in stem cell biology and sprinkled in his fair share of finance internships—opens up about what it takes to find (and close) the right deals for Alpine, the power of focus, and why he just may have found his forever career.
Tell us about your background. What did you want to be when you grew up?
I was born in New York, but my family are beach people. So when my dad (a lawyer) realized we needed to escape the snow, he applied for jobs in Miami and San Diego. We moved to Coronado, a small beach town north of San Diego, when I was five. I grew up surrounded by beach cruisers and golf carts. It was pretty idyllic.
I knew the world was bigger than Coronado, so I applied early action to Harvard. Arriving in Boston was certainly a shock, but I loved the academic environment and enjoyed that Harvard was much more diverse than where I grew up. I studied stem cell biology and was a huge science nerd, but I knew I didn't want to become a lab scientist because it didn't have enough interpersonal elements for me. So I filled my summers with finance internships at places like Beach Point Capital Management and Bank of America. I thought I might go into biotech investing.
How did that science and finance education translate to the working world?
I stayed in Boston right after college and got a job in consulting at ClearView Healthcare Partners. I felt drawn back to California, so when I saw an opportunity at a telehealth startup in the Bay Area, I jumped at the chance to move closer to home. I loved combining my science and business skill sets, but I missed the diverse learning experience I'd had at college. That variety just doesn't translate to working on building a single company. I was intrigued by family and friends in investing roles, who had the unique opportunity to grow several companies at once across multiple sectors. So I started sending out resumes to every growth equity and PE shop in the Bay Area. I must have sent out so many resumes that LinkedIn picked up on what I wanted, because I got an inbound message from a recruiter asking if I was interested in Alpine.
Private equity is a far cry from stem cell research. How did you know Alpine was the right fit for you?
I love working with people and learning a range of new, different things. I don't want a job that's just rinse and repeat. So after my very first call with Matt Moore, one of Alpine's partners, I was sold. Between the amazing people and the sourcing role, it was an easy decision.
Tell us about the work of a sourcer at Alpine. What do you love about your role?
As a sourcer, you're at the top of the funnel, filtering companies and picking out the best ones for more consideration. We invested in 123 companies last year (2021), but we probably reviewed something like 5,000 deals as a firm. So we do a lot of filtering.
Alpine definitely punches above its weight in terms of acquisitions. As a sourcer I'm focused on making our investing mandates known to the market, and also looking for opportunities that may not seem explicitly exciting to us or those that feel a bit outside of the box. Then I share opportunities with the team, always ready to defend why I'm surfacing something and to back up my claim with evidence from my research and conversations. I spend my days calling investment banks and brokerage firms to share what we're interested in. And I spend a lot of time reviewing our pipelines.
The sourcing team is about 12 people, and I usually work with smaller teams on specific deals. There's also another channel of the firm that's more focused on direct outreach. While the sourcing team is more horizontal, spanning software and services by working with banks and brokers, we also go deeper in particular sectors through our "embedded M&A" strategy. Once we have conviction that we want to start a portfolio company in a particular vertical, we hire a team of professionals to focus solely on that space. I've really enjoyed working with some of these new platforms at their genesis and getting the sourcing effort off the ground.
How has your role evolved?
Last spring I was asked to focus on a few verticals, in addition to looking at opportunities across the entire portfolio. One focus area was pet consumer goods, which is not a typical space for Alpine. The other was engineering services, which is more in line with Alpine's professional services investments. I got to dive deeper into both spaces and to do some direct relationship-building with founders in each sector. I felt like a bit of a guinea pig for a new strategy we may roll out where we launch more platforms each year focused in specific industries.
The pet industry is intriguing, especially since consumer goods haven't historically been emphasized in Alpine's portfolio. How did that come about? And why is pet consumer goods a good business?
I'll start by saying that Antelope Pets, our pet platform, is not Alpine's first consumer platform. We've launched in fashion and home goods in the past, but you're right that we have a much smaller footprint in consumer than software or services. This strategy came from one of Alpine's CEOs in residence, Wendy Wen. She launched a successful DTC luxury handbag brand, Senreve, and invited Alpine to invest in her second entrepreneurial venture. She had a theory that we could launch a high-quality pet brand because it is a growing market. Since so many brands don't focus solely on pet goods, she believed we could differentiate by going very deep in this one space.
Together with Wendy, we've honed our thesis that Antelope can be the brand of choice for health- and style-conscious pet parents, and the buyer of choice for pet brand founders looking for a growth-oriented partner. The key strategy is keeping our consumer investments laser-focused on the pet space (which isn't characteristic of most investors), and to have an uncompromising focus on product quality and branding.
The pet space is estimated at a $100 billion market and it's growing double digits. It has all of the recurring revenue qualities that we look for in software and services, and the founders are super passionate. If you can differentiate on the quality of your products, you will gain loyal customers who will stay with you for 15 to 20 years, the lifetime of their pet.
What does a typical day look like for you?
My days are interesting. I'll leave a meeting on managed IT services or ERP software, then I'll jump into another meeting where I'm asking about how someone's pet CBD is better than the competitors'. Or I'm asking where they source their raw hide. It's a completely different lexicon.
As a firm we are trying to figure out the best way to maximize our impact. And maybe that's staying deep with something for a long time. Maybe it's spinning up a new platform, launching it, then moving onto the next one. It's probably going to be somewhere in between. But I like getting to stay involved in the deals I source, not only because I get to use what I've learned, but also because I love working with the teams.
What have you learned about yourself that's been surprising or that you're still working on?
Staying focused can be a big challenge. The aspect of my job that is most exciting, but also can be the most dangerous, is just how many companies, people, founders, and bankers there are in the world. I'm learning a ton about spaces I never thought about, which is what makes me excited to go to work every day. There are so many different ways that we can grow our portfolio.
It's important to recognize that it's a huge world out there, and that we need to keep our eyes out for exciting opportunities while also staying focused. I've learned to be pretty decisive. Alpine helps with that. It still blows my mind that I'm 25 and working on teams of people who are mostly under 30. The partners give us the latitude to make decisions on deals to pursue. If you don't go up to bat for something, we all move on. I've learned to trust my own instincts. If you can't be decisive and own those decisions, things can be very overwhelming.
What's next?
I appreciate the need to be goal-oriented, but most of the time I'm just happy to work with Alpine's rockstar team, and to spend my days constantly learning something new. The variety of people and ideas I experience in this role keep me in a constant state of flow—I know it's a unique and special aspect of the job, and I'm grateful for it every day.
Looking forward, I want to hone the playbook of standing up M&A resources to quickly take action on new investment theses. If we can perfect that playbook, I would love to one day be in charge of one of our strategies, from ideation through to acquisition, add-ons, and exit. There have been people at Alpine who either started on sourcing or investing and then became a CEO or became head of M&A at one of our portfolio companies. I have a lot to learn before I get there, but it's an energizing goal to consider.
Subscribe to hear more about building businesses through people.