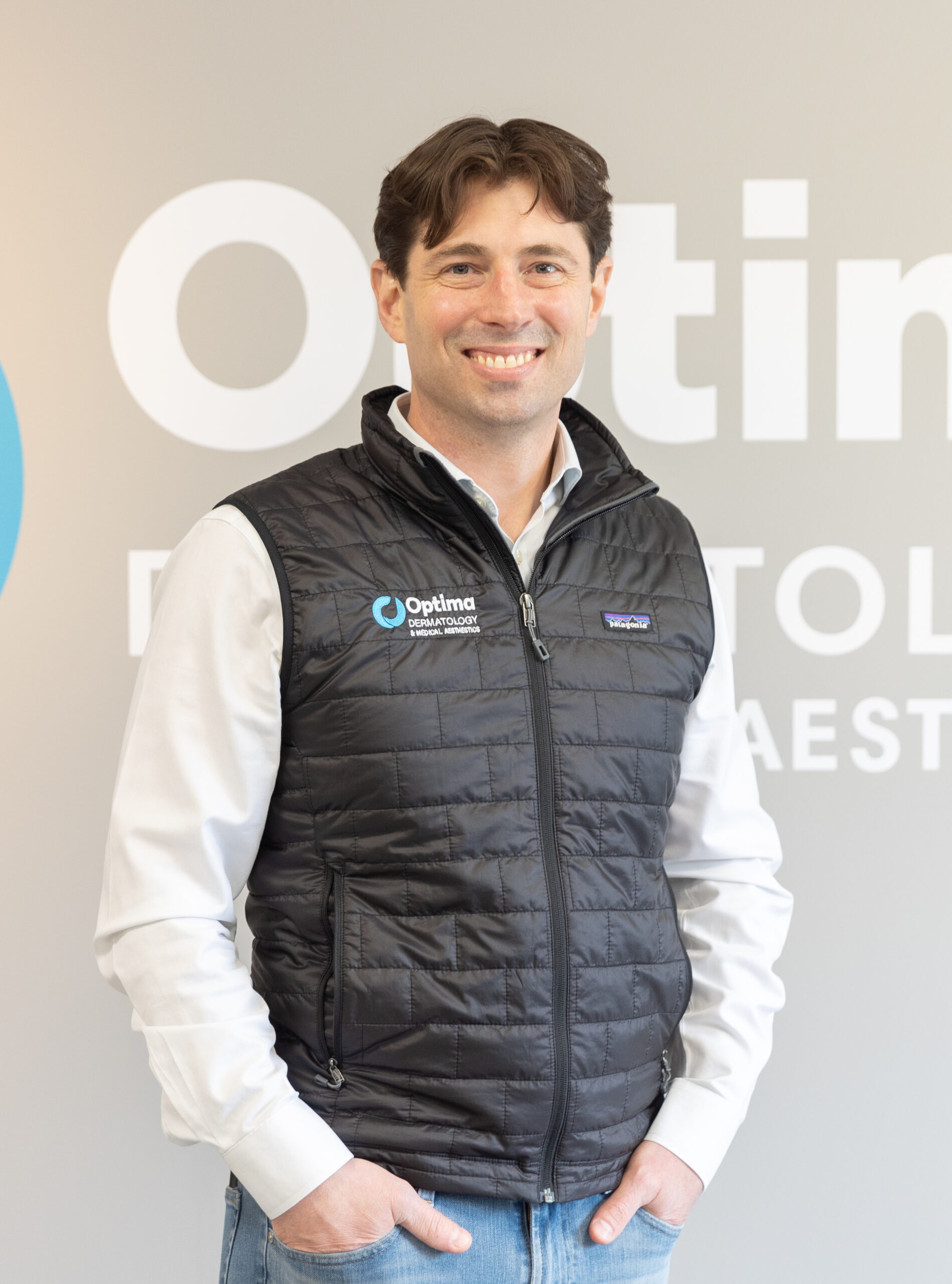 Max Puyanic left behind a promising investment banking career for a move to Israel—which led to even bigger career achievements. Then he chose to call New Hampshire home, and built a successful urgent care business that created the happiest patients in the country. He brings that same determination, passion for patient experience, and deep commitment to building exceptional teams to his latest role as CEO of Optima Dermatology. We caught up with Max to hear how he and his leadership team are setting Optima apart from the industry, the challenges they're tackling right now, and what's next.
Tell us about your beginnings, and your early career.
I grew up in Miami, Florida, surrounded by a big, messy family. My parents have been divorced and remarried multiple times, so I have lots of step and half siblings. There are 10 of us all together. This was a real blessing for me as I love being surrounded by lots of people and I enjoy controlled chaos.
Some of my family from Europe moved to Israel between WWI and WWII, and growing up Jewish, I always knew I wanted to spend time in Israel. I applied early to The University of Chicago and was lucky to get in, which allowed me to spend time in Israel during my senior year of high school. But I knew I would return to Israel someday. At college, I studied economics—which was more calculus than I had bargained for, ran cross country and track, and got really involved in my fraternity, where I held several officer positions and made lifelong friends.
My freshman year I really admired one of my fraternity brothers (the smartest guy I knew) who got a job in corporate finance at Donald, Lufkin & Jenrette (DLJ). Anxious to follow in his footsteps—while in college—I got a job at DLJ working almost 40 hours per week as a corporate finance assistant. I felt lucky to have the opportunity to build models, make pitch books, and do anything the analysts and associates asked of me. DLJ was acquired my senior year, but this experience helped me get a job at William Blair in Chicago right after graduation, it turned out to be a perfect fit for me.
Your career followed an interesting trajectory from there. Was there a key moment that shaped your decision making?
Two years later, September 11, 2001, happened, and I had this whole "quarter-life" crisis. I started to think deeply about the meaning of life. I was always very proud to be an American, and also to be Jewish. I was looking for my purpose in the world. After weighing the pluses and minuses of different life choices on an Excel sheet, I decided I would either join the Marines or move to Israel.
William Blair had a strong healthcare group, and there were lots of public healthcare companies in Israel. In fact, Israel had 72 public companies listed on NASDAQ, more than any country outside of the U.S. So I drafted and pitched a business plan for William Blair to open an office in Israel, and for me to move there and run it. While the Head of Investment Banking supported the plan, ultimately the executive committee shot down the idea of a kid a few years out of college running anything—especially geographic expansion when the firm was already losing money in Europe.
I followed my instinct and moved to Israel anyway. In partnership with local bankers, I came across a lead-managed IPO opportunity and brought it back to William Blair to consider. We won that deal and I ended up working for William Blair again as Director of Israel, building out our Israel practice. Once we had that one successful deal, we were able to leverage it to make connections and get meetings with other great businesses around the country. Over the next six years we did 18 transactions and Israel became William Blair's most active geography outside of the U.S. I felt really fulfilled knowing that by helping Israeli companies raise equity in the U.S. and partner with larger U.S. companies, I was supporting the country and Israel's vibrant entrepreneurial culture. Most importantly, I met my wife during that first year in Israel, so this move was a really important part of my life!
I spent a bit of time in London with William Blair after that, but my wife and I both knew that London wasn't our long-term home.
How did you transition from investment banking in Israel and then London to starting companies in New Hampshire?
The 2008 financial crisis was another major turning point for me. There wasn't a lot of cool stuff going on in investment banking at the time, and I had been completing my executive MBA at the University of Chicago. I was asked to deliver the graduation speech on behalf of my class, which was a really valuable opportunity for reflection. As I was writing our speech, I realized I didn't want to take the easy path or ever regret not taking chances in life. So I quit my job to try to become an entrepreneur and build a healthcare business. My wife and I moved to Portsmouth, New Hampshire, and I planned to raise a search fund—which would have brought us to unknown parts of the country based on opportunity. That plan quickly turned to dreams of starting a company while living in New Hampshire.
I connected with Gareth Dickens, a former William Blair colleague and good friend of mine, and we fell in love with the urgent care industry. So we decided to start an urgent care company, and ConvenientMD was born. We also looked at the dermatology industry, but chose to focus on urgent care. Early on, Ben Collins joined our leadership team. He materially drove the growth of the business, to the point that we were the dominant provider in all our markets. He would later join Optima Dermatology to bring that same growth focus to the business.
What were your main goals when starting ConvenientMD? And how did your approach play out in the market?
We wanted to take all of the best practices we'd seen and try to create a better model. We focused on a few key areas, some of which are the same things we're now trying to implement here at Optima Dermatology.
First, we were good at analyzing markets and focusing on geographies where we would have busy, successful practices. We sought out towns and cities where the supply and demand imbalance for urgent care services was greatest. Our real estate strategy was to make office buildings that were more prominent than Starbucks or Walgreens. We built free-standing buildings with huge signs in the busiest intersections in town, so if you lived in that market, you couldn't miss us. We developed a really effective floor plan we used in all of our buildings which was designed specifically to serve the needs of an urgent care center. Those floor plans made our workflow really efficient and more seamless for both patients and medical staff.
To enhance our value proposition to patients and insurance companies, we developed a broader scope model to enable us to treat sicker patients. This included partnering with emergency room-trained clinicians and providing them the right tools, as well as partnering with specialists in the medical community.
We built a retail-oriented brand around urgent care, and ultimately became the leading brand in New Hampshire, then Maine, and then Massachusetts. Most importantly, we focused on patient experience. Our mission was to revolutionize the patient experience, which we achieved by seeking to treat every patient the way we'd want our friends or family to be treated. And that approach worked. To my knowledge, our net promoter scores (NPS) were higher than any other urgent care group in the country.
Our mission was to revolutionize the patient experience, which we achieved by seeking to treat every patient the way we'd want our friends or family to be treated.
I had planned to stay with ConvenientMD, but Alpine Founder Graham Weaver approached me about joining the board of Summit, Alpine's dermatology platform. I really liked dermatology as a business and had interacted with Graham a bit through a Stanford class I sat in on. Nobody can say a bad thing about Graham, and I'd always admired him from afar. I decided to take a leap and join Summit as CEO (we have since rebranded Summit to Optima Dermatology).
Why do you love dermatology as a business?
Skin cancer is the most common type of cancer by far. There are seven million cases of cancer in the U.S. every year, five and a half of those are skin cancer cases. There's more skin cancer than all other cancers combined. It's also among the fastest growing types of cancer. Melanoma increased by 120% over the last 20 years. Everyone should get a skin check every year, so dermatology demand is recurring, too.
On the supply side, there are not a lot of dermatologists in the country. You have to wait longer—an average of 32 days—to see a dermatologist than any other type of doctor. There are certain areas where that wait is even longer.
Given the very high demand, you'll see a lot of dermatologists in places where young people want to live, like California, Manhattan, or Florida. You'll find fewer in less well known or perceived to be less desirable places to live like Maine, New Hampshire, Indiana, and Ohio. I say perceived because I live in New Hampshire and wouldn't want to live anywhere else!
How did the strategy for Summit (now Optima) evolve?
Summit had previously focused on acquiring dermatology practices, and had been successful in acquiring three excellent practices in Indiana and Ohio. But there was a fast-growing number of private equity-backed groups doing rollups in dermatology, with a limited number of practices, which made it increasingly difficult to buy practices at fair prices.
We built a very talented executive team focused on creating the best model in the dermatology space. We continue to have robust conversations and debates about how to achieve that. We believe the strength of our team will be the reason for our success.
While we continue to fine tune our strategy, we remain aligned on our mission of revolutionizing skin care. We're focused on creating greater access to expert dermatology care and delivering an unparalleled patient experience. Like ConvenientMD, our guiding principle is to treat every patient as we would want our friends and family to be treated, and we strive to be our patients' trusted experts in all aspects of skin care.
What does fulfilling that mission look like in practice?
We've developed an enhanced practice model which includes specialized experts in all aspects of skin care, including general dermatology, mohs surgery, cosmetics, pathology, and clinical trials. This allows us to enhance patient care by offering a higher level of specialization.
To create greater access we're pursuing a de-novo strategy of opening multiple new practices in less served markets with long wait times, and building density in those states. To attract dermatologists to underserved markets we're focusing on becoming the practice dermatologists would want to join and remain a part of for their careers. We've developed our physician engagement plan and built the resources to recruit, robustly train, and retain the best clinical support staff to make our providers more efficient. We provide data transparency to all aspects of a physician's practice, and we focus on rapidly addressing their concerns (even irrationally addressing their concerns) to the best of our ability.
The three practices Summit had acquired before the current executive team joined were all run as independent practices with no common infrastructure. To create a platform from which to grow our de-novos, we first set out to create professionalized capabilities including physician and provider recruiting, marketing branding to drive patients to our existing and new practices, RCM, IT, finance and accounting, construction, HR, and a patient support center (for scheduling patients). We have since integrated the practices so that they can all utilize these resources.
To date we've significantly outperformed in some key areas (like tripling our initial targets in physician recruiting), and struggled in others (like constructing our new buildings on time and on budget).
What are you most proud of so far?
Our team delivers on our guiding principle—to treat each and every patient as we would want our friends and family to be treated—every single day. The metric the Optima team is most proud of is patient satisfaction; we have consistently achieved a patient NPS of approximately 96.
In addition, we want to create the best work experience that our team members have ever had. To date we've increased employee NPS by over 50.
What is your leadership style?
I usually assume that I don't know the right answer, and that for most things there isn't one right answer. We are fortunate to have a really strong executive team. In line with Patrick Lencioni's "The Five Dysfunctions of a Team" framework, we are always working to build and maintain trust. We want everyone on the team to feel comfortable sharing their thoughts and having robust conversations. This helps us achieve alignment and commitment, and hold each other accountable.
As a broader team, we came together to come up with our mission, vision, and values, and we used Alpine's PeopleFirst program to do that. Since then, we have done regular renewals which help to create engagement and alignment among the broader organization.
What's next for Optima, and for you?
Revolutionizing skin care and building the best dermatology practice in the country will be really difficult and will take a long time. As a learning organization we'll continue to test things, make mistakes, and adjust accordingly until we're nailing our execution. I'm proud to be a member of the Optima team and plan to continue to lead Optima until we achieve our mission.
What do you spend time thinking about outside of Optima?
Beyond building Optima, I'm very concerned about the state of our democracy. It worries me that we are moving more and more toward vilifying people with different perspectives from our own. I grew up in the greatest democracy in the world, and I continue to be so proud to be an American. I want my children and their children to have that same opportunity and confidence in their democracy that I grew up with. After Optima, I'd like to dedicate myself to improving the health of our democracy.
Subscribe to hear more about building businesses through people.