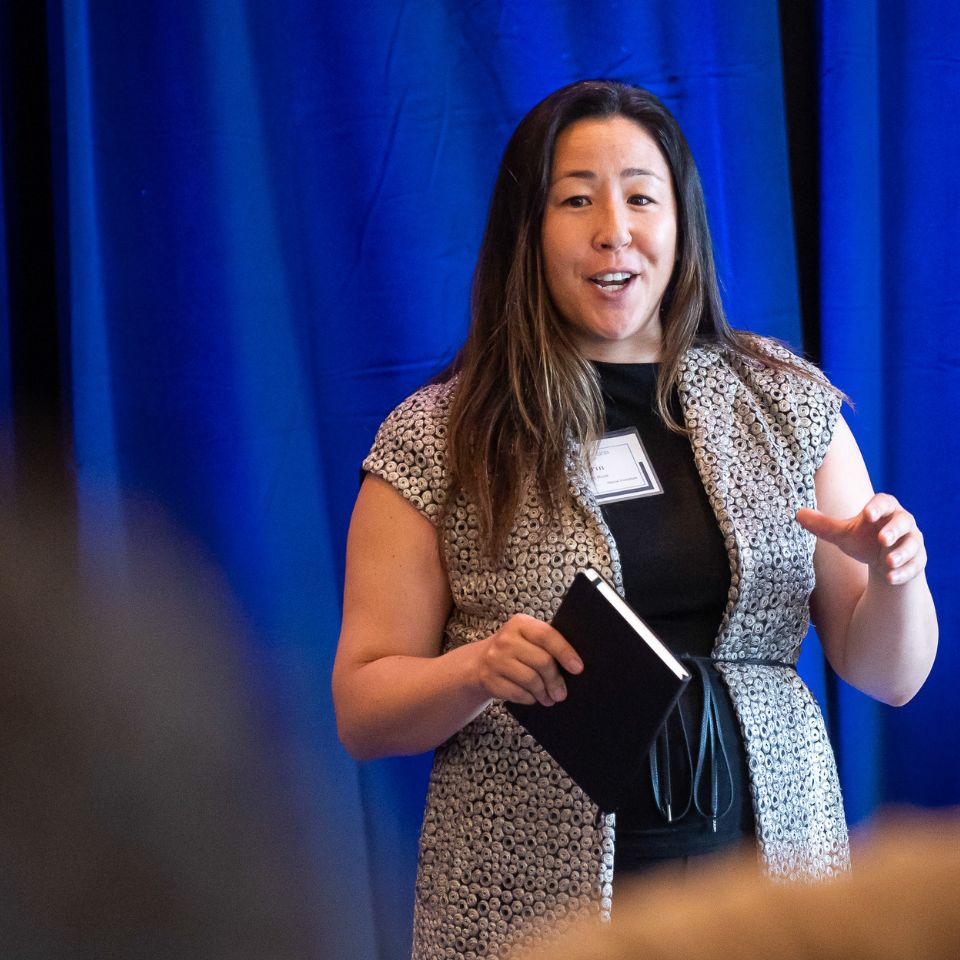 Through years of building successful, purpose-driven companies, Alpine Investors has identified strategic value creation levers that lead to enduring businesses. Our Alpine Operations Group (AOG) has codified these best practices into a playbook to help CEOs build organizations for long-term growth. AOG then partners with the leadership teams on strategic projects and delivers programmatic coaching to help put these best practices into action.
In an article series for our website, we introduce to you the strategic levers that make up the AOG Playbook and why we believe they come together to create growth for any business within our portfolio. The first in this series, AOG's go-to-market leader, Erin Ruck, breaks down the two foundational pillars for growth, articulates potential solutions to common problems faced by leaders, and the strategy behind Alpine Investors' Playbook.
By Erin Ruck, Vice President, AOG
The broader, macro economy is no longer firing on all cylinders like it used to be. The world's economy is facing stubborn inflation, rising interest rates, and the lingering effects of Covid-19. For business leaders looking to achieve long-term growth, this results in an environment that highlights the need for durable and predictable revenue—a difficult challenge for even the most experienced professionals.
As AOG's specialist in go-to-market strategies for small and midsize enterprises (SME), I support organic growth of Alpine Investors' portfolio companies, and I distill and share the lessons that I have learned over the last 17 years leading global sales organizations. When portfolio leaders approach me with questions about increasing bookings, we always start by doing a diagnostic, assessing the state of their revenue leadership and go-to-market fundamentals. These two pillars act as puzzle pieces, combining to create a greater outcome—and they are the foundation of Alpine's Playbook. I've watched as they've worked to grow businesses time and time again, especially when implemented in the first year of Alpine's investment in the business.
Once the executive team understands both pillars and their interdependencies, they can build an operational plan to realize their organic growth potential and perhaps even raise the ceiling on revenue goals.
Using Leadership Talent to Drive Growth
The first pillar for driving growth is revenue leadership–getting the right people at the helm. It's a commonly understood and discussed aspect to growth, and our AOG Talent team focuses on recruiting A-Players—leaders who are hard-working, humble, motivated, and have proven their ability to drive impact at a company– to build high performing teams across Alpine's portfolio.
With Alpine's PeopleFirst philosophy, we demonstrate the best way to create exceptional results is by putting people first. Talent is a particularly important focus for us since we specialize in management transitions with our investments. Through Alpine's CEO-in-Residence (CIR) and CEO-in-Training (CIT) programs, our goal is to recruit and develop a strong pool of diverse, world-class CEOs and other senior leaders who are readily deployable into Alpine portfolio companies.
To better understand how talent drives growth, consider a revenue related role the next layer down from the CEO. This might be a CRO, VP of sales, VP of marketing, or even head of customer success. As we guide our CEOs, we encourage them to first identify what type of leader they're looking to hire– and usually that starts with a leveling of expectations. Do you want a first line manager who will manage the pipeline and the day-to-day of sales reps? Or, do you want someone more senior, perhaps a director or VP level, who will do everything a manager does and also build sales processes? Or, do you want a CRO to own the entire funnel–from demand creation to initial sale, renewal, and upsell with a team of frontline managers? Something I have observed from working with many companies and new leadership is that often new leaders want a unicorn candidate—someone to do it all. A revenue leader who builds out the lead gen function, closes deals, coaches reps, codifies the sales process, builds reports and dashboards, and sets the broader go-to-market strategy. And that's just too many responsibilities, not to mention an impossible role to fill.
With AOG, we spend a lot of time creating scorecards for the ideal hire, an interview plan, and then participate in the actual interviewing process to ensure businesses get the right leader. We believe people are the fundamental driver behind enduring business growth, and we commonly say that we're actually in the talent business as private equity professionals. No where is this more true than in our Playbook.
Understanding Go-to-Market Fundamentals
The second pillar to achieving growth within a business is go-to-market fundamentals. One of my team's critical path programs is a structured process to determine a company's target segment, product positioning, and core messaging. While these are well-known ingredients for building a successful go-to-marketing strategy, the execution is novel and uniquely specific and actionable. For example, how do you actually figure out who your ideal customer profile is or what language will resonate in your elevator pitch?
Let me start by highlighting the program's organizing principle. At the highest level, it's about lifting revenue in a sustainable and durable manner. But at the core, it's about addressing the need for greater leverage in the sales cycles. I'm not talking about leverage in the abstract sense of the word. I'm talking about the specific, tangible leverage that sales teams rely on to shape the outcomes of the stages in their sales cycles: strong leverage. That's why AOG built the program with a backbone of structured process that creates that sort of leverage; the kind that maximizes what reps need to win the stages in their sales cycles.
Shifting a revenue trajectory is a structural challenge. Structural challenges demand structural approaches. If you expect material improvement in something as fundamental as revenue acceleration, you need to get serious about root cause. That means you must be disciplined about assessing your strengths and weaknesses against the competition and then exploiting the differential to create a decisive edge.
The go-to-market fundamentals program is designed to do just that and instill leverage at every available opportunity in the cycle, particularly in sales stages focused on persuading your prospect and validating your key differentiators. The process is a 3-step flow. It starts by identifying your signature customers. You take stock of winning functionality, shrink the gap between the customer's success criteria and the company's existing features, and then you package that sweet spot in language that connects with the customer. The final phase is generating a 12 to 18-month plan to improve your offering, rollout updated messaging, adjust your pricing, reframe the prospect's buying criteria, and make a host of other changes to improve bookings through targeted and specific work across the value creation levers.
The program includes specific phases and gates with worksheets, checklists, templates, and certifications. After a company's leadership team works through the process, they'll have a better understanding of where the business stands and what areas they can focus on that will give them the best shot at improving their revenue.
Combining the Pieces Into Something Greater
We are rigorous about practicing this battle order within our portfolio companies. This foundation is critical to get right, before embarking on product development, sales, technology, or other levers within the Playbook as it will influence and impact the rest of your strategic plan. We recognize that in the real world there will be time sensitive matters that need immediate attention, but ideally these foundational pillars can be done alongside that triage work, so you can create the most efficient and effective long-term value creation plans.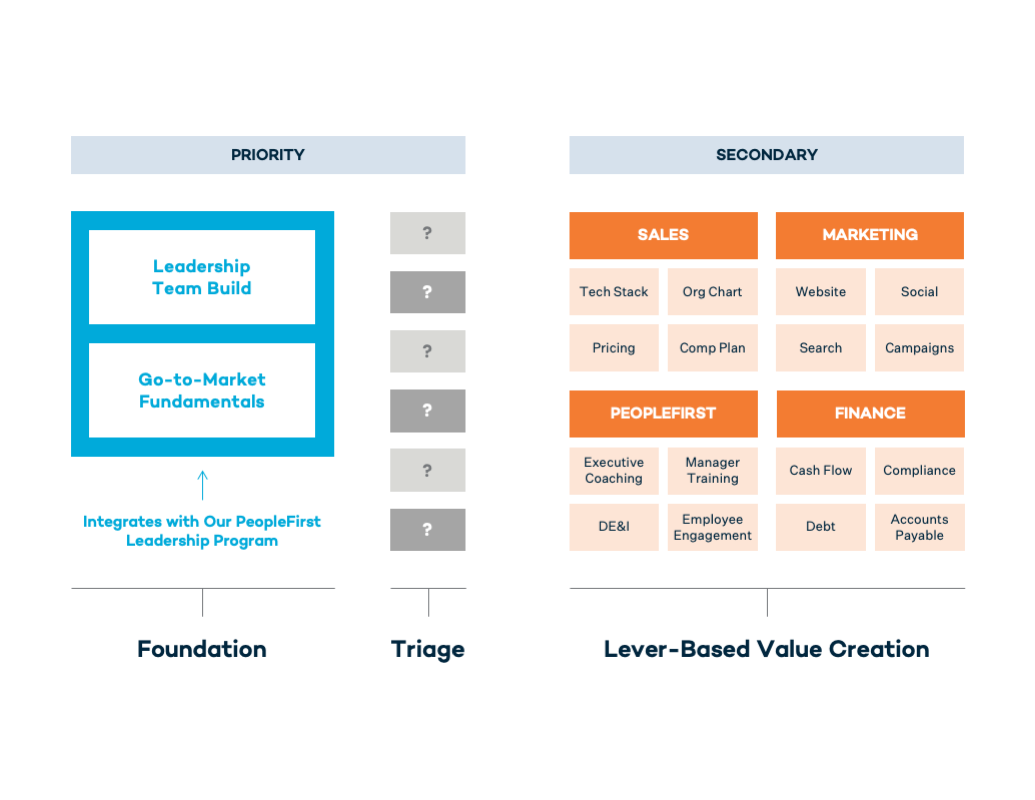 For example, it's difficult to build the home page of your website if you don't know who your target customer is and what they care most about. Similarly, it's hard to launch a new feature if you don't have a team that knows how to successfully roll it out to customers. You can't have the right leadership in place without the go-to-market fundamentals, yet you can't have the go-to-market fundamentals without the right leadership in place. Once you have established those pillars, then you're well-positioned to tackle a host of other opportunities: do a deep dive on your performance marketing, build out your sales team, or even develop a cross-sell and upsell motion.
Any leader expects challenges to be thrown at them, whether external or internal, impacted by macro-trends or micro-trends, or those within one's control and those outside of it. Leaders can accelerate progress and find solutions when supported by a community—particularly one made up of leaders that are either in the trenches with you or have faced similar challenges in the past. That's one of the best parts of the AOG team—we've been there before ourselves, and if we haven't, we can point you to someone who has. We're committed to helping our leaders overcome whatever obstacle gets thrown their way.
Alpine Operations Group ("AOG") is an affiliate of Alpine and AOG personnel are not employees or partners of Alpine. AOG is compensated separately for their services by portfolio companies, or the funds managed by Alpine, and such amounts do not offset the management fee. Please see Terms of Use – Regulatory Disclosures for more information.
Subscribe to hear more about building businesses through people.