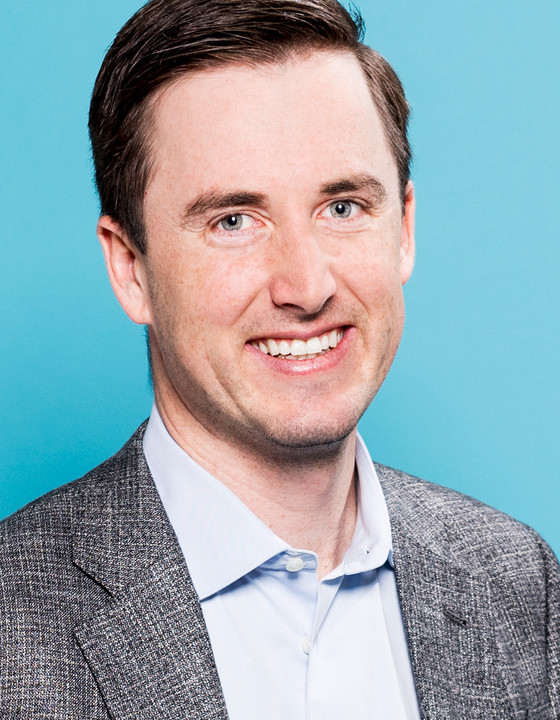 With a clear sense of purpose and endless energy for people, Matt Moore could have followed several paths, but he's chosen opportunities for impact from day one. The native San Franciscan and father of two opens up about how executive recruiting led him to become a partner at Alpine, the importance of supporting great leaders, and why Alpine's story is just getting started.
Tell us about your background. What goals or beliefs led you to become an Alpine partner?
I was born and raised in San Francisco, the oldest of three siblings. We were like the Full House family. My mom was a great cook, and our dinner table was always set for 10; friends, neighbors, and relatives would constantly stop by to eat with us.
I have always followed my passion for people, and I knew I wanted to use my skills to positively impact the world. So I joined a boutique consulting firm doing executive search for venture-backed companies. Early clients were primarily in green tech, creating products like glass that helps buildings adapt to hot and cold weather to reduce energy use. Many of these companies didn't survive, but the ones that did seemed to share a common trait: they were run by great leaders. Great leaders not only drove great business outcomes, but they made an impact on the people they worked for, the investors of their companies, and the communities they were rooted in. I realized that empowering great leaders could positively impact the world and spent the next decade placing more than 150 leaders at venture-backed companies, and then around 2013 Alpine became a client. I joined three years later.
Why join Alpine?
I believed that great leadership mattered most in creating enduring companies, and I saw an opportunity to help shape the definition of what a great leader could be. A great leader doesn't necessarily look like someone who's done the job 18 times before, they can be a first time CEO with no prior experience in an industry. Attributes matter more than experience
I've always had an itch to work with people who inspire me, to surround myself with people I can learn from, and to have a say in what "great" looks like. Everyone I met at Alpine I admired personally and professionally, and I'm proud to say that's still the case five years and 50+ new team members later.
My wife and I also had my first child two months prior to joining Alpine, so from day one I had to set a clear structure around my work life and my family life. I saw the potential to excel at Alpine while also being a present father and husband, and Alpine supported that. To this day I have a recurring "no meeting" calendar invite from 5:30 to 7:30 p.m. so I can have dinner with my family. 
What was most surprising about joining a private equity firm?
Coming out of college I barely knew what private equity was. But joining Alpine is different from joining just any private equity firm. Everyone who joins shares our values and sense of purpose, and they're all set up to make an incredible amount of impact, whether Alpine is their first job or the capstone of a successful career. We have goals around performance that we're starting to achieve. We set aspirational goals that can sometimes feel unreachable, but when we bring great people together, the impossible becomes possible.
You played a major role in building the CEO-in-Training (CIT) program. Can you share how that program was formed and formalized?
The program began when Alpine realized that some of our best CEOs were first time CEOs without industry expertise, who had the essential attributes of a great leader. When I joined in February 2016, there were three CITs: Rachel Green, Laura Walsh, and Mike Seltzer. They gathered informally once a year in a conference room. Today we have quarterly CIT summits with intentional programming by trained facilitators.
The early CITs hadn't moved from management positions to CEO roles, and no one had been through an exit. Fast forward to today, we have hired ~50 CITs, and 30+ have progressed into CEO roles. Double digits of those CITs are females who are changing the face of what leadership looks like, both from a gender but also age and many other dimensions perspective. And since 2016 we've formalized a lot of training and community building and defined what it means to be part of something that accelerates your career by decades. I'm proud of this group. They have this deep internal drive to have an impact on their community, on their customers, and on their employees. That shared belief set is what makes a great CEO, and what creates cohesion amongst the group and amongst all of Alpine. That spirit has been at Alpine since the beginning, and it's up to all of us to maintain it as we grow.
What does it mean to be a great leader at Alpine?
We need people who lead not because of the cache of the title, but because of the legacy and impact they can have. Part of our goal is to show them what's possible, and to encourage those with a service mindset to lead companies. When you tell high potential leaders that you believe in them, and then place them in positions where they have a chance to drive impact for their company, for employees, communities, investors, and LPs, you help them see that their work matters. The world needs more leaders. We hope that others realize attributes matter more than experience. The results will benefit all of us.
The world needs more leaders. We hope that others realize attributes matter more than experience. The results will benefit all of us.
Let's talk a bit about your own leadership style. What attributes help you succeed, and what are you still working on?
I'm able to connect with people pretty easily and I've always been an extreme extrovert. I form deep and authentic connections with people, and I'm driven to follow through on the promises we make when they join Alpine. Following through builds trust and a strong reputation which allows us to attract more exceptional leaders. Every time I have a conversation with a potential hire, I try to find the intersection of what works for them and what works for Alpine, and not to overweight either of those.
I tend to be a very inclusive and transparent leader, which serves me well most of the time. But there are times when consensus building can slow you down because too many people are involved in decision making. Another thing that I'm working on is scaling Alpine. I think this notion of deep, authentic relationships is starting to take root. I see people like Leslie carrying that forward for Alpine itself and Jake doing that for the CIT community.
Why become a partner, and how does partnership allow you to grow?
Partnership gave me two things. One was validation for how Alpine rolls, the other was a chance to make an impact on the biggest stage possible. My inclusion in the partnership is representative of talent strategy being a core part of Alpine.
If I can have a hand in solving the problems that allow us to help grow, I'm succeeding. I bring the lens of people, culture, and talent. I'm not the only one that does that, but I think I am the champion for that side of Alpine. I am constantly focused on how we can make our internal culture one where we're promoting people from within and holding onto the right people by setting them up to succeed.
How does setting others up to win play into your own career progression?
I've evolved my role to go handle new and different challenges along the way. For example, I helped stand up our playbook, then I handed it off to an amazing group of leaders who have brought it to the next level. And now I lead sourcing, an area I knew would need to scale along with Alpine.
Ben leads our CEO-in-Residents (CIR) recruiting and manages executive recruiting at the portfolio level. When I started at Alpine, that was half of my job. Now that Ben is here, he's moved to a leadership position and drives tremendous impact. I used to recruit every new hire, and now there are times when amazing people get hired that I haven't even met yet. I have a deep passion for the portfolio company side of my work, because I helped recruit a lot of the CEOs who run those companies, and now I have a chance to continue supporting them by sitting on their boards.
I'm trying to create a world where we're all living in line with our core value of harmonious lives. I count many of my Alpine team members as close, personal friends, and our relationships transcend Alpine. That makes coming to work every day super enjoyable, and it makes it okay when my kids pop in on a Zoom because they know the people there.
What's next for you (and for Alpine)?
I want to continue solving hard problems that allow us to scale and grow and create opportunities for people at Alpine and in the portfolio. We've got to figure out how to continue to deliver on even more capital. Our PeopleFirst essence will help bring us forward, and then there will always be continued innovation around how we find companies and the types of companies we invest in. We'll continue to evolve the way we build community and how we create learning within our portfolio leaders, CITs and otherwise. I'm not sure of the answers yet, but I plan to push us to innovate and push us to do better. I want to maintain the essence of what makes us great, while setting us up to scale, and to win at that bigger scale.
Subscribe to hear more about building businesses through people.