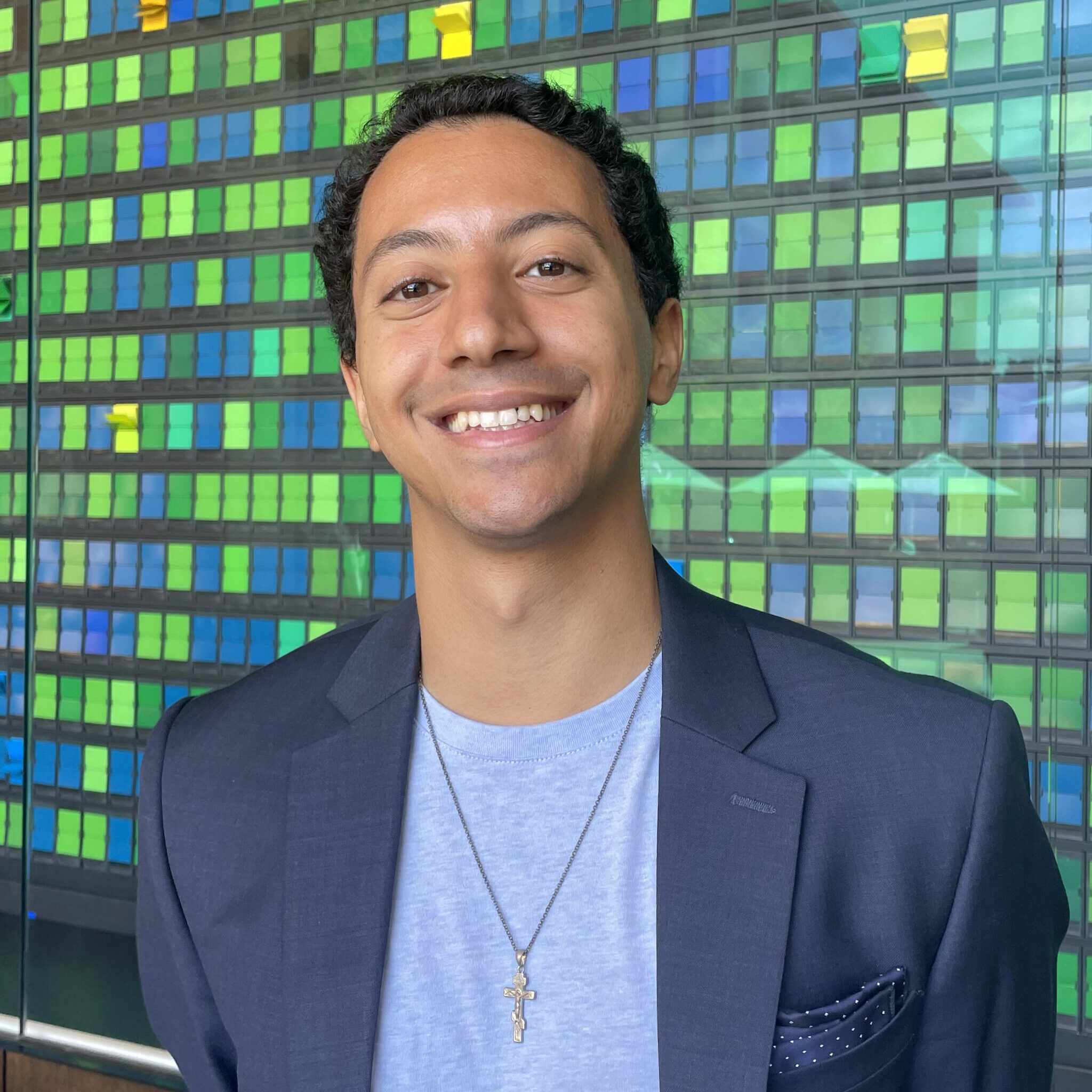 As a lawyer, entrepreneur, and author, Andrew Leon Hanna is personally and professionally dedicated to supporting underrepresented communities. He's authored 25 Million Sparks, an award-winning book on refugee entrepreneurs is the co-founder and CEO of DreamxAmerica, which connected small businesses to more than $400,000 in zero-interest loans during the COVID-19 pandemic, and is the co-founder of Sawa Impact Labs, a web3 venture that features emerging global artists.
His latest venture, Mona, celebrates and invests in underrepresented entrepreneurs around the world through gifting, media, and design. Through Mona, Hanna is an Alpine Social Ventures (ASV) fellow and part of the program's 2022 inaugural class. ASV aims to support the next generation of social-impact leaders by providing capital and insights to help them successfully launch their businesses. Built upon practices learned through Alpine Investors' CEO-In-Training program, ASV leverages Alpine's playbooks and practices derived from 20+ years of private equity investing. In reflecting on the work he and the Mona team have made so far, Hanna shares his vision for how Mona will continue and expand on its impact on underrepresented creators and entrepreneurs.
Tell us about how Mona came to be. Where did you get the idea to start this company?
The heart of my work across spaces is to showcase and support communities of people that are underrepresented and under-supported – so that their creativity, power, and equal dignity can shine through. So, this is where a lot of my mindshare has been in my work. Whether it is writing about Syrian entrepreneurs in the Za'atari refugee camp, or facilitating zero-interest loans to low-to-medium-income entrepreneurs, I aim to combine storytelling and economic impact to help uplift people who are unsung.
This is how Mona came about. Mona means "wish" in Arabic. As the son of immigrants from Egypt, it is extra special for me to be able to advance the dreams, wishes, and visions of entrepreneurs representing all kinds of cultures and backgrounds. I have gotten to know some of the most incredible entrepreneurs and creators – people creating powerful products and services infused with culture, joy, and care. People who deserve a greater spotlight and greater access to capital. These are entrepreneurs across the country and around the world who are heroes, but unfortunately aren't often the ones featured on magazine covers or television screens. Our goal at Mona has been to help amplify the work of these entrepreneurs with product investments, which are crucial for small businesses, and with a platform to tell their personal and brand stories to customers around the world.
How does Mona operate? What is its business model?
On the gifting side, we deliver heartfelt, impact-driven gifts and experiences curated from inspiring underrepresented creators. Mona Gifts provides a one-stop concierge for companies' gifting needs. The end recipients – employees, clients, partners, and so on – get a beautiful box filled with handcrafted goods made by our creators, stories about the creators and their products, playlists of music curated by the creators, and more. To give you an idea of the diversity of our offerings, some of our boxes include the Mexican Heritage Coffee Box by Areli Barrera de Grodksi, the Indigenous Creators Wellness Box by creators from three different Native American tribes in the Midwest, and the Global Unity Box by creators who immigrated to the U.S. from five different continents.
We also have a direct-to-consumer gift line focused on coffee roasted by immigrant, refugee, and first-gen entrepreneurs, called Immigrant Love. This is a subscription service whereby our customers get a new box of coffee and cultural experiences each quarter. So far, we've featured the Haitian Warmth Coffee Box by Frentz Neptune, the Persian New Year Coffee Box by Louisa Shafia, the Vietnamese Coffee Culture Box by Vince Nguyen, and much more.
On the media side, this year we're launching Mona Magazine, a media brand that will amplify the voices of creators from underrepresented cultures – with an initial focus on writers, poets, and entrepreneurs. This is especially important to me as an author and entrepreneur, having seen that there is significant inequality in whose stories are published and celebrated by media outlets, publishers, and so on. Our goal with Mona Magazine, as it is with the gifts we deliver, is to bring forward the stories of underrepresented creators, provide support for their work, and create greater mutual understanding across the country and around the world.
Finally, we have Mona Studios, which leverages our team's storytelling expertise to provide design services for companies large and small. Often, a credible, compelling website and brand image is a roadblock for early entrepreneurs, so we are offering low-cost or free services to small businesses subsidized by our work serving larger purpose-driven companies. Meanwhile, Mona provides several other wraparound services to the creators we work with, including partnering to help secure them zero-interest loans through DreamxAmerica, providing coaching on how to sell wholesale, and more.
Through Mona, we're proud to have collaborated with and supported 18 entrepreneurs thus far – 89% of whom are women, and 83% of whom are from immigrant and refugee communities.
What is Mona's mission and why is it so important?
Mona's mission is threefold: First, it aspires to catalyze economic empowerment in the lives of underrepresented communities across America. It does so by accelerating a common path to mobility for disconnected communities, yet one with major unaddressed barriers: small-business entrepreneurship.
Small businesses create two-thirds of net new jobs in America; they are our nation's economic backbone and the hearts of our local communities during good and bad times. But underrepresented entrepreneurs – entrepreneurs of color, women entrepreneurs, immigrant and refugee entrepreneurs, low-income entrepreneurs, entrepreneurs from rural areas, and so on – face unfair struggles at each step of the way. We saw this during the height of the pandemic, for example, when immigrant and minority-led businesses were hit hardest in terms of business closures and the inability to secure capital. So, from a societal perspective, Mona's goal is to uplift this talent so that our entrepreneurs can be activated to their full potential – which would be amazing for their families and for our national well-being.
Second, at the heart level, we aim to create greater mutual understanding across America and around the world. We believe that the best way to generate unity is to tell human stories. Our gifting, media, and design elements each highlight our entrepreneurs – their voices, their stories, and their cultures. We hope that this will help people see, more and more, that the beauty of this nation is in the diversity of it, and that we are more alike than we are different.
Third, particularly with our gifting services, we aim to serve our corporate clients with customized, memorable experiences that purposefully engage their employees and clients. We are serving companies at the nexus of three trends: the desire for more personal engagement due to the era of increasing remote work, the long-needed push for greater inclusion and diversity in the workplace, and the call for more sustainable sourcing. Company gifts that are purpose-driven and handcrafted are far more memorable, which is the key factor that leads to greater ROI. Mona gives companies a custom-designed, impact-driven, DEI-centered experience that can lead to better employee engagement and stronger relationships with clients and partners.
When you think back on your experience growing Mona so far, what have been some of the highlights? What moments in the company's journey are you most proud of?
There is the joy of providing a pivotal investment in an entrepreneur's work. Often the product investment we make through Mona Gifts, for example, will be our entrepreneurs' biggest purchase of the year, sometimes accounting for the majority – even the vast majority – of their annual revenue. Having experienced starting my own ventures, creative works, and so on, I know that sometimes it only takes a little bit of encouragement to catalyze confidence. We hope that our investments in creators give them the energy and resources they need to take their stories and products to more and more people throughout the nation and across the globe.
Sticking with the gifting example, there's also the joy of hearing stories about the gift boxes arriving in the hands of people – whether through corporate gifting or direct-to-consumer purchasing. For two home care clients, for example, we designed boxes specially tailored to their communities: an Indigenous Makers Wellness Box and a Hmong Makers Box. With our extensive creator network, we found creators from the specific backgrounds that our clients work with – Indigenous creators from three particular tribes in the case of one client and Hmong-American creators in the case of the other – and designed boxes that are tailored to the client's company culture. To hear that the boxes touched people's hearts, created greater understanding, and lifted spirits means a lot to our team.
How did you first hear about Alpine? What has been your experience with the ASV program?
I had heard of Alpine a few times while studying at the Stanford Graduate School of Business (GSB) because it's a popular landing spot for grads. In my second year as a student, I was forwarded the campus announcement that Alpine was launching ASV by a couple of different folks. In my view, there's a real lack of clear pathways for social impact-oriented entrepreneurs. So ASV immediately filled an important gap and offered a new pathway for impact-oriented founders like me. I went to the info session and was impressed by Alpine's approach: it had correctly identified this gap and the team genuinely wanted to support changemaking entrepreneurs. It structured ASV in a way that ensures its true primary focus is on impact. And it came into the space with humility, knowing what it can offer to entrepreneurs and what it will continue to learn.
How will you use your investment and support from ASV to advance Mona's mission?
ASV has been fantastic already. The investment has been critical in enabling us to refine and grow our products and services. Beyond the investment, the support has been far beyond what I anticipated. There is a team of Alpine team members – a "pod" – that supports our core team's work – from providing strategic ideas to supporting with business development and more. It's been wonderful to have a thought partner as we experiment and design longer-term plans for the company.
What is your vision for Mona's future? What do you see for the company in the near-term future, versus in the long term?
Our vision for Mona is to be a company that showcases and invests in underrepresented creators throughout America and across the globe, while bringing people together through the dignity-filled stories we tell. In the short-term, this means continuing to expand our gifting, media, and design services so we can advance the incredible work of more entrepreneurs as we partner alongside them on their journeys. In the long-term, it involves providing even more significant support to our creators so that they can ultimately achieve their visions – their greatest "wishes" – for their ventures.
Please see the Terms of Use and Regulatory Disclosures available here for important information regarding the information presented herein.
Subscribe to hear more about building businesses through people.