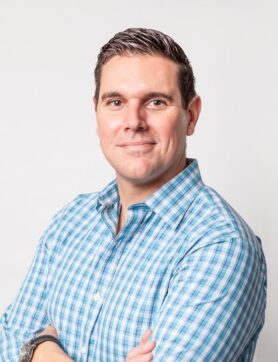 Company
ASG
Year of Investment
2016
Industry
Vertical SaaS
Selling a business isn't just about finding the right buyer or timing– it's also about knowing one's own abilities to take things to the next level. Just ask Steve Reardon, CEO of Alpine Software Group (ASG), Alpine Investor's platform that buys and builds vertical SaaS businesses. Before leading ASG, he founded Peldon Technologies, a supplier of photo printers and all-in-one kiosks to pharmacies and retailers, and received his MBA from Stanford. As someone who's been a founder himself, Reardon approaches any exit proposition with a fresh perspective. In this excerpt from an interview from ASG, he shares exactly what mindset he brings to the sales process.
How do you know it's time for ASG to sell a business?
The primary rubric I think about is: Would another owner be a better owner for the business in the current phase it's in? There can be a lot of reasons for that answer to be yes. A business can reach a scale where it needs tons of capital for the next stage of growth, it's ready to IPO in a few years, or maybe it really belongs with a bigger strategic player in the industry.
Ultimately, it's about what's best for our people — including the team and our customers — and the legacy of our founders.
What are the similarities or differences to a founder thinking about the same decision?
I think it's exactly the same rubric. Founders sell a business because they are generally not the best owner for it in its current phase. But the reasons why that might be true are typically different in a founder-led business.
You typically see single-owner or co-founded businesses that don't have access to institutional capital. They could go out and raise, but bringing on investors would mean they'd dilute their own equity while still having a lot of their personal financial risk tied up in the business on top of having a new set of stakeholders. So, it can be a lot more advantageous for bootstrapped founders to sell at the stage where the business needs a capital infusion to grow to the next stage.
Lifestyle can also be a factor. Being a founder is incredibly stressful and difficult. When you work on a business for 15 years it puts stress on you. If you have a spouse or a partner and kids, it can also put stress on your relationship and your family.
I think for a lot of founders — particularly of the types of businesses we are buying at ASG — what they love and what they're great at is taking things from zero to one. When I reflect on my own experience as a founder, I'm actually better at the one to 10 or 10 to 100 stage. I'm just not a 'zero to one' guy. There are some rare people who are good all the way through from zero to 100, but they are a vanishingly small minority.
Tell us more about when you went through a sale as a founder. What were your personal factors for selling?
With the photo business, I was in a market where there were basically two companies supplying the same products. Because of the competitive dynamics that were happening in that place at that time, I felt like it would be better for someone to be the single supplier.
It felt clear to me that either I needed to buy that other business, or it needed to buy mine. The other founder was an older operator than me and he had a larger company with other business lines and was better capitalized. I was a little tired and I wanted a new chapter and to jump to a slightly larger scale.
How have all of your experiences of selling a business — whether that personal sale or the exits you've overseen at ASG — influenced your thinking as a buyer of businesses?
When we go through the sales process, there is great information on why some people buy the business and others pass on it. For us as business builders and business buyers, that has made me become more cognizant of the things that can maximize or reduce value.
We've now tried to incorporate some of those findings into how we think about running, growing, and buying businesses. So we are asking questions like, how durable is this growth rate going to be — not just for us, but for the next buyer as well? How wide is the M&A market, not just for us, but for the next acquirer? How large is the total addressable market (TAM) going to be? What are the industry tailwinds and headwinds that both us and the future acquirer are going to see?
The exits we've had have allowed us to have real interaction with the markets to turn sort of some of the theoretical underwriting we had historically into real practical firsthand experience of underwriting when we sell businesses.
And our exits have also helped us prove our theory on talent. We seek to hire diverse, high-potential leaders. We know they're the best in the business, and it's been really gratifying to see the market catching up with that and that our management teams are a huge part of our value on exit and very desirable to new owners.
ASG runs companies across more than 10 verticals right now, and that number will keep expanding. How do you approach being a leader of leaders in that many industries?
We've been building more scale at our board level, which helps with that. My personal approach is that I like going into the businesses early when we buy, especially in a new vertical. When we place a new leader in a new vertical, they are going to go through rapid career development and personal development in the first three years, and that's where I can offer high-leverage support for them and I think of myself as a sort of incubator board member in that phase.
Then as those businesses and leaders become more established, I can take a step back. Having that early depth means that even as I step back, I can have some breadth of depth across all of our verticals further down the line.
When you're involved with this many businesses, you need to be really good at deciding where to spend your time. What are some skills you've learned in this role you wish you had known when you were a founder, or an operator of a single business?
There are two parts to that — one is time management, and the other is cognitive load. The second part of that is the hardest for me. I am time constrained, but I also know there are only so many parallel things you can be good at and know deeply. I think about that a lot. The more cognitive load you have, the more stress, and it's harder to find headspace to think.
It's a constant challenge and I am always tinkering with it and adapting. You can't run on autopilot — it doesn't work and you wind up overburdened and being a bad partner to the people you work with. So it's really an active, daily exercise that I'm thinking about where I don't need to be, whether that's in specific meetings or on boards of our companies.
The other piece is that I have to be careful with how deep I go in these organizations. There are times in a meeting where one of our CEOs could be diving really deep into a business update or something on the go to market side, and I will actually call time out and ask them to bring the conversation back to a higher altitude.
You have to be disciplined with your time and your headspace. And I'd say that advice is really relevant for founders. You need to know what's happening in a ton of areas in a business, but at a certain stage you need to be sure you're flying at the right level and using your time and headspace where it has the highest impact.
The other big learning I've had is getting better at giving other people the spotlight and the mic and taking more of a backseat. I've always been relatively good at delegating, but I used to think of it as sort of a lazy practice and I wasn't always as good at recognizing people as part of it. When you pair delegating with recognition and intentionally developing your people the goal and rewards for doing that become very clear and being disciplined there just keeps paying off — for you, for your team, and for the business.
What's next for ASG? What are you excited about?
We just passed 50 acquisitions, and that's a great milestone. I think what we have been great at that's gotten us there is the professionalization of our companies, particularly through M&A growth and talent development. That's a huge part of our success in growing a single acquisition into a market leader across a whole vertical like we did with Paradigm and are doing with Radicle Health, Actabl, and Traject.
For the future, my focus is on getting bigger and we'll do that by scaling the things we're great at and getting even better at the things we're good at. I have a huge focus on organic growth right now. I don't just want to be 'good' at it — I want us to be the experts. And I think we're going to do that because we're focused on it.
Certain statements about Alpine made by portfolio company executives herein are intended to illustrate Alpine's business relationship with such persons, including with respect to Alpine's facilities as a business partner, rather than Alpine's capabilities or expertise with respect to investment advisory services. Portfolio company executives were not compensated in connection with their participation, although they generally receive compensation and investment opportunities in connection with their portfolio company roles, and in certain cases are also owners of portfolio company securities and/or investors in Alpine-sponsored vehicles. Such compensation and investments subject participants to potential conflicts of interest in making the statements herein. Past performance not indicative of future results. Results may vary materially and adversely. Please see Alpine's Terms of Use for additional disclaimers.
Subscribe to hear more about building businesses through people.