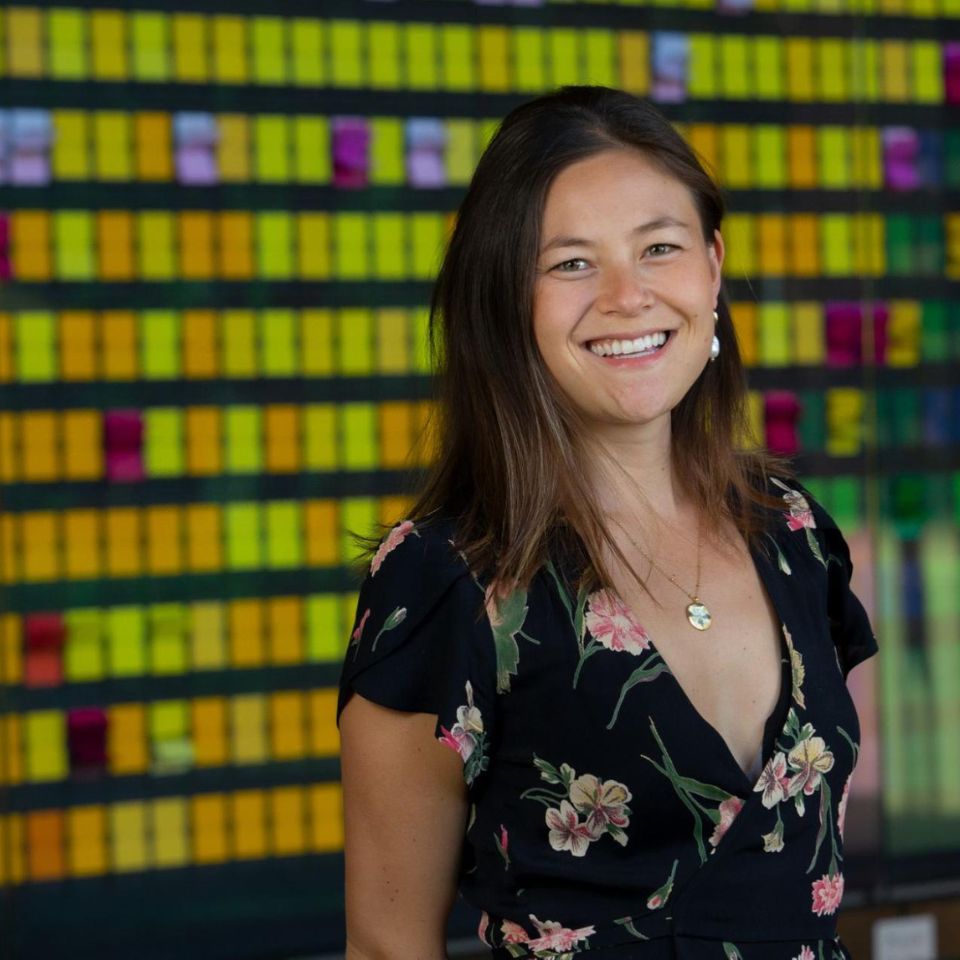 Mika Eddy is a healthcare entrepreneur determined to make a difference, fueled by her own experiences with maternal health. A mother of two and graduate of the Stanford Graduate School of Business (GSB), Eddy previously worked at UnitedHealth Group as Director of Clinical Product Innovation and worked in various healthcare roles in between. While working at UnitedHealth and pregnant with her first child, she was diagnosed with gestational diabetes—a temporary hyperglycemia illness where those diagnosed struggle with glycemic control during pregnancy. Eddy is far from alone—and there are risks to the illness. Every year, 2% to 10% of pregnancies in the U.S are affected by gestational diabetes, according to the CDC, and about 50% of women with gestational diabetes go on to develop type 2 diabetes. With this experience, Eddy was determined to do something to create healthier outcomes for mothers and their babies.
Her latest venture, Malama Health, provides digital tools for women with gestational diabetes with a mission to reduce adverse events during pregnancy and postpartum to help women live healthier lives. Through Malama Health, Eddy is an Alpine Social Ventures (ASV) fellow and part of the program's 2022 inaugural class. ASV aims to support the next generation of social-impact leaders by providing capital and insights to help them successfully launch their businesses. Built upon practices learned through Alpine Investors' CEO-In-Training (CIT) program, ASV leverages Alpine's playbooks and practices derived from 20+ years of private equity investing. In reflecting on her and the Malama Health team's work so far, Eddy shares why Malama Health is well positioned to make a difference and what that difference will look like.
Tell us about how Malama Health came to be. Where did you get the idea to start this company? How did you meet the other leaders on your team?
Eddy: Malama came to be by finding a silver lining in every situation, staying focused, and surrounding myself with talented people.
Soon after graduating from Stanford, where I studied human biology and modern languages, I was rejected by several medical schools I had applied to. I was distraught. I had carefully followed "the track" my entire life, checked all the boxes to apply, and even gone above and beyond by doing a Fulbright scholarship. Yet my initial shock was soon replaced by a deep sense of relief, as I knew practicing medicine would not have been fulfilling for me in the long-term. Instead, I stayed focused on creating a broader impact in healthcare, spending my time in consulting, startups, and industry, where I could leverage my skills to help hundreds of thousands access higher quality care, more efficiently.
When I first became pregnant, another "problem" hit me. I was diagnosed with gestational diabetes and told I needed to get my blood glucose levels in range immediately and to maybe stop eating so much rice (I grew up in Japan, so this was an issue). Again, I focused on the silver lining, turning the experience of pricking my finger 4+ times a day, tracking everything I ate on a paper log, into an opportunity to understand what millions of people go through daily.
When I returned to Stanford for graduate school, I kept coming back to this idea of how pregnancy can have an outsized impact on both the mother and baby's life trajectory. From the uterine environment where the baby develops–which is impacted by nutrition, stress, sleep, medications and other factors– to the hormonal changes surrounding the growth of an entirely new organ (the placenta), to how these changes can affect both the mom and baby for the rest of their lives, I developed a fascination for this 9-month (and 12-months postpartum) period. It's the time when our bodies are both vulnerable yet sending health signals which may serve as clues for better health in the long-term.
I met the team that'd become Malama Health while at Stanford. Our chief marketing and creative officer, Daniela Bahamon, previously led her own company, Maison Alma, designing and bringing to life beautiful products for women. She is a designer at heart, and constantly challenging those around her to question the status quo. When I consider the current consumer and provider healthcare experience, I can think of no one better fitting to design a more compassionate, holistic and connected experience for our moms than Daniela.
Our chief technology officer, Orlando Li, joined us from AirBNB. Orlando's focus on creating engaging, delightful user experiences is trumped only by his love for travel and good food. Orlando and I met nearly 10 years ago when he was a graduate student at UCLA. We kept in touch, working on side projects over the years, and reconnected to work on Malama.
Our chief research officer, Shalmali Bane, is a rockstar. A PhD candidate in epidemiology with a focus on maternal health outcomes disparities, she has published more than eight papers in the field and leads our academic partnerships and clinical pilots. I feel grateful to learn from such a multidisciplinary, diversely talented team each day.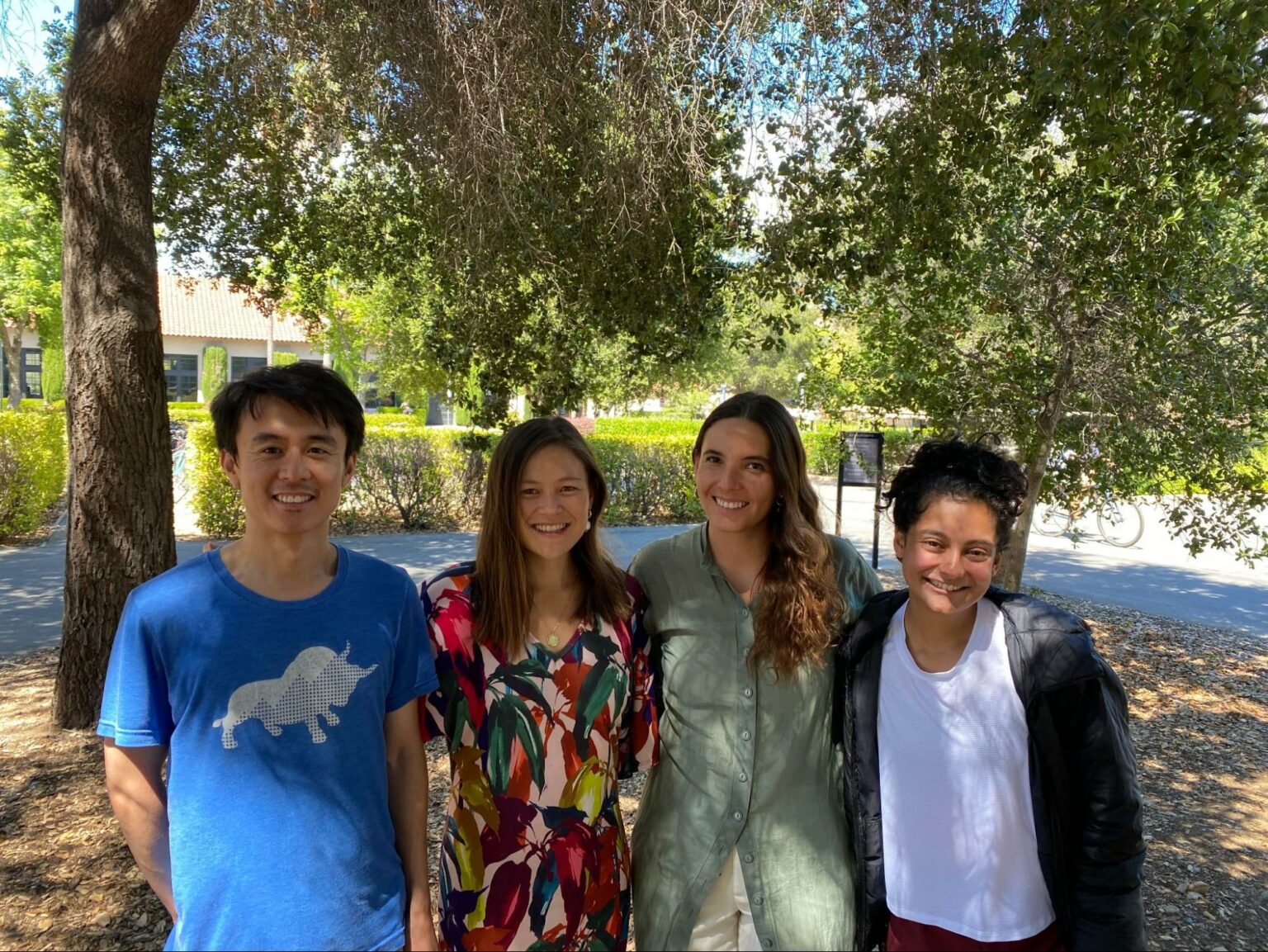 The Malama Health Team. From left to right: Orlando Li, Mika Eddy, Daniela Bahamon, and Shalmali Bane.
People think pregnancy is just this 9-month period where your body undergoes temporary change. In reality, pregnancy can reveal underlying issues that may crop up again later in life. It's a window into a woman's health that presents a unique opportunity to improve and protect her health for the long-term.
Tell us how Malama Health operates. How does a consumer interact with the company versus a healthcare provider?
Patients download the Malama app (available on iOS/Android), pair their glucometer and begin logging meals. The more logs, the more customized insights we offer. For example, if you log a meal of pizza and salad with a glucose reading of 156, after several loggings, we will begin to display some common triggers that may be associated with a higher post-meal blood glucose level. So far, we've seen a 15% improvement in percentage in range (percentage of readings within the healthy range for glucose control during pregnancy) for users logging with Malama versus other methods.
Providers monitor patient data (glucose readings, meals, exercise, and other data) via a web-based dashboard that can be directly integrated into the provider EHR (as of 2023). Through the provider portal, providers can quickly view shared patient data, percentage in range, number of out-of-range readings, download an image to upload into the electronic health record (EHR) or paste a direct link into the EHR.
Why is Malama Health uniquely positioned to make a difference? How does the company make an impact?
Malama sits at the intersection of chronic diseases during pregnancy. For example, there are a lot of solutions out there for type II, type I diabetes, but not many for gestational diabetes. How the body handles disease state during a vulnerable period like pregnancy is an area understudied and often overlooked.
People think pregnancy is just this 9-month period where your body undergoes temporary change. In reality, pregnancy can reveal underlying issues that may crop up again later in life. It's a window into a woman's health that presents a unique opportunity to improve and protect her health for the long-term. In addition, to optimize a woman's health while pregnant involves optimizing her health prior to and following the pregnancy period, so we are also planning to address the preconception and postpartum periods.
In terms of metrics, we look at clinical impact as well as patient and provider experience. Are we able to reduce the number of unnecessary C-sections, preterm births, and NICU admissions? Did we improve the patient experience? Have we alleviated administrative burden for the providers?
Is this your first time starting a company? If so, what has been your experience as a first-time founder? What have been the challenges and rewards of founding a company?
This is my first time founding a company, though I've worked on side projects in the past (including a pet telehealth platform with Orlando back in 2012!). In addition, I've had experience spinning out "intrepreneurial" initiatives, including analytics tools for the precision medicine industry, and voice assistants for healthcare. This is the first time I've fundraised externally, and having the Alpine name behind Malama has helped significantly, particularly against an increasingly challenging fundraising climate.
The challenges of founding a company, especially in the healthcare space, include getting stakeholder buy in from patients, providers, payers, and external partners (in our case, device manufacturers), navigating regulatory and reimbursement, and demonstrating you're able to innovate while at the same time integrating into the existing– yet often siloed and antiquated– health system.
The rewards include knowing the work you do directly moves the needle on improving the well-being of others. Now, as the mother of two, I often think about how it is necessary to take care of the people my children will become–their future selves– right now. What can we build today that should exist ten, twenty, fifty years from now?
How did you first hear about Alpine? Tell us about your experience with the ASV program.
I first heard of Alpine's ASV program through the Stanford GSB's Center for Social Innovation. I attended Alpine's talk at the GSB during winter quarter and was immediately interested in the ASV program. I liked that the ASV cohort would be learning growth strategies alongside the CIT program and that fellows would have access to similar resources while still focusing on impact. As I met the rest of the team through the interview process, I saw what an amazing, supportive culture Alpine offers.
Since joining the ASV program, I've talked with pricing and marketing experts and others that have supported multiple functions at Malama Health. We recently kicked off a clinical study with Tufts, and launched with Santa Clara Valley Medical Center which serves a predominantly Medicaid patient population. The fundraising we received from Alpine and others have supported efforts like these.
What is your vision for Malama Health's future?
At Malama, we are focused on leveraging technology to truly improve access to quality care. The U.S. faces not only an OB/GYN shortage and widening maternity care deserts, but also provider burnout, increasing costs of care, and an explosion in rates of diabetes, hypertension, substance use disorder. These factors are preventing this country's women and children from living healthy lives and having the opportunity to reach their full potential.
With Malama, patients have an opportunity to receive care from anywhere, at anytime, and to truly manage their own conditions through personalized insights and direct communication with the provider.
While we are focused on holistic gestational diabetes care management today, in the future, we will be able to serve all pregnancies where women are looking to be healthier and to improve the chances of healthy outcomes for their baby and themselves. And that's key—so many times women are so focused on the health of their babies that they forget to take care of themselves.
We want to make it easy and effortless to ensure women get the care they need, to keep themselves healthy, which ultimately protects baby as well. We're excited to explore those avenues in the future.
Read more about our ASV program here.
Certain statements about Alpine made by ASV company executives herein are intended to illustrate Alpine's business relationship with such persons, including with respect to Alpine's facilities as a business partner, rather than Alpine's capabilities or expertise with respect to investment advisory services. ASV company executives were not compensated in connection with their participation, although they generally receive compensation and investment opportunities in connection with their ASV company roles, and in certain cases are also owners of portfolio company securities and/or investors in Alpine-sponsored vehicles. Such compensation and investments subject participants to potential conflicts of interest in making the statements herein. Past performance not indicative of future results. Results may vary materially and adversely. Please see Alpine's Terms of Use for additional disclaimers.
Subscribe to hear more about building businesses through people.