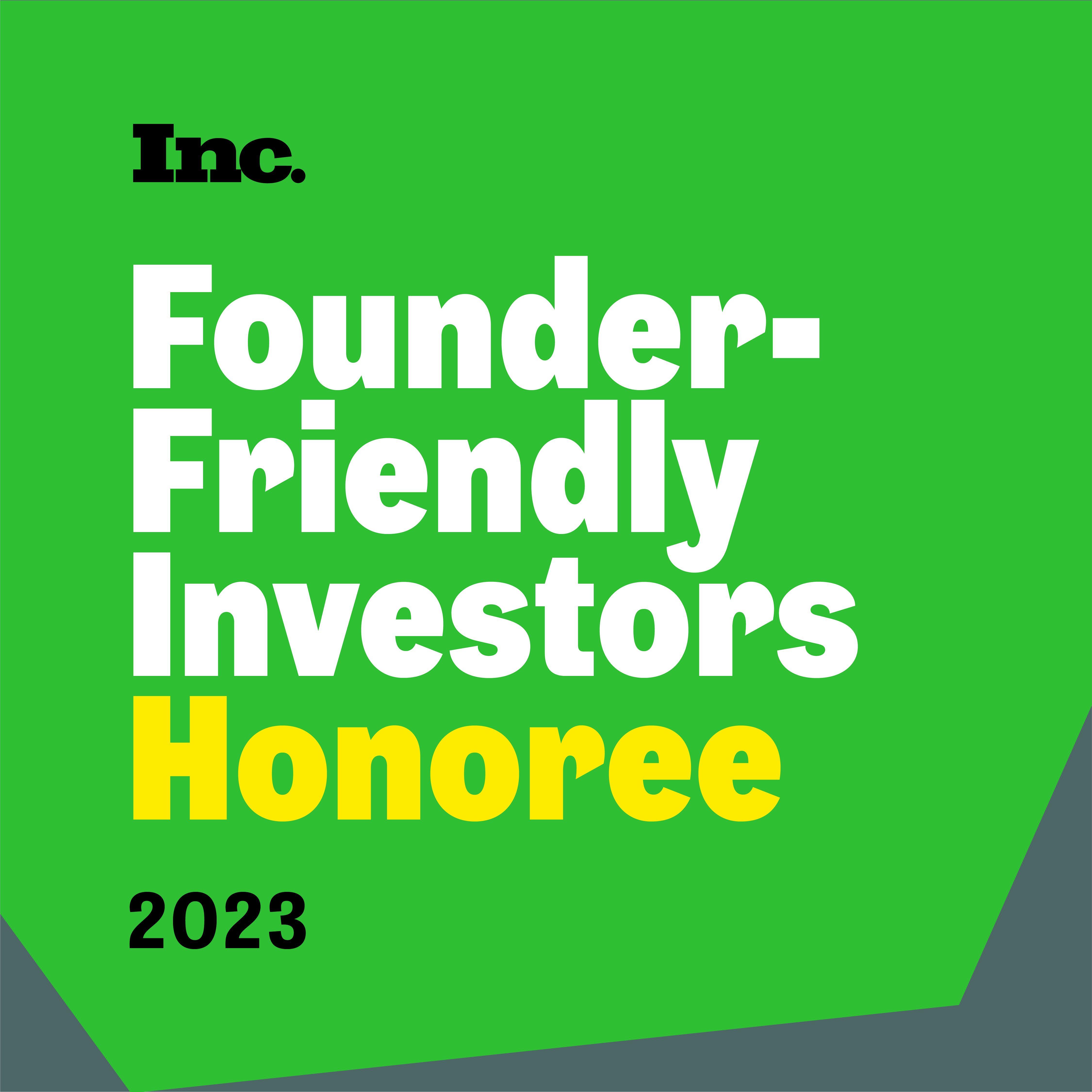 San Francisco, CA – Alpine Investors ("Alpine"), a Certified B Corp people-driven private equity firm committed to building enduring software and services companies, is proud to share that it was named to Inc.'s Founder-Friendly Investors list for the fifth year in a row.
To compile the list, Inc. went straight to the source: entrepreneurs who have sold to private equity and venture capital firms. Founders filled out a questionnaire about their experiences partnering with private equity, venture capital, and debt firms and shared data on how their portfolio companies have grown during these partnerships.
"It's exciting to be honored by Inc. as a founder-friendly firm for five years running, especially given the input they receive is directly from entrepreneurs to put this list together," said Graham Weaver, Founder and CEO of Alpine Investors. "Driven by our PeopleFirst philosophy, we love working with, learning from and developing exceptional people, including the founders we empower. Our goal is to build upon the legacy of our founders and help to build their companies into enduring businesses. We are so grateful to have had the opportunity to work with such amazing founders throughout their journeys."
Alpine supports founders in a variety of stages, including with its in-house executive talent programs that allow founders to transition or supplement their management teams. Currently, these programs include CEO-in-Training, CEO-in-Residence, and programs for Chief Financial Officers and Chief People Officers. Alpine recruits exceptional MBA students and seasoned personnel and then trains these executives on its PeopleFirst approach, ensuring that the leaders brought into the portfolio are values-led individuals with an aligned purpose and will be excellent partners for founders. Alpine's average Net Promoter Score (NPS), a metric that measures partnership satisfaction by asking how likely someone would recommend working with the firm, for founders in 2022 was 89, a score considered "world class" by NPS' creator Bain & Company.
"Now more than ever, founder-led companies need financing partners that offer guidance, expertise, and understanding—not just capital. These are the private equity, venture capital and debt firms that have founders' backs when it comes to accelerating growth," says Scott Omelianuk, editor-in-chief of Inc. Business Media.
Inc. is a New York City-based media brand for entrepreneurs and is not affiliated with Alpine. Alpine paid a fee for submission to be considered for this award. For more information about the selection criteria and process, please visit Inc.'s website. This award was given on October 31st, 2023 and was based upon information from the previous year.
About Inc.
The world's most trusted business-media brand, Inc. offers entrepreneurs the knowledge, tools, connections, and community they need to build great companies. Its award-winning multiplatform content reaches more than 50 million people each month across a variety of channels including websites, newsletters, social media, podcasts, and print. Its prestigious Inc. 5000 list, produced every year since 1982, analyzes company data to recognize the fastest-growing privately held businesses in the United States. The global recognition that comes with inclusion in the 5000 gives the founders of the best businesses an opportunity to engage with an exclusive community of their peers, and the credibility that helps them drive sales and recruit talent. The associated Inc. 5000 Conference is part of a highly acclaimed portfolio of bespoke events produced by Inc. For more information, visit www.inc.com.
About Alpine Investors
Alpine Investors is a people-driven private equity firm committed to building enduring companies by working with, learning from, and developing exceptional people. Alpine specializes in investments in the software and services industries. Alpine's PeopleFirst strategy includes a talent program that allows Alpine to bring leadership to situations where additional or new management is needed post-transaction. Alpine has $16 billion in assets under management as of June 30, 2023, and has three offices in San Francisco, New York, and Salt Lake City.* For more information, visit www.alpineinvestors.com and https://alpineinvestors.com/terms-conditions/ for full disclaimers including, but not limited to, third-party statements and certifications and Alpine Operations Group.
*Inclusive of additional commitments to the continuation fund as of October 20, 2023 and fair market value as of June 30, 2023.
Subscribe to hear more about building businesses through people.