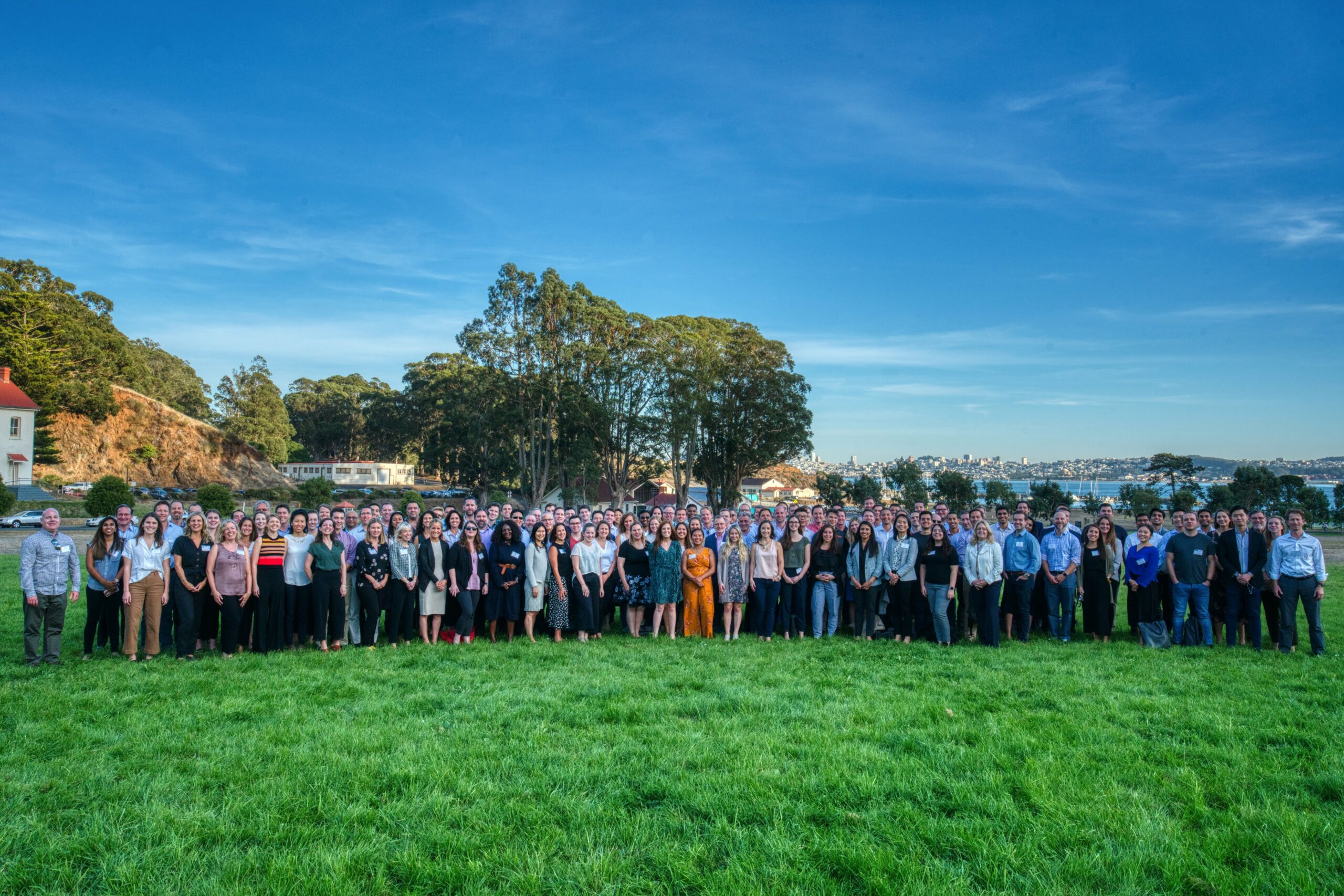 We believe the formula for building a world class private equity firm and making an impact on the world is the same: unleash incredible people to be their best selves. We believe people are capable of achieving amazing things, and our job is to empower them and create a supportive environment where they can thrive, learn, and grow.
By fostering incredible talent, we can be a force for good in the world. We seek to increase employee engagement at our portfolio companies, improve diversity and inclusion within workforces, and help people feel part of a community with aligned values.
At Alpine, each decision we make and activity we pursue is aligned to our mission:
Be the best performing private equity firm of our generation (the "what"),
Be the best place to work for exceptional people (the "how"), and
Use our platform to be a force for good in the world (the "why").
What: Be the best performing private equity firm of our generation
Throughout Alpine's history we have had a higher probability of hitting big, ambitious, inspiring goals than we have of hitting more modest ones.
American architect Daniel Burnham said, "Make no little plans, for they have no power to stir one's blood." Most people believe smaller goals are easier to hit than higher goals. But big, inspiring goals motivate our team and have allowed us to attract people who want to be part of something special.
Throughout our 20-year history, we faced significant setbacks and obstacles. Big, meaningful goals have inspired us to persist when it would have been easy to quit. Most importantly, in order to hit big goals, you have to change in a meaningful way. You must learn, grow, try new things, and experiment. You must become the best version of yourself. And you have to do things differently than how others do them. We've embarked on a strategy that we believe is distinct to Alpine, and we've spent two decades building the capabilities to execute this strategy. The air is much clearer when we're doing something different, and big goals force us to step beyond the status quo and work in more creative ways.
How: Be the best place to work for exceptional people
Ten years after we founded Alpine, we embarked on a process to discover how to consistently build thriving companies. We looked at each deal we closed, and we considered every factor: the market, the company's characteristics, the financing, the growth rate of the company, the purchase price, and many others. The quality of the management team was most highly correlated to success. When we purchased a good business at a reasonable price, company leaders made an overwhelming difference in outcomes. Similarly, at Alpine we discovered that we had the most success sourcing investments, winning deals, making good investment decisions, and managing boards post-close when exceptional people performed each task.
We realized that to be truly great, we needed to reframe the way we thought about our business. Our primary business is not the deal business, the software business, the sourcing business, or the board monitoring business. We are in the talent business.
We aligned on the objective of making Alpine and the Alpine portfolio companies the places where exceptional people want to spend their careers. This is an extremely difficult goal and has required us to reimagine our firm. We aligned on three critical decisions about our culture at Alpine:
We hire for attributes over experience. We hire people we trust and admire, people with grit, persistence, humility, integrity, creativity, and passion. We hire people from an array of backgrounds and experiences with whom we want to share our lives.
We strive for high levels of empowerment. Great people crave responsibility, growth, and decision-making authority. In order for Alpine to scale, we need to empower our employees and give them significant responsibility early in their careers as well as the training, coaching, and mentorship to be successful.
We endeavor to have lifetime relationships with every person we hire. While some turnover is inevitable, we treat each person as though we are going to be lifetime partners and colleagues. We invest in them and create opportunities which will continue to support their growth and keep them excited about their careers at Alpine.
We created our own operational philosophy called PeopleFirst which was designed to help our portfolio companies create intentional cultures and in turn, become best places to work in their respective industries.
Over the next 50+ years, markets will change, our strategy will evolve, purchase multiples will rise and fall, and competition will intensify. But attracting and retaining exceptional people, investing in their careers, and making Alpine the top destination for these people will always be at the foundation of Alpine's performance.
Why: Use our platform to be a force for good in the world
There is conventional wisdom that the for-profit world is a place to generate income, and the nonprofit world is the place to do good. That logic implies that you must choose between the two worlds.
We believe that perhaps the greatest positive impact we can make on the world is to use the Alpine platform as a force for good. The first two parts of our mission—becoming the best private equity firm of our generation and attracting exceptional people—help us to create a platform we can use to create positive impact on the world.
To consistently build thriving companies, we must aim for a longer investment horizon, invest in businesses, create jobs, and build sustainable companies. We help build great management teams and invest resources into our portfolio with the goal of compounding companies over long time periods. We water our flowers in the following ways:
Unleashing Talent Through Employee Engagement
Most working employees spend nearly half their waking hours at work and, according to a recent Gallup poll, roughly 70% of employees in the U.S. and 85% worldwide are disengaged at work. The vast majority of working people spend half of their lives doing something they dislike.
We strive to create a culture at Alpine and within our portfolio companies where employees feel connected to their work and their teams. Imagine the difference it makes in the lives of employees when they feel their work has meaning, that they are valued, and that they are excited about their company and the impact they have within it. What if they didn't have to choose between having a family and having a meaningful career? What if they felt their work mattered? What if they felt seen and heard? We believe these factors would help employees gain greater self-esteem, increased confidence, and more fulfillment. Imagine the difference in how they would show up with their friends, family, and community.
At Alpine, we want people to be forced to stretch so that they learn and grow. By investing in and growing our own business, we create an increasing set of leadership opportunities for our team.
Diversity, Equity, and Inclusion
Alpine is a special place because of our people. We are a collection of unique individuals whose differences in background and life experience are as important as our shared values. By hiring for attributes over experience, we believe that who someone is at their core matters more than a specific institution, club, or experience. We enable individuals to break from their traditional paths and to explore new roles and career opportunities in private equity and within our portfolio. We combine our broader recruiting funnel with significant training and development to ensure all individuals acquire the skills, experience, and mentorship to be successful in their roles and throughout their careers.
With a large platform of leaders, companies, and jobs, we aim to create best places to work for all by building diverse teams, strengthening our culture of inclusion, and giving everyone an equal opportunity to succeed.
ESG Practices and B Corp Certification
We believe deeply that with our success comes a duty to invest responsibly and to consider our broader impact on the world. We adhere to an intentional environmental, social, and governance ("ESG") policy in which we consider relevant ESG factors in the investing process and track these factors through each company's hold period. We are also a signatory to United Principles of Responsible Investing ("UNPRI") and became certified as a B Corp in 2018. Through our adherence to the UNPRI, our ESG policy, and our B Corp status, we ensure that the companies we invest in serve our goal of being a force for good in the world.
Helping Nonprofits Build Their Endowments
Many of our clients support incredible causes focused on pension funds for employees, access to scholarships, climate change research, cancer research, and access to healthcare. By using our platform for good, we contribute significant dollars toward the endowments of our clients and add to these very meaningful causes.
Giving Back
The world is an uneven playing field. As Warren Buffett says, many of us born with opportunity won the ovarian lottery. We did nothing to earn that lottery placement; it was luck. Similarly, many individuals are significantly disadvantaged because they were born into difficult circumstances. We are committed to building programs to address access, diversity, equity, and inclusion at Alpine and at our portfolio companies. We are also committed to giving our time and money to causes which help to level the playing field. We are proud to partner and co-create with incredible organizations like Access Distributed, BLK Capital, Girls Who Invest, and YearUp, to name a few.
Summary
At Alpine, everything we do is focused on being the best performing private equity firm of our generation, creating the best place to work for top talent, and being a force for good in the world. All three of these objectives align, support the others, and enable us to both do well while doing good.
We hope you will join us on this journey!
Subscribe to hear more about building businesses through people.