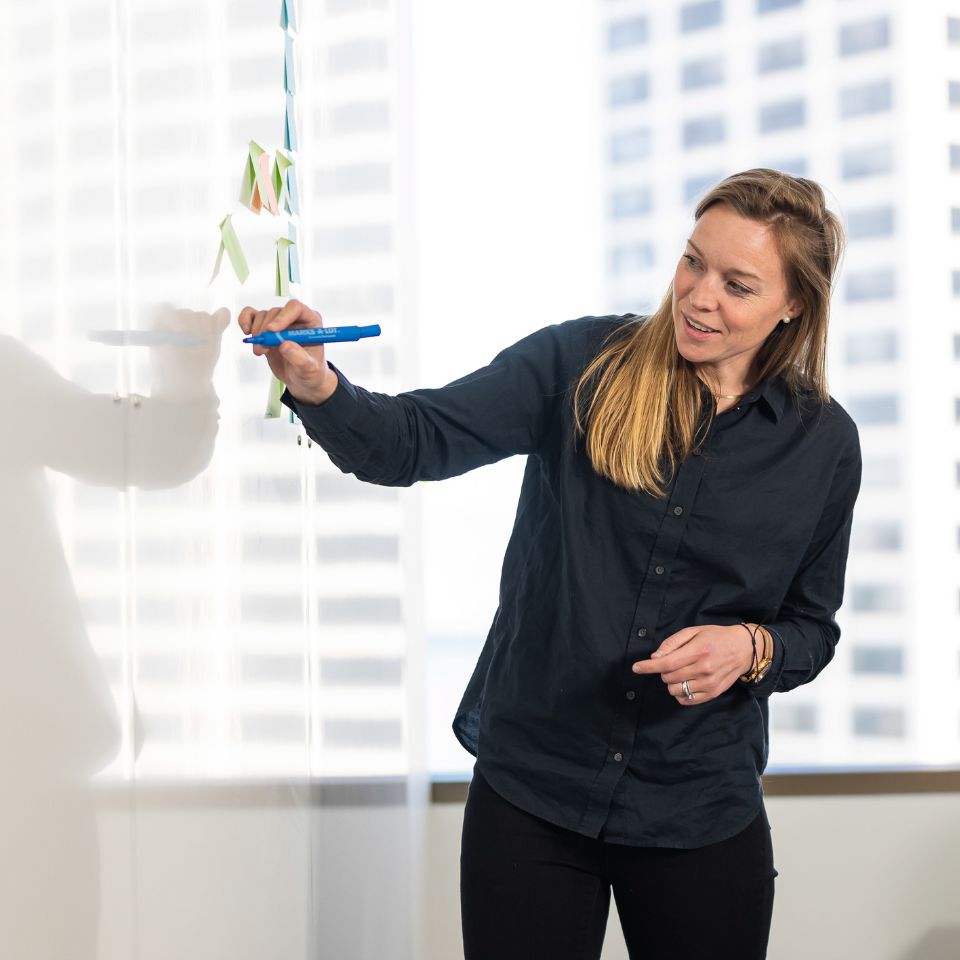 Leslie Foard believes that humility, a strong work ethic and authentic connection to an audience can catapult a career. That philosophy has led her from playing Division I lacrosse at Stanford, to running campaigns as part of Nike's brand marketing team, to a first-of-its-kind role at Alpine Investors. Below, the Bay Area convert shares how she made the shift from consumer brand marketing to private equity operations, why the employee experience matters, and the passion and purpose that guide her.
I'm originally from Cincinnati, Ohio, and the proud product of a single parent household for most of my childhood. I have deep admiration for my mom; it was just her and I until I was in fifth grade, and she made a lot of sacrifices to create the opportunities I had. We went to the same high school and we were the first mother/daughter pair to be inducted into the hall of fame for Mariemont High School Athletics. We both played soccer and basketball, and I also played lacrosse. I also spent three years as class president and got my first taste of leadership, creating meaningful experiences to bring people together and a little bit of marketing. Fun fact, I ran off the slogans, "Built FOARD Tough" and in my final year, "If it ain't broke, don't fix it."
Lacrosse led me to Stanford, where I studied social economics and entrepreneurship while also playing varsity lacrosse for four years. I truly loved competing and playing— it wasn't a job for me. I loved being part of a great group of teammates and building a program while also growing the sport in the Bay Area and for Stanford. College sports lets you represent something bigger than yourself and I'm truly grateful for my experience and the people and coaches who believed in me along the way.
Building Big Brands
I started my career in marketing at Nike. What began as an internship turned into an amazing journey across an assortment of functions and product launches in Portland, Ore., Washington D.C. and New York City. From New York, I moved back to the Bay Area, in part for a job with The North Face, and to be closer to my now-wife Sara who was living and working in San Francisco. Just three months into that North Face role, the company was being moved to Denver. I was at a crossroads.
I loved the impact and scale of big brand marketing at such powerful, inspiring brands like Nike and The North Face. But I was also craving a new challenge and wanted to wear a lot of hats. So, when my friend and former teammate wanted to connect me to someone at Alpine Investors, I said yes. I honestly thought Alpine Partner (and former recruiter) Matt Moore was just going to help me with my resume, so I was "more hirable," but our initial conversation turned out to be an interview for an on-campus marketing and recruiting position.
Energized by People
While I didn't know much about my potential role while interviewing, I did know that I connected with Alpine's team. I still describe the people I met (and the people currently here) as good, smart humans who are driven and care deeply for people. They want to be great and push to get better, but they do it with humility and are committed to working together. Although unexpected, I decided it was the right move for me.
I was initially hired to do on-campus recruiting. There was marketing, brand awareness and experience creation elements to the role, but it felt new to me. Even with zero private equity experience and slight imposter syndrome, I felt trusted and empowered to learn and test and lead. No one at Alpine expected me to come in as an expert in this entirely new role, but they gave me the autonomy, trust and belief to figure it out. I could own my experience, and I could raise my hand and ask for more opportunities to keep learning and find solutions for the firm.
I also love helping to create unexpected career paths, like I experienced, and breaking stigmas in finance and private equity about who can succeed in this space and who is welcomed.
Fast forward one year and I moved to my current role as VP of operations. I'm focused on the Alpine employee experience as well as brand awareness for the firm. As part of that role, I get to lead a team made up of diversity, equity and inclusion (DEI), marketing, on-campus recruiting, culture, human resources, hiring, and internal operations. I definitely get to wear a lot of hats!
Shaping the Alpine Employee Experience
Something about my role that is meaningful and hard (in the best and right way) is being at the center of the Alpine employee experience; working across culture, belonging, communications, inclusion, systems, training, events, spaces, and more– all as we grow and evolve. I'm proud to work at a place that takes culture seriously and devotes resources across the firm into understanding and striving to making the Alpine experience great for everyone. Resources like executive coaching, mentorship programs, all-firm DEI discussions, and off-sites to reflect, innovate and connect. We also track our Employee Net Promoter Score (eNPS) to ensure our employees are engaged and our workplace culture is thriving. According to Bain Consulting1, scores above 40 are considered "great" and Alpine's average score for 2022 was 68—all amid a year of change, continued pandemic caution, headcount growth, and bi-coastal offices.
We strive to do what is right versus what is easy. It's so important to be thoughtful and to keep innovating on what the Alpine experience means. I believe we can continue to work to set the bar not just for the workplace or for our industry, but for all companies. And while we are not perfect and will always have areas to improve, being part of a firm committed to doing the work and focused on long-term change is energizing and hopeful.
In my past brand marketing life, we focused on tangible products. Now "the product" is people's careers, which feels even more impactful. I can see and feel my direct connection to peoples' lives and I can only hope to be as net positive as possible — from being a teammate, a thought-partner or a mentor, to helping depressurize the stress that recruiting places on young people or making our industry more approachable. I love giving ambitious, smart people the confidence to choose the right path for them, at Alpine or not. I also love helping to create unexpected career paths, like I experienced, and breaking stigmas in finance and private equity about who can succeed in this space and who is welcomed.
Finding Passion and Purpose
There is an Alpine workshop called Passion and Purpose, which is part of our PeopleFirst programming. It's a dedicated time for every individual to think about their own unique gifts, goals and purpose— not as an Alpine employee but as an individual. Every employee considers questions like: How do you exist in the world? What do you stand for? What do you care about? You come out of the workshop with a tagline and statement about what you stand for. My passion and purpose statement is:
Fist pumps and handwritten notes: With wholeheartedness, unwavering dedication and a touch of game face, I move myself and others to connect deeply, seek firsts and embrace vulnerability; so that we can live a life of impact, adventure and love… together.
If that tagline doesn't make sense, let me explain. I love handwritten notes. I buy and hoard cards and have ambitions of owning a coffee shop and wine bar that sells cards. I love the intentionality of snail mail and the personalization of choosing just the right card for someone or a perfectly random one just because.
I also have a game face and I'm very competitive. An epic "fist pump" could celebrate anything from Serena Williams in the U.S. Open to a friend popping a shot at the pool table in a dive bar. I love fist pump moments because they're pure and joy filled, and they celebrate an accomplishment with a partner or team. It's the final celebration after you or someone you love has poured so much time and heart into something and then it comes to fruition. The fist pump moment is unmatched and sharing those moments with other people is what makes them special.
As someone who's inspired by fist pump moments, I feel privileged to impact all Alpine employees' experience in some way. At Alpine, we believe in hiring for attributes (shared values) over experiences (specific backgrounds), and we take enormous pride in hiring up and coming talent, especially into our internship program. We see them as the future partners at Alpine. I feel honored to be trusted in individuals' career journeys, and I'm excited by the runway of things still to do. Nothing and no one is perfect, and I look forward to the endless opportunities to grow while setting our firm up for continued success.
When I first came to Alpine, I exhaled. I felt like I was grounded and had a shared set of values while drawing inspiration from incredibly gifted teammates. I can see a long-term home at Alpine and feel confident that this is where I'm supposed to be. I am whole-heartedly grateful for all the people who have helped shape me, who believed in me and who pushed me to get better. I look forward to paying that forward while helping create a positive experience for this team and a powerful brand for Alpine.
1Bain & Co developed employee Net Promoter Score (eNPS) metric to measure employee engagement. eNPS is measured by asking employees on a scale of 0 to 10, how likely they are to recommend their organization as a place to work. It is calculated as (Promoters-Detractors) / (Total Respondents), where Detractors score 0–6, Neutrals score 7–8, and Promoters score 9–10. eNPS may not be representative of any one employee's experience because the rating reflects an average. eNPS ratings are not indicative of future funds.
Subscribe to hear more about building businesses through people.