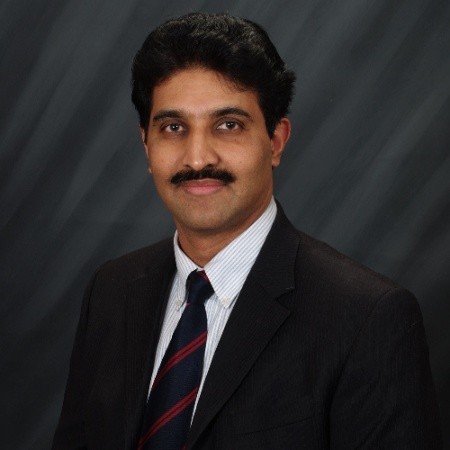 Over close to two decades building the online education platform EduMind, co-founder Vinod Dega has learned a few lessons of his own—from how to launch a brand-new business, to how to care for the students, instructors, and employees behind its success. Now, he's handing the baton to a new CEO and shifting to an advisory role, as EduMind becomes an operating company of Axcel, a professional education vertical within the Alpine Investors-backed services platform AlpineX. With new possibilities ahead for both him and EduMind, Vinod reflects on the company's earliest days, why he decided to partner with Alpine, and why he's so optimistic about what the future holds.
When I moved to the U.S. nearly three decades ago, my goal was to work in education⁠—and that's exactly what happened, but in a way I didn't expect at the time. I had earned a degree in civil engineering in India, and initially planned to study highway systems, complete a Ph.D., and teach. But I ended up staying for several years at a consulting firm in Columbus, Ohio, where my passion for teaching found a different outlet.
To work as a licensed engineer, you have to pass the Principles and Practice of Engineering (PE) exam, which I did in the mid-90s without much trouble. But as the years went on, computer programs became more common in our work⁠—a boon to efficiency, but a roadblock for early-career engineers who didn't get much practice with the manual calculations the PE exam still required. After helping a few colleagues prepare, I realized this growing need might also be a business opportunity. My wife, Radhika, was a full-time mother and homemaker and interested in finding other work, so in 2004, we decided to team up as co-founders. I developed the class notes and recruited instructors, she handled the student support, and EduMind was born.
Meeting Early Challenges
Like many small businesses, we started at home⁠—and from the beginning, it was a family affair. Our two young daughters Alekhya and Amulya, then in middle and elementary school, saw how hard we were working and pitched in, assembling study-guide binders in our garage and saving Radhika and I a precious hour here and there. One of the first big challenges was finding students. How would people know we existed? Luckily, the state licensing board maintained a list of test-takers to share with companies like ours, so we put together brochures and sent them to every licensee-to-be in the area—complete with the address of our business and home. That led to my first experience in customer service: The next day, someone knocked on our door to ask about classes, and I had to answer their questions on the spot!
Our first student sent several others our way, and slowly, word kept spreading—one 10-person class, then three, then by the end of 2005 we had locations in five cities, each with their own team of instructors. Hiring was difficult at first, but once I convinced people I wasn't just trying to steal their notes, they took a chance on us. And all these years later, dozens of them are still EduMind instructors.
As we grew, our challenges shifted to keeping up with demand, and scheduling was especially difficult. Multiple locations, multiple subjects, and multiple instructors each with their own availability—it took an entire wall of our office to lay out all the different permutations, and a week to complete a schedule. It was clear we couldn't keep doing it manually, so I developed a database and website to automate the process. Programmers maintain that system now, but we still use it today, and can make a schedule for dozens of classes and instructors in just a few hours.
In 2007, we encountered what appeared to be another challenge, but turned out to be the best thing that ever happened to our company: For one course, we didn't have enough students in the same location to fill a section, and decided to try it live online instead. Back then, there were few options for e-learning systems already on the market, so we built our own from scratch—and it was a game-changer. That one decision put us years ahead of the competition, and to this day we have one of the best systems in the industry. Some of the EduMind instructors who also teach at large universities have even become pioneers in their institutions, using what they've learned with us to navigate a post-COVID-19 world.
An Opportunity to Grow
When Alpine first emailed me in early 2022, I wasn't looking for a partnership. I barely knew what private equity was, and had ignored similar messages from other organizations for years⁠—but something about that note from Nora Davis stood out. It was clear she'd actually been paying attention to the work we were doing, and I thought, "Okay, let's see." My first call, with Nora and Liam Flaherty, was very casual. I didn't have a pitch deck or anything to present; we just talked. Alpine's PeopleFirst philosophy was the first thing that piqued my interest, because EduMind has the same culture—we are very proud of how we support the people who make us successful. Our students can contact us 24/7 and get answers immediately; we make administrative work as easy as possible for our instructors so they can focus on teaching; and among our employees, nobody uses the phrase "that's not my job." If anyone needs help, we jump in—our directors, Radhika, me, everyone. We are a family.
Until that first meeting, I'd assumed that partnering with an investment firm would mean working much harder, and Radhika and I didn't want that—we'd been working hard for 18 years already. But Nora and Liam explained that if we partnered, I would be able to choose whether I wanted to stay on as CEO or move into a role as an advisor. That attracted me to the idea even more.
As we talked, I also realized what an incredible opportunity this could be for the company, and by extension our employees. What EduMind does today is nothing compared to what the platform could do—there are so many possibilities in terms of professional certification, continuing education, corporate training. But on our own, that expansion would have taken years; we weren't in a position to acquire multiple companies. With Alpine, we could grow much more quickly, and create more opportunities for all the employees who had been on this journey with us.
Not long after our initial call, Liam was visiting Columbus and asked if he could stop by to talk more. This time I put together a presentation—still nothing fancy—and we moved forward from there. At first, I remained a bit skeptical; I'd always thought investors wouldn't care about anything but money, and I was waiting to see whether "PeopleFirst" went beyond words. But the more people I met with, the more it was clear that Alpine walks the walk. You see it in what they say, the way they take action, their commitment. It has been a fantastic experience from day one.
Writing the Next Chapter
It was one thing for me to be excited about Alpine, but another for the team at EduMind—they didn't know these people yet, and while I had talked with Alpine about bringing in a CEO with a strong PeopleFirst mindset, we didn't know yet who they would hire. The staff was worried about what would happen to our culture, and even their jobs. I told them, "Trust me. Just wait until you meet them."
From my first conversation with Chris Lam, the new CEO, I knew he would be a great fit. Chris is a fantastic person—a good listener, asks the right questions, clearly wants to understand the challenges people are facing and see how he can help. After he came to Columbus to spend time with the team, their minds were at ease. They loved him. He and I also traveled to India so he could meet the employees there, and they, too, were happy and relieved.
I'll be supporting Chris as he settles into this new role, and serving on the Advisory Board longer term. Alpine already has a list of potential partner companies that might be a good fit, which I've started looking into, and I'm also looking forward to bringing ideas to the table for new automations—things I jotted down on a flight or vacation, but never had time to pursue.
Day to day, though, I won't be involved in running EduMind, and while the newfound free time was a bit daunting at first, I do have a robust bucket list ready to keep me busy. I'm hoping to write a sci-fi novel, learn Spanish and three local Indian languages, fulfill my childhood dream of playing guitar, and get back to studying highways just as I planned to do all those years ago—this time not for a Ph.D., but to patent some ideas about the intelligent roads we can develop to match our increasingly intelligent cars. Most of all, I want to spend more time with Radhika and our daughters, without whom EduMind might never have been built. And as our family enters this new chapter, we will rest easy knowing that all of the other people who made this journey possible⁠—EduMind's students, instructors, and employees⁠—will be in excellent hands.
Subscribe to hear more about building businesses through people.