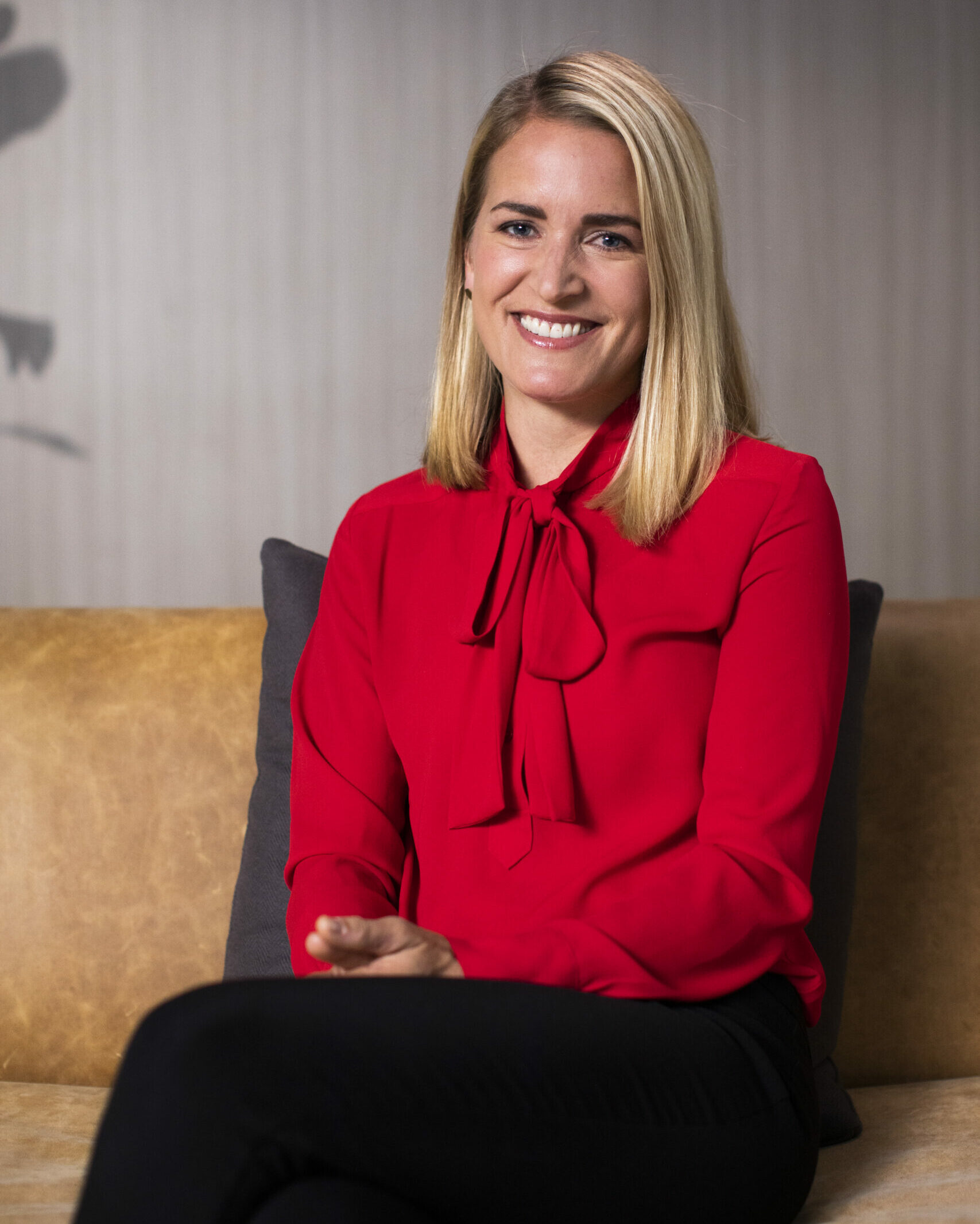 Bess Yount first connected with Alpine about a role she didn't really want—and quickly found herself designing one she did. The Stanford and Facebook alum reflects on joining then-fledgling company Alpine Software Group as VP of Operations when she was a brand new mom, explains the challenges she's tackled and wins she's celebrated since, and shares how she's now growing her career—and helping her team members grow theirs—as ASG's COO.
Tell us about your background and what brought you to Alpine.
Before Alpine, I spent about nine years at Facebook in several different roles. I started out in advertiser support—which back then meant manually reviewing ads and responding to customer issues. From there, I moved into product marketing, then customer insights, and eventually led SMB marketing for North America. While I have always loved marketing, storytelling, and leading teams, I felt an itch to do more. After working with an incredibly diverse array of leaders across Facebook, I realized I had a knack for understanding people and supporting them in their journeys—both personal and professional. Through these relationships, I got to think about operational and business challenges far outside my day to day role—and I loved it. I knew it was time for a bigger challenge somewhere else.
In the fall of 2019, a few weeks before I gave birth to our oldest son, Denver, I got on LinkedIn for the first time in years and started networking. Strange timing? Definitely. But I knew I wasn't going to be happy long-term, especially as a working parent, unless I was challenging myself and growing my own career. And I wanted to get the ball rolling before I had a baby so I didn't lose my confidence or my nerve afterwards. I had a lot of conversations with recruiters that started off with something like, "I'm about to have a baby any day now, but let's talk." I figured the ones that wanted to keep talking were the ones worth talking to.
Alpine reached out around that time about a VP of marketing role, and at first I wasn't going to respond. I had decided against advancing my marketing career as a next step, and private equity was nowhere on my radar. I studied communications and social psychology in college and had thought about becoming a marriage and family therapist before I joined Facebook. Alpine did not fit into the picture I had painted for my future. But my husband Austin had heard wonderful things about the culture and encouraged me to take the first call. He convinced me that if nothing else, it would be good practice. Then, after Denver was born and I started feeling like a human again, I went in for an interview—and eventually, ended up in a deep-dive conversation with Mark Strauch  that completely changed my perspective.
How so? Tell us about that conversation.
I'll never forget that day. I was a brand new mom, still on leave from Facebook—and very much still figuring the whole thing out. I remember I pumped in a public bathroom down the hall from the office before I went in, because I wasn't sure how long the interview would last. Everything felt so hard in that moment.
Twenty minutes into our conversation, Mark called my bluff. He asked me if I really wanted the marketing job. I didn't—which is exactly what I told him. But I also told him I'd been surprised by how much I loved the process of getting to know Alpine. Mark then pivoted the interview, and we spent the next hour on a whiteboard in his office talking about my strengths and weaknesses, what brings me energy, and about what he and Billy Maguy and Jake Brodsky were building and needing at ASG. It was this strangely perfect alignment; I love building new things, and I knew I wanted to be somewhere where I could have a bigger impact and chart my own journey. Suddenly, everything that had felt so difficult seemed really easy. I knew this was where I wanted to be.
It was this strangely perfect alignment; I love building new things, and I knew I wanted to be somewhere where I could have a bigger impact and chart my own journey.
Talk about the role you designed back then, and how it's evolved since.
In the beginning, I focused on finding and developing our leaders, creating community, building out our ASG team in partnership with the rest of the leadership team, and developing a brand that spoke to founders. At that time, ASG had an incredible vision but didn't yet have a soul. My background in marketing, communications, and community building came in handy early on as we built our brand and our team.
Now as COO, I oversee People Ops, Marketing, Communications, and Talent. The best way to describe my role now is that it's like being a midfielder on a soccer team—it requires a lot of field vision, a deep sense of the energy on the field, and a unique understanding of how the players (both on and off the field) work best individually and together. I get to lead a team I love, support leaders I believe in, and share the ASG story with founders, prospective leadership talent, and the people at new companies we acquire. I also get to think about interesting business and people challenges across a portfolio of companies, a focus area which has helped me develop strong pattern recognition and keeps me deeply engaged and learning.
Are there projects from the early days that you're particularly proud of?
The first thing that comes to mind is the first in-person CEO community retreat we hosted with our leaders. To experience the energy of this brilliant group of people together in one place was emotional for me. We have a responsibility to support and develop our diverse community of leaders so that they can reach their full potential within ASG and beyond.
Another project from the early days that brought me and the team a lot of energy was the creation of our brand and website. This process was an opportunity for me to do a listening tour across ASG (founders, employees, leaders, etc.) and then synthesize and reflect back to ourselves and the world who we are and what makes us special.  We also learned a lot during this process about where we wanted to go, and what we needed to work on in order to get there. By the time we launched our new brand and website, everyone on the team had played some small role in its creation and felt a lot of pride and ownership in the outcome.
What sets ASG apart from other companies?
First and foremost, our team. This is the most talented group of people I've ever been around. Everyone  has a shared passion for supporting leaders and building vertical SaaS platforms that solve real problems in the world and do so with an authentic focus on people first. They are all also true experts in their domains—from DevOps to HR to financial diligence. There is a strong sense of trust, respect, and appreciation for one another's unique strengths, as well as a desire to hold each other to a high standard because we know what each person around the room is capable of.
One of the other things that sets ASG apart is how we live our core value "Entrepreneurs at heart." We bring an operator-first mindset that's different from traditional private equity firms. This mindset helps us empathize with, understand, and anticipate the needs of our founders and leaders. We operate a lot like a startup. We move fast, have high degrees of ownership, and are constantly iterating and trying new things.
How do you support the growth of your team members?
The first step is to hire the right people for each role, which starts with having clear scorecards for what success looks like as well as support internally. Then, it's all about rewriting those scorecards together over time such that your team members are constantly and naturally stepping into the jobs they each want next. Philosophically, I believe it's my job to get out of my team's way and to let them live and work in their zones of genius. But I also believe it is important to consistently hold up a mirror to help them each see their strengths, as well as the things they need or want to work on.  Each person on my team ultimately owns their own career growth, I can't do that for them. But I can consistently create space to ask direct, hard, thought provoking, fun questions that lead to purposeful and honest conversations.
Philosophically, I believe it's my job to get out of my team's way and to let them live and work in their zones of genius. But I also believe it is important to consistently hold up a mirror to help them each see their strengths, as well as the things they need or want to work on.
How has parenthood shaped your relationship with work?
Becoming a parent has made me a better decision maker about how I spend my time. I love helping and supporting people—which is a big part of my job—but this can be dangerous if you are more frequently prioritizing or reacting to in-the-moment needs of others over your own goals or the biggest needs of the business. Now, I have no problems saying "I'd love to help, but it will need to be next week/month/quarter," or "I can't do coffee, but I can call you on my commute home," Setting and holding stronger boundaries and working more efficiently has come much more naturally since becoming a parent.
What's challenging about your work?
At ASG, we are constantly tackling new challenges that don't come with a playbook or instruction manual. On top of that, it's hard to predict the timing of deals and acquisitions we make. These dynamics are what make ASG so interesting and can be hard for someone like me who has been in a non-committed but long standing relationship with anxiety. I am always working on traveling through that anxious space faster and faster so I can get to the doing, because that's where all the fun and growth awaits.
What else are you thinking about as you look to the future?
Diversity, equity, and inclusion is very top of mind for me. As we come out of the pandemic and life picks up pace again, I want to be able to say that we've been thoughtful and intentional about who we want to be and how we want to be—both as individuals and as a company. I also believe we have an opportunity and responsibility to make the future of leadership look a heck of a lot different than it does today. ASG can be a leader in developing diverse talent, but it takes continued focus on our recruiting and hiring processes. We believe diversifying our pipeline and focusing on an inclusive experience once they are here will lead to outsized business success long term.
With continued investment from Alpine, we're currently thinking about the next verticals we want to establish and start to build. We also want to be thoughtful about exit readiness—making sure the companies we're already operating are set up for long-term success. As we move into that phase with some of our companies in the future, we're going to learn a lot that will make us even better at building leading vertical SaaS platforms. But right now we're very focused on buying great businesses, unleashing diverse leaders, and creating fulfilling employee experiences along the way.
Subscribe to hear more about building businesses through people.