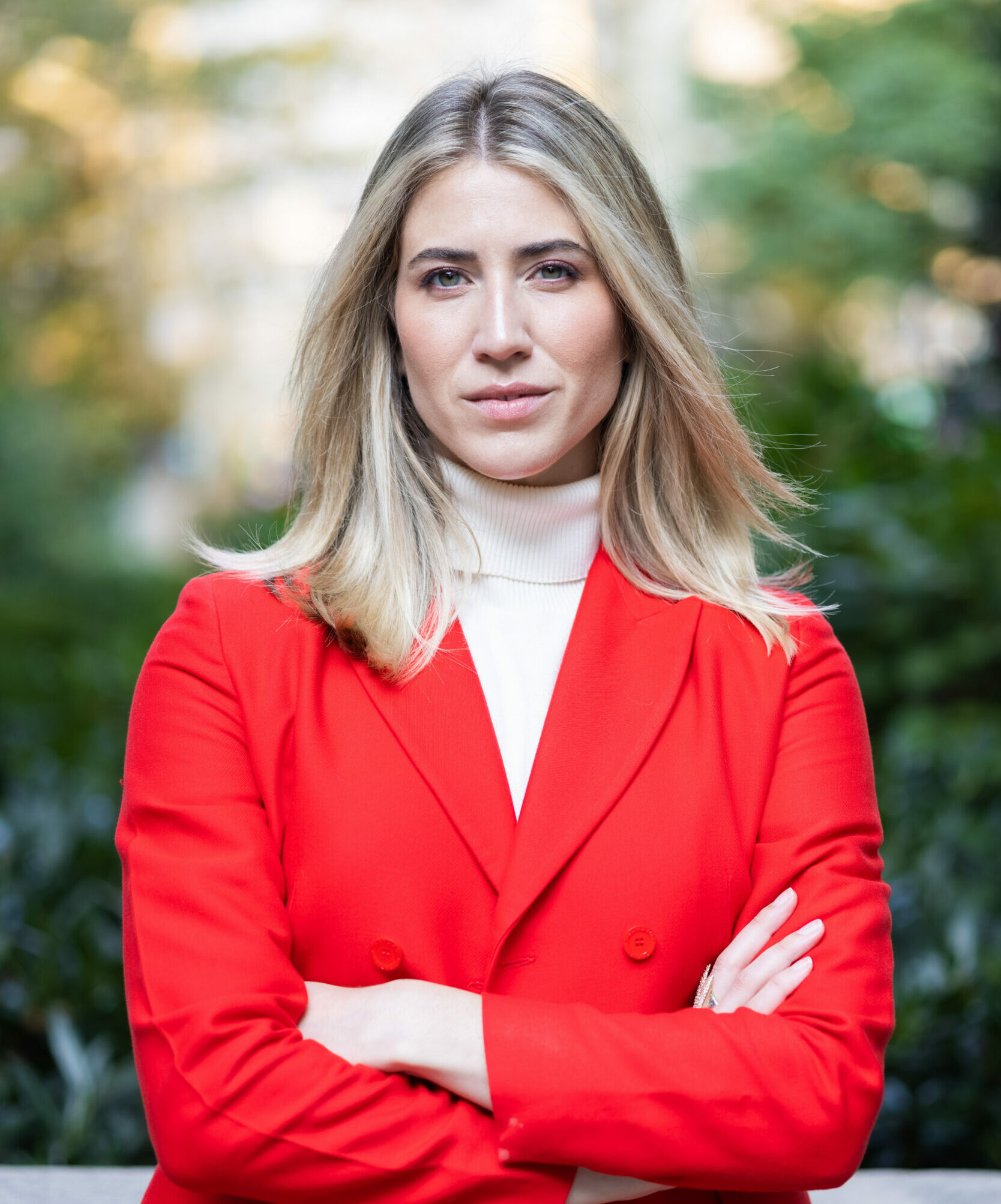 Rachel Braun knows what it takes to pursue a risky endeavor and have it pay off. Currently, Braun is CEO of Novalaw, an AlpineX portfolio company that provides legal support services and manages back-office operations for global law firms. AlpineX is an Alpine Investors-backed investment platform focused on lower middle-market services businesses. But before leading Novalaw, Braun worked in private equity in South Sudan, worked alongside a South African billionaire investing in the defense and aerospace industries, and even had a stint working in the CIA's venture capital arm. Unsure where these varied experiences would take her as a business leader, she found Alpine's CEO-in-Training (CIT) program which gave her the opportunity to combine her passions into a CEO role right after completing her MBA. In sharing her story, Braun reflects on why unconventional backgrounds can make for the best business leaders.
As a college student studying international politics and security studies at Georgetown University, my study abroad experience in Botswana defined my early career interests. I had never been to Africa before my semester there. But that time abroad developed my lifelong love of the continent, where I became fascinated with the opportunities and the challenges for development in this region of the world. When I later returned to Georgetown's campus, my newfound interests inspired me to pursue work in Africa for a private military contracting firm after graduation.
I worked in South Sudan at the end of its Civil War. Only 10 days after I arrived via a small bush plane, South Sudan had its independence ceremony and became the world's newest country. My tenure there was deeply formative for my global perspective because I witnessed the world's youngest democracy in its nascency. I saw the challenges facing the population that had been subjected to decades of genocide, war, and refugee status. But I also saw the private sector wanting to move into this country to bring foreign investment since there was so much potential in this underdeveloped region. But the barrier between what development was possible and what these outside investors were trying to achieve was security on the ground. There were still rebel militias active, infrastructure being bombed, instability and violence present for people living there. It was a risky investing environment all around–yet these frontier investors, seeking both opportunity and the desire to bring industry and jobs into the country, showed me how business could be a powerful force for good in rebuilding a devastated nation.
I decided to move back to Washington D.C, inspired by what I had seen in South Sudan. I continued to wonder what that right mix of security, defense, international and economic development looks like, and the role that foreign investment can play in all this. That's when I was introduced to a private equity firm that focused on these challenges. The firm's strategy was to invest in these austere markets that traditional investors avoided because the markets were either conflict or post-conflict states, or poverty, inequality, or a lack of infrastructure were at play. The motto at this private equity firm was "audentis fortuna iuvat", the Latin phrase for "fortune favors the bold." I gravitated towards the idea of a private investor making infrastructure investments into energy, roads, or other public service sectors in developing countries and being more impactful, oftentimes, then government or non-profit projects on their own could be.
I found the work inspiring and I learned a lot about private equity and investing for impact. My next career move was to London, where I worked on oil and gas investments across Africa, as natural resource opportunities are often the first partnerships developing countries make with foreign investors. From there, I moved to Hong Kong to work on the operating side of things, focusing on getting the projects invested in off the ground. Whether it was an aviation company in Kenya or a port project in the Congo, I gained hands-on experience about getting companies in challenging environments operational. There was no playbook we could follow–we had to be extraordinarily resourceful, problem-solve under extreme pressure, and improvise when thrown curveballs.
Hitting a Crossroad in My Career and Taking a Risk on Myself
During my time in Hong Kong, I worked extensively with former U.S. Navy SEALs, Rangers and intelligence officers, who taught me a lot about everything from mission planning to small team dynamics. Through my Hong Kong connections I was offered to move down to Johannesburg to work for a South African billionaire, Ivor Ichikowitz, who was an industrialist in the defense and aerospace industry. If I had to describe him, he was a mix of Iron Man's innovative mind, Richard Branson's brash entrepreneurial spirit, and Nelson Mandela's purpose-driven leadership style. He was an interesting character, an incredible boss, and was running 19 companies across Africa. I came on as his chief of staff and we'd spend 250 days a year traveling the world, meeting with different heads of state, Presidents, royalty, foreign Defense Ministers, diplomats, and other businesspeople. He taught me so much about how international business is done. Whether he was explaining international treaties or stakeholder strategy, he truly taught me to think about business strategy across all dimensions–technology, history, finance, politics, diplomacy, and of course, interpersonal relationships.
From there, I became Vice President for his company and moved into South America where I did some of the first deals the company had done in Argentina and Peru, predominantly around fighter jet projects and some anti-piracy projects. My team and I then saw a unique opportunity–that our South African defense technology and operations could be of interest to the US Air Force, Air Force Special Operations Command and other U.S department of defense players.
I took that idea and established our U.S office in Dallas, Texas. The nature of our investments meant I was running between airfields, air force bases and aircraft hangars, bringing over South African aerospace engineers and meeting fighter pilots, and learning about all sorts of interesting government projects. But that's when I hit a crossroad in my career–where I could either double-down on what I'm already good at, or, to unlock the next tier of opportunity, I needed to work on my weaker skills to become a more versatile leader. And while I loved what I was doing, I looked at my career timeline and realized, okay, if I don't go to business school now, I'm never going to go. It was a now or never kind of moment, and I decided to tell my boss that I was going to pursue an MBA.
But that's when I hit a crossroad in my career–where I could either double-down on what I'm already good at, or, to unlock the next tier of opportunity, I needed to work on my weaker skills to become a more versatile leader.
Pursuing the CEO Title With an Unconventional Background
I studied at Wharton and it was an incredible experience. During my first year as an MBA student, I took my varied passions and experiences to an internship with the venture capital arm of the CIA. Called In-Q-Tel, they work on some of the most cutting-edge technologies the world has to offer while operating as a mission-driven firm. Like my first stint with private equity, these investors operated under the belief that private investment can make a significant impact on national security–and society at large–in a way that other funding strategies simply can't.
When my internship ended and I was headed into my second year at business school, I questioned how I'd combine my passions and a desire to work as an operator within the investment world. When I came across the Alpine CIT program, I was intrigued because I saw an opportunity to do it all. I was excited to dive in as an operator, build the team I wanted to be a part of and be accountable for outcomes at a level that most young MBAs wouldn't get to do for another 10 or 15 years.
I was excited to dive in as an operator, build the team I wanted to be a part of and be accountable for outcomes at a level that most young MBAs wouldn't get to do for another 10 or 15 years.
I was self-aware enough to know that I was a nontraditional candidate for a CEO role. When you imagine a prototype for a CEO, you often think of people who have spent years in consulting, banking or in operations at a Fortune 500 company. Instead, I came from a political, intuition-driven, and crisis-driven type of background. I deeply questioned, is leading a company a role I'd be able to grow into? Or is this something not worth the risk of leaving behind what I already knew? I had to be okay with stepping away from everything I had known before, into potentially a completely new industry and a new company that I didn't build. I would inherit and try to take a team through a new chapter of the company's existence. A daunting proposition to say the least, it's something that I thought very long and hard about before making that jump.
I decided to apply anyway. That risk first felt validated when I had a conversation with Alpine Investors' founder Graham Weaver during the interview process, when he told me that I'd be risking more in life by not betting on myself. The biggest risk, he explained, is to leave your success up to fate, other people, other companies, and other strategies. There's an opportunity here to succeed or fail. But either way, it's on you now and you're betting on yourself. Graham's words were a reminder that, in life, you must be willing to take that leap of faith to become a leader, even if you know the path you are choosing may be hard. Yet if you know yourself well enough, and trust in your ability to learn and to remain resilient in the face of extreme difficulty, you're going to rise to the challenge.
Finding Support and Connection in the CIT Program
When I was accepted into the program, I was surprised by the support and the quality of connections I made. I believe that in life, you should hope to never be the smartest person in the room. And luckily, I don't seem to run into that too often with the Alpine crew. I think that there's a lot to be said about surrounding yourself with people who challenge you, but who also support you every step of the way. The community and friendships that I have built with the other CITs have been some of the most powerful experiences of my career ever. We CITs are all in remarkable leadership positions, trying to learn and navigate different industries and across different companies. But there's such a universality about being in that position as a young CEO. That kinship, camaraderie and friendship, through the victorious moments and the tough moments, is really something that makes Alpine's program extremely special.
Additionally, I'm thankful for the quality of mentorship that I have had since coming in as CEO at Novalaw. I think the Alpine team knows that their model of taking aptitude over experience means that their CEOs are going to have moments that are extraordinarily difficult or face challenges they've never encountered before. However, the support is there to get you through those moments and to celebrate with you when you win.
For instance, I work with a CEO at Alpine X, Charles Rutstein, who has taught me more in the last seven months about what it means to be a great CEO than I think anybody could have in years. Same thing with the caliber of the board that I have—I'm surrounded by deal professionals who truly understand my industry. I've had interesting, thoughtful, intellectually fiery conversations with my colleagues because the point is to get to the right answer, not to be right. And I think that speaks to the Alpine personality—it's all about having the humility to know that you're starting from ground zero, but the confidence in yourself to know that you can learn and figure it out.
What Alpine's Playbook and PeopleFirst approach does so brilliantly is that, as a CEO, you're never prescribed what to do when you're faced with a business or personal challenge. Instead, you're given the resources and contacts that you might need to solve those problems within arm's reach. And if the resource doesn't exist, they'll work with you to find it. As another example, Ian Clark from Alpine's Playbook Operations team has been extraordinary in helping me use data to better understand our company, which is in an industry that traditionally hasn't embraced data analytics. That use of data is something that has quantifiably moved the needle for Novalaw.
Additionally, when attending the CIT summits, I've been challenged to answer probing questions about my company from what we're doing for our customer journey, to how we're thinking about value creation, to thinking about building exceptional teams. Those are questions that every CEO needs to answer. But what makes Alpine so unique is that they know that upfront, and they work hard to provide the resources and the community so you can answer them confidently.
Looking Ahead at a Bright Future
Not only do I have no regrets in taking this leap of faith, I'm more grateful everyday for the path I've taken. I've found that the freedom and autonomy in an opportunity like this, while knowing that you're accountable for all outcomes and your own destiny, is perhaps ironically the least risky thing you can do to live and build the kind of life that you want.
My time working in frontier markets with no playbook–only a strong team, grit, and a will to win–is coming to bear at Novalaw. Novalaw is the first attempt by private equity in America to invest in and improve upon law firm operations. It's a wildly disruptive model in an industry that has historically suffered from under-capitalization and under-professionalization in operations, which in turn has led to a systematic lack of innovation and increasing overhead costs passed on to both attorneys and the clients they serve. Novalaw is already supporting a prestigious, fast-growing law firm, Rimon P.C., and every day we are working to improve and innovate in the ways law firm operations can deliver greater value and efficiency to attorneys and clients.
Just like Alpine has done in so many industries, we're writing the playbook for what it takes to win as we chart our path forward. Our goal is to support a number of law firms, giving them access to the kind of resources, technology, and management that was formerly reserved for only the world's largest law firms. Novalaw has the potential to be an industry gamechanger, and our pioneering spirit and extraordinary team is what will get us there.
Subscribe to hear more about building businesses through people.